Rurum Megai, Koperasi Wanita Perajin Nunukan Dukung Produk Lokal
The Women`s Cooperative in Nunukan Successfully Markets Handicraft Products
Reporter : Gusmiati Waris
Editor : Cahyani Harzi
Translator : Dhelia Gani

PUBLISHED: Rabu, 09 Oktober 2019 , 00:16:00 WIB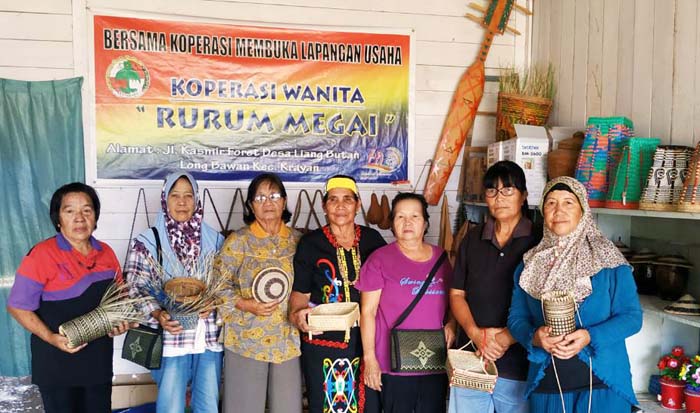 DUKUNGAN PEMERINTAH: Koperasi Wanita Rurum Megai mengharapkan bantuan pemerintah untuk membeli mesin jahit dan mesin raut rotan untuk meningkatkan kualitas produksi kerajinan [Foto: Humas Kemenkop UKM]
Nunukan, Kaltara [B2B] - Koperasi Wanita Rurum Megai adalah gambaran perjuangan ekonomi para perempuan di Desa Liang Butan Long Bawan, Krayan, Kalimantan Utara, yang menunjukkan kemampuan sebagai perajin yang mampu memproduksi kerajinan unggulan.
Koperasi yang berdiri sejak 2009 membina 25 perajin yang membuat tas, produk rotan dan bambu, tikar biru dan lainnya. Mereka cukup kreatif, ada sekitar 30 jenis produk yang mereka hasilkan. Uniknya kerajinan tersebut menggunakan bahan baku dari temar, bambu, akar pandan, daun pandan dan rotan yang berasal dari lingkungan sekitar.
Rego, Ketua Koperasi Wanita Rurum Megai mengatakan setiap bulan koperasi dapat menjual 500 buah produk ke berbagai daerah bahkan luar negeri.
"Produk-produk kerajinan koperasi kami jual ke Nunukan, Tanjung Selor, Tarakan bahkan ke Malaysia, Limbang dan Brunei," kata Rego.
Koperasi Rurum Megai yang berarti persatuan wanita perajin ini memiliki motto ´Bersama Koperasi Membuka Lapangan Usaha.´
"Selain anggota koperasi membuat kerajinan, koperasi juga menampung kerajinan masyarakat di sekitar untuk dijual melalui koperasi," kata Rego.
Rego mengatakan di tengah ketekunan dan semangat para pengrajin, kemampuan mereka masih sangat terbatas. Produk yang mereka buat masih dikerjakan manual sehingga prosesnya memakan waktu lama.
Dia berharap bantuan dari pemerintah untuk membeli alat-alat, seperti mesin jahit, mesin untuk raut rotan guna mempermudah dan meningkatkan kualitas produksi kerajinan.
"Selain itu, kami membutuhkan modal untuk membeli retsleting dan kain hitam untuk membuat tas," kata Rego.
Nunukan of North Borneo [B2B] - The Rurum Megai Women´s Cooperative in North Borneo province is a picture of economic struggle of women in Liang Butan Long Bawan village of Krayan sub-district who successfully demonstrated their abilities as female artisans produce superior craft products.