Sarung Tenun Mandar Meriahkan Pameran Kriyanusa 2018 dari Kemenkop UKM
Indonesian Woven Sarongs are Favored by the Millennial Generation
Reporter : Gusmiati Waris
Editor : Cahyani Harzi
Translator : Dhelia Gani

PUBLISHED: Senin, 01 Oktober 2018 , 02:05:00 WIB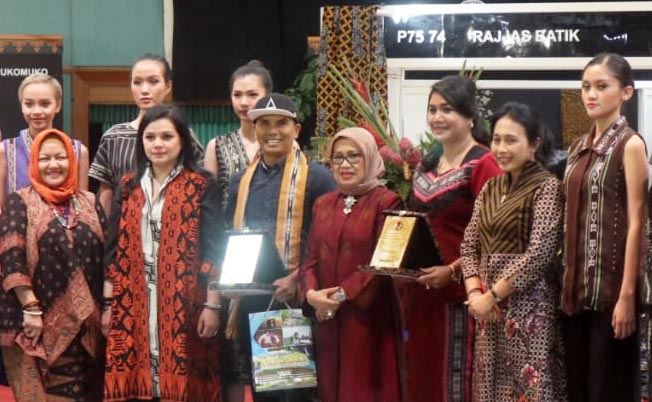 SMESCO INDONESIA: Ketua Dekranas Ny Mufidah Jusuf Kalla (ke-4 kanan) didampingi Ketua Bidang Manajemen Usaha Dekranas, Bintang Puspayoga (ke-2 kanan) bersama para model dan disainer (Foto: Humas Kemenkop UKM)
Jakarta (B2B) - Sarung tenun Mandar menjadi salah satu andalan pameran produk tenun dari Sulawesi, Kalimantan, dan Maluku pada fashion show Kriyanusa 2018 yang digelar oleh Kementerian Koperasi dan UKM sejak Rabu (26/9) di Jakarta dan pada hari keempat, Sabtu (29/9) dihadiri oleh Ketua Dewan Kerajinan Nasional (Dekranas) Ny Mufidah Jusuf Kalla didampingi Ketua Bidang Manajemen Usaha Dekranas, Bintang Puspayoga.
Selain sarung tenun Mandar dari Provinsi Sulawesi Barat oleh Neera Alatas, turut dipamerkan tenun Sasirangan dari Kalimantan Selatan oleh Indira Hadi, tenun Badong dari Kalimantan Timur oleh siswa sekolah fesyen Institut Kesenian Jakarta (IKJ), tenun Sintang dari Kalimantan Barat oleh Wieke Dwiharti, tenun Tanimbar dari Maluku Tenggara oleh Sofie, dan Oh Beauty oleh Otty.
Dewan Pengawas LLP-KUKM (Smesco Indonesia) Samuel Wattimena mengatakan fashion tenun Nusantara yang digelar di hari keempat Pameran Kriyanusa bertujuan memperkenalkan produk nusantara kepada generasi milenial, dan memberikan peluang kepada mereka untuk berkarya dengan kain tenun nusantara.
"Memperpanjang waktu eksistensi kain Nusantara, dan sebuah bukti nyata bahwa produk etnik Indonesia mampu masuk ke selera milenial," kata Samuel kepada pers di Jakarta, Sabtu (29/9).
Samuel mengungkapkan bahwa dalam Pameran Kriyanusa tersebut, Kemenkop dan UKM memberi kesempatan kepada 14 UKM untuk memamerkan produk di booth Kemenkop dan UKM, dan 14 UKM di booth Smesco Indonesia.
Proses kurasi ditangani langsung oleh Samuel Wattimena dimulai dengan melihat keberagaman produk UKM, kemudian pemahaman UKM terhadap produknya mulai dari hulu hingga ke hilir.
"Maksudnya, mereka memahami keberadaan bahan baku sebagai hulunya. Lalu hilirnya, mereka mampu mendesain berdasarkan permintaan pasar," kata Samuel Wattimena.
Jakarta (B2B) - Indonesian Mandar woven sarong support the mainstay of the exhibition of woven products from Sulawesi, Kalimantan, and Maluku in the 2018 Kriyanusa fashion show held by the Indonesian Cooperatives and SMEs Ministry since Wednesday (September 26) here and on the fourth day, Saturday (September 29) attended by the Chairperson of the National Craft Council or the Dekranas Mrs Mufidah Jusuf Kalla.
Besides Mandar woven sarong of West Sulawesi province, also exhibited Sasirangan weaving of South Borneo, Badong weaving of East Borneo, Sintang weaving of West Borneo, Tanimbar weaving of Southeast Mollucas.
The LLP-KUKM Supervisory Board (Smesco Indonesia) Samuel Wattimena said the Nusantara weaving fashion which was held on the fourth day of the Kriyanusa Exhibition aimed to introduce archipelago products to millennial generations, and provide opportunities for them to work with Indonesian woven fabrics.
"Extending the existence of Indonesian woven sarongs, and proof that Indonesian ethnic products are able to enter millennial tastes," Mr Wattimena told the press here on Saturday (September 29).
Mr Wattimena revealed that in the Kriyanusa Exhibition, the ministry gave 14 SMEs the opportunity to exhibit products at the booth provided by Smesco Indonesia.
The curation process handled directly by Samuel Wattimena begins by looking at the diversity of SME products, then understanding the SMEs on their products ranging from upstream to downstream.
"It means, they understand the existence of raw materials as upstream. Then downstream, they are able to design based on market demand," Mr Wattimena said.