Reposisi Bisnis Koperasi, DPR Didesak Segera Sahkan Revisi UU No 17/2012
Indonesian Parliament was Urged to Immediately Ratify the Cooperative Law
Reporter : Gusmiati Waris
Editor : Cahyani Harzi
Translator : Dhelia Gani

PUBLISHED: Jum'at, 18 Januari 2019 , 00:22:00 WIB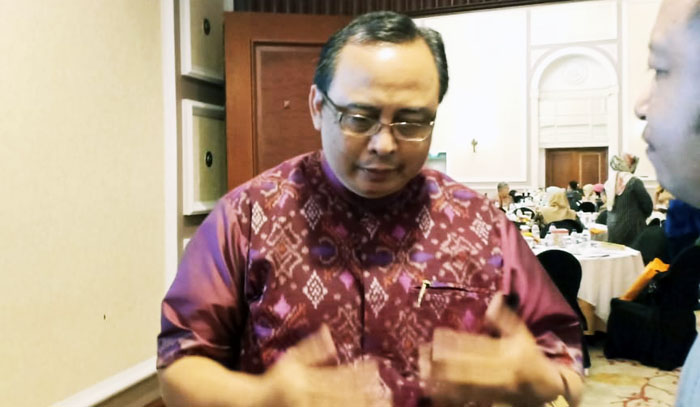 Deputi Kelembagaan Kementerian Koperasi dan UKM, Rully Irawan (Foto: Humas Kemenkop UKM)
Jakarta (B2B) - Masyarakat koperasi Indonesia mendesak DPR RI untuk segera mengesahkan undang-undang (UU) yang baru pengganti UU No 17/2012 setelah dianulir oleh Mahkamah Agung RI, akibatnya masyarakat koperasi dipaksa untuk kembali menggunakan UU No 25/1992, meskipun tidak lagi sesuai dengan tuntutan zaman, apalagi di era disruptif yang memangkas kebiasaan-kebiasaan konvensional atas kehadiran istilah derivatif seperti peer to peer landing dan market place.
"Sejak MA menganulir UU No 17 tahun 2012, masyarakat koperasi dipaksa untuk kembali menggunakan UU No 25 tahun 1992, UU produk lama yang dinilai tidak lagi sesuai dengan tuntutan zaman," kata Rully Irawan, Deputi Kelembagaan Kementerian Koperasi dan UKM di Jakarta, Rabu (16/1).
Dia mengharapkan UU Koperasi baru segera disahkan menjadi acuan, dasar, dan pelindung bagi pelaku koperasi. Masyarakat terbantu pengelolaan organisasi, kepastian hukum demikian pula usaha terakomodir oleh berbagai perubahan-perubahan di masyarakat dalam berbisnis.
"Kalau UU tersebut belum disahkan juga, kementerian siapkan peraturan menteri atau Permen sebagai aturan pelaksanaannya," kata Rully I pada seminar ´Urgensi Menunggu UU Koperasi Baru, Menyongsong Reposisi Bisnis Koperasi di Era Distruptif´ yang dihadiri Wakil Ketua Komisi VI DPR RI, H Inas Nasrullah Zubir.
Dia menambahkan, saat ini pemerintah bersama DPR RI membentuk tim khusus dan tim teknis guna menyelesaikan RUU Koperasi untuk segera menjadi UU.
Seminar juga membahas reposisi bisnis koperasi di era distruptif, yang memberi peluang besar bagi para pelaku usaha untuk mengakselerasi bisnis mereka, karena perkembangan teknologi di era disruptif telah menjadikan kegiatan ekonomi yang pada awalnya panjang, dan rumit menjadi lebih cepat dan mudah.
"Selain itu, perkembangan teknologi informasi juga memungkinkan para pelaku usaha untuk menjangkau pasar lebih luas," kata Rully I.
Kendati begitu, menurutnya, tidak semua pelaku usaha dapat memanfaatkan perkembangan teknologi, para pemain lama di industri yang minim inovasi kemudian terdisrupsi oleh para pemain baru yang muncul dengan ide dan gagasan anyar.
"Produk dan layanan inovatif mereka menawarkan kemudahan dan kecepatan yang tentu saja disukai oleh konsumen," kata Rully I.
Jakarta (B2B) - The Indonesian cooperative community urges the House of Representatives ratify the cooperative law replacing Law Number 17 of 2012 after being annulled by the Indonesian Supreme Court, consequently the cooperative community was forced to use Law No. 25 of 1992, although it is no longer in line with the current conditions.
"After the Law Number 17 of 2012 was annulled by the Supreme Court, the cooperative community was forced to re-use the 1992 Act. The old law is not in accordance with current conditions," said Rully Irawan, the Institutional Deputy Ministry of Cooperatives and SMEs here on Wednesday (January 16).
He hopes that the new Cooperative Law will soon be ratified as a reference for cooperatives. to obtain legal certainty in conducting business and management of cooperative management.
"If the cooperative law is not immediately ratified by parliament, the ministry will prepare a ministerial regulation as an implementation regulation," said Irawan.
He added that the current government and parliament formed a special and technical team to complete the bill into law.
The seminar also discussed the repositioning of cooperative businesses in the disruptive era, which provides a great opportunity for business people to accelerate their business, because technological developments in the disruptive era make economic activities faster and easier.
Not all businesses can take advantage of technological developments, old players in industries with minimal innovation will be disrupted by new players who come up with new ideas and ideas.
"The products and innovative services via the internet preferred by consumers because it quickly and easily," Irawan said.