Pensiunan Kemenkop UKM Diajak Tetap Dukung Pengembangan KUMKM
Retired Civil Servants of Indonesian Ministries Keep Support the Government`s Policy
Reporter : Gusmiati Waris
Editor : Cahyani Harzi
Translator : Dhelia Gani

PUBLISHED: Senin, 13 Agustus 2018 , 02:27:00 WIB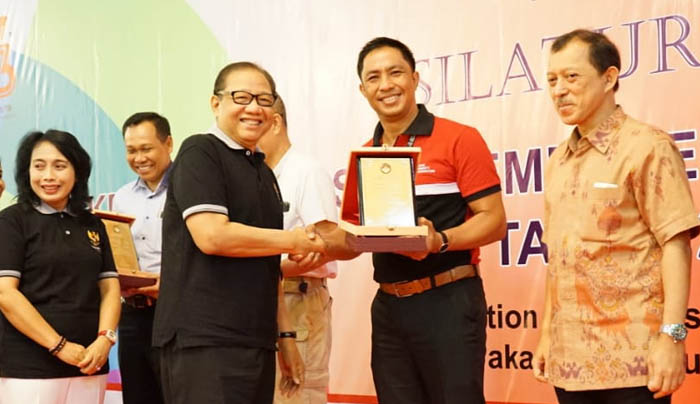 Penasihat DWP Kemenkop dan UKM Bintang Puspayoga (kiri) mendampingi Menteri AAGN Puspayoga (ke-2 kiri) menyerahkan cenderamata kepada peserta silaturahim (Foto: Humas Kemenkop UKM)
Jakarta (B2B) - Kementerian Koperasi dan UKM RI mengajak para pensiunan untuk memberikan sumbangan pemikiran mendukung pengembangan koperasi dan UMKM, karena hal itu sesuai dengan kebijakan Presiden Joko Widodo untuk meningkatkan pertumbuhan ekonomi, menciptakan lapangan kerja, mengentaskan kemiskinan, dan mengurangi kesenjangan.
"Pemikiran beliau-beliau (pensiunan) sangat kita butuhkan, apa sih yang kita lakukan dalam tupoksi kita di Kementerian Koperasi dan UKM untuk memajukan koperasi maupun UKM-UKM yang ada di Indonesia," kata Penasehat Dharma Wanita Persatuan (DWP) Kemenkop dan UKM, Bintang Puspayoga pada silaturahim di Jakarta, Sabtu (11/8) yang dihadiri lebih 500 pensiunan kementerian.
Kegiatan tersebut diadakan rutin setiap tahun untuk menjalin silaturahim antara para pensiunan dengan pejabat aktif.
Ketua Paguyuban Purna Bhakti Kemenkop dan UKM, Marsudi memberi semangat kepada koleganya bahwa masa pensiun bukanlah akhir dari sebuah pengabdian melainkan sebagai langkah baru menuju pengabdian lainnya untuk masyarakat.
"Justru awal dari kehidupan yang bebas, kita cari kegiatan yang produktif dan bermanfaat bagi masyarakat," kata Marsudi.
Jakarta (B2B) - Indonesian Cooperatives and SMEs Ministry invites retired civil servants to contribute ideas to support the development of cooperatives and SMEs,because it is in accordance with President Joko Widodo´s policy to increase economic growth, create jobs, alleviate poverty, and reduce gini ratio.
"Support of retired civil servants is still needed to support development of cooperatives and SMEs across the country," said the Chairwoman of the Wives Union at Cooperatives and SMEs Ministry, Bintang Puspayoga here on Saturday (August 11).
The activity is held regularly every year to establish friendship between retirees and active officials.
Chairman of the Ministry of Civil Servant Retired Association, Marsudi give encouragement to his colleagues that retirement is not the end of a service but as a new step for community service.
"Precisely the beginning of a free life, we are looking for activities that are productive and beneficial to society," he said.