Presiden Jokowi Apresiasi UKM Manfaatkan KUR untuk Kembangkan Usaha
Indonesian President Supports Development of SMEs by the People`s Business Credit
Reporter : Gusmiati Waris
Editor : Cahyani Harzi
Translator : Dhelia Gani

PUBLISHED: Jum'at, 08 Juni 2018 , 02:41:00 WIB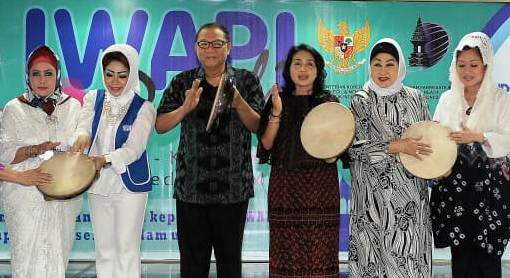 Menkop UKM AAGN Puspayoga bersama pengurus pusat Iwapi (Foto: Humas
Jakarta (B2B) - Presiden RI Joko Widodo mengapresiasi peningkatan jumlah usaha kecil menengah (UKM) yang memanfaatkan dana kredit usaha rakyat (KUR) untuk mendukung pengembangan usaha UKM, dan Presiden Jokowi menetapkan rencana plafon KUR 2018 menjadi Rp120 triliun dari Rp106 triliun pada 2017.
Hal itu dikemukakan Menteri Koperasi dan UKM, AAGN Puspayoga setelah menyampaikan laporan perkembangan KUR kepada Presiden Jokowi, belum lama ini, dan mengapresiasi banyaknya UKM yang mampu meningkatkan skala usahanya setelah memanfaatkan dana KUR.
"Jadi saya sampaikan kepada Presiden Jokowi, dan beliau sangat apresiasi. Sangat merespon," kata Puspayoga pada kegiatan santunan yatim piatu yang digelar oleh Ikatan Wanita Pengusaha Indonesia (Iwapi) di Jakarta, Rabu (6/8).
Menurut Puspayoga, Presiden Jokowi memiliki komitmen untuk mengembangkan usaha rakyat, dengan menetapkan rencana plafon KUR 2018 menjadi Rp120 triliun dari Rp106 triliun pada 2017.
Pemerintah juga menurunkan tingkat suku bunga pinjaman KUR menjadi 7% pada 2018. Sebelumnya, bunga KUR ditetapkan 22%, kemudian turun menjadi 12% selama beberapa bulan sebagai masa transisi pemerintahan Jokowi, dan turun lagi ke 9%.
Jakarta (B2B) - Indonesian President Joko Widodo appreciates the development of small and medium enterprises or UKM, after utilizing the people´s business credit or KUR to support SME development, and the Indonesian government has set KUR funds of 2018 to 120 trillion from 106 trillion rupiah in 2017.
It was stated by Cooperative and SMEs Minister, AAGN Puspayoga here recently, after met with President Widodo to report on the utilization of KUR by SMEs.
"I reported to President Widodo about SME business development after utilizing KUR funds," Minister Puspayoga said here on Wednesday (June 6).
According to Puspayoga, President Widodo is committed to developing the people´s business, by setting KUR 2018 to 120 trillion from 106 trillion in 2017.
The government is also reducing the KUR loan interest rate to 7% by 2018 as transition period of Widodo administration and down to 9%.