Pemeriksaan Kelembagaan, Kemenkop UKM Latih Satgas Pengawas Koperasi
Indonesian Govt Enhances the Cooperative Oversight Function in the Region
Reporter : Gusmiati Waris
Editor : Cahyani Harzi
Translator : Dhelia Gani

PUBLISHED: Rabu, 26 Juni 2019 , 00:24:00 WIB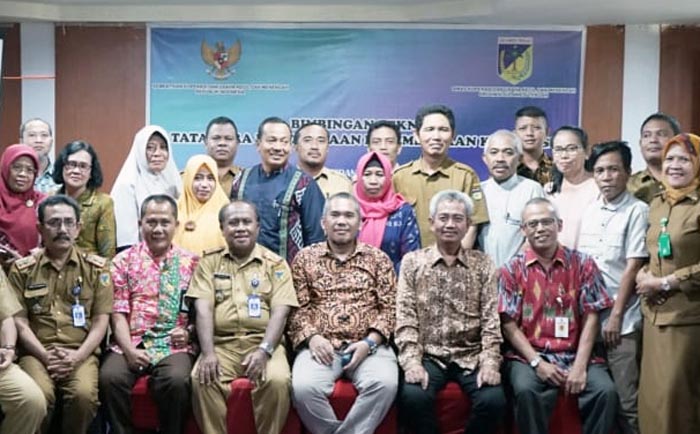 Foto2: Humas Kemenkop UKM
Palu, Sulteng [B2B] - Pengawas koperasi seharusnya tidak hanya mampu menemukenali kesalahan/pelanggaran oleh pengurus koperasi, namun juga harus mampu memberikan rekomendasi perbaikan dan saran tindak selanjutnya, hal itu termasuk dalam bentuk pemberian sanksi administrasi terhadap pelanggaran sesuai ketentuan yang berlaku, sebagai upaya pengawasan aktif.
"Selain itu, perlu dilakukan pula sosialisasi dan edukasi kepada masyarakat, gerakan koperasi dan aparat pembina atau pengawas untuk menjalankan aktifitas koperasi secara benar, sesuai prinsip dan jati dirinya serta tidak bertentangan dengan ketentuan yang berlaku," kata Deputi Bidang Pengawasan Kementerian Koperasi dan UKM, Suparno di Palu, Sulteng pada Selasa [25/6] pada ´Bimbingan Teknis Tata Cara Pemeriksaan Kelembagaan Koperasi´ yang diikuti 45 peserta.
Menurutnya, Bimtek meliputi pelatihan dan sosialisasi terkait tata cara pemeriksaan kelembagaan merupakan salah satu upaya dalam rangka membekali Satgas dalam melaksanakan fungsi pengawasan dan pemeriksaan kelembagaan koperasi di lapangan.
"Kami berharap kegiatan ini dapat meningkatkan kapasitas dan kemampuan Satgas Pengawas Koperasi baik secara skill atau keterampilan maupun secara knowledge atau pengetahuan dalam hal substansi teknis pemeriksaan kelembagaan maupun kebijakan pengawasan koperasi di Indonesia," kata Suparno.
Asisten Deputi Pemeriksaan Kelembagaan Kementerian Koperasi dan UKM Yusuf Choerullah mengatakan kegiatan Bimtek diikuti oleh 45 peserta dari unsur pembina/pengawas koperasi dari dinas koperasi tingkat provinsi/kabupaten/kota di Sulteng.
Bimtek menghadirkan narasumber dari kalangan akademisi dan praktisi untuk memberikan pemahaman teknis pemeriksaan kelembagaan serta pejabat di Kemenkop UKM maupun Dinas Koperasi dan UKM Provinsi Sulawesi Tengah yang menyampaikan kebijakan pengawasan koperasi.
"Nantinya dengan bekal kemampuan dan pengetahuan maka pengawas koperasi diharapkan lebih percaya diri dan berani melaksanakan tugas pengawasan sesuai mekanisme dan kertas kerja pemeriksaan kelembagaan," katanya.
Palu of Central Sulawesi [B2B] - The cooperative supervisors are not only able to find out violations by cooperative management, but also must provide recommendations for improvements and follow-up suggestions, it includes administrative sanctions against violations in accordance accordance with the provisions of the law.
"In addition, socialization and education for the community, the cooperative movement and supervisors must be carried out to carry out cooperative activities correctly," said the Deputy for Supervision of Indonesian Cooperatives and SMEs Ministry, Suparno here on Tuesday [June 25].
According to him, technical guidance includes training and outreach related to institutional inspection procedures is one of efforts in order to equip the task force in carrying out supervisory and inspection functions of cooperative institutions in the field.
"We hope to be able to increase capacity and capability of cooperative supervisory task force either in skill in terms of technical institutional checks and policies on cooperative supervision in Indonesia, "said Suparno.
Assistant Deputy for Institutions, Yusuf Choerullah said the technical guidance activities were attended by 45 participants of the cooperative supervisory in provincial/district/city cooperative offices in Central Sulawesi.