LPDB-KUMKM Sikapi Bijak Kendala Finansial KUD Sarwa Mukti Cisarua
Indonesia`s Fund Management Support Dairy Cow Cooperative in Bandung
Reporter : Gusmiati Waris
Editor : Cahyani Harzi
Translator : Dhelia Gani

PUBLISHED: Jum'at, 03 Agustus 2018 , 02:46:00 WIB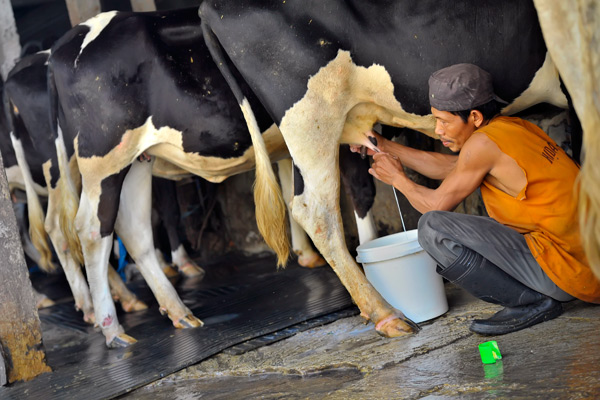 Foto: istimewa
Bandung, Jabar (B2B) - Koperasi produksi susu murni, KUD Sarwa Mukti Cisarua di Kabupaten Bandung, Jawa Barat mengapresiasi kebijakan Lembaga Pengelola Dana Bergulir untuk Koperasi, dan Usaha Mikro, Kecil dan Menengah (LPDB-KUMKM) tidak menyita agunan koperasi dan memberi keringanan kepada koperasi susu tersebut untuk mengangsur pengembalian dana bergulir, sehingga kegiatan usaha koperasi tetap berjalan bagi kepentingan anggota dan masyarakat.
"Kami bersyukur dan mengapresiasi kebijakan pimpinan LPDB tidak menyita agunan KUD dan diberi keringanan pengembalian pinjaman modal sesuai kemampuan," kata Ketua Pengurus Koperasi H Jajan Suparman.
Saat ini koperasi yang berdiri sejak 1974 terkendala populasi sapi penghasil susu, yang seharusnya enam sapi per anggota KUD. Sementara mitra perusahaan, Ultra Jaya dan Cimori membutuhkan sedikitnya enam ton susu per pekan, tidak lagi dapat dipenuhi oleh KUD Sarwa Mukti Cisarua.
"Rata-rata kepemilikan sapi perah saat ini maksimal hanya tiga ekor sehingga kesulitan memenuhi kuota dari mitra perusahaan," kata Jajan.
Jajan Suparman mengakui sudah dua kali mendapat pinjaman modal dari LPDB, pengembalian pinjaman pertama berikut bunganya dapat diangsur sesuai waktu yang ditentukan LPDB. Namun pada pinjaman dana bergulir kedua, terkendala oleh mismanajemen dan persaingan pasar.
"Kami sudah berusaha mengajukan permohonan dukungan teknis dan dana dari dinas terkait kepada pemerintah provinsi dan kabupaten, tapi saat ini belum digubris," kata Jajan.
Saat ini koperasi yang dipimpinnya mengelola usaha penampungan susu, simpan pinjam, dan loket pembayaran listrik.
"Anggota koperasi sekitar 400 orang dengan simpanan wajib Rp15 ribu per orang yang disalurkan ke unit usaha permodalan simpan pinjam," kata Supriadi Rahmat, Sekretaris KUD Sarwa Mukti Cisarua.
Sebagaimana diketahui, KUD Sarwa Mukti Cisarua yang berdiri sejak 44 tahun lalu, berdasarkan instruksi Presiden di awal pemerintahan Orde Baru menginstruksikan setiap kecamatan harus segera dibentuk suatu lembaga ekonomi masyarakat dengan nama badan usaha unit desa (BUUD). Sementara KUD Sarwa Mukti Cisarua didirikan oleh 35 tokoh masyarakat di Kecamatan Cisarua.
Persyaratan Ketat
Kebijakan LPDB-KUMKM memberi ´kesempatan kedua´ kepada KUD Sarwa Mukti Cisarua layak diapresiasi mengingat peranan dan dukungan koperasi susu tersebut sejak 1974 mendukung peternak sapi perah mengembangkan usahanya mendukung kebutuhan susu segar bagi masyarakat dan perusahaan.
Kendati begitu, kebijakan tersebut tidak dapat dipukul rata kepada setiap koperasi yang menjadi mitra LPDB ke depan. Pemerintah RI telah menerbitkan Peraturan Menkop dan UKM Nomor 8/2018 untuk mempermudah prosedur dan persyaratan pengajuan pinjaman ke LPDB-KUMKM maka koperasi harus memenuhi tiga syarat utama. Pertama, ada nomor induk koperasi (NIK); kedua, sertifikat kompetensi bagi manajer koperasi; dan ketiga, penilaian kesehatan.
"Ketiga syarat itu sangat memberatkan, tapi kalau koperasi bisa menunjukkan ketiga itu atau memiliki, akan menjadi poin yang mempermudah disetujuinya pinjaman yang diajukan," kata Braman Setyo, mantan Deputi Pembiayaan Kementerian Koperasi dan UKM di Batam, belum lama ini.
LPDB-KUMKM mensyaratkan lampiran 11 dokumen dalam setiap pengajuan pinjaman ke LPDB antara lain daftar kebutuhan, akta pendirian koperasi, laporan rapat anggota tahunan (RAT), laporan keuangan, surat izin usaha, nomor pokok wajib pajak (NPWP), tanda daftar perusahaan (TDP), dan bukti status kantor.
Sementara pola pengajuan proposal dapat diajukan melalui dinas koperasi provinsi, lembaga penjaminan yakni Perum Jamkrindo atau PT Jaminan Kredit Daerah (Jamkrida) di setiap ibukota provinsi, atau dibawa langsung ke kantor cabang/pusat LPDB-KUMKM.
"Ada tiga lembaga yang dapat mengajukan dana bergulir LPDB yakni koperasi, UMKM, lembaga keuangan bank dan bukan bank atau LKB/LKBB," kata Braman Setyo.
Bandung of West Java (B2B) - Cow milk cooperative, KUD Sarwa Mukti Cisarua in Bandung district of West Java province appreciates the policy of Indonesia´s fund management institutions lending to cooperatives and SMEs or the LPDB-KUMKM giving a ´second chance´ to repay capital loan so that cooperative business activities continue to run for the interests of members and society.
"We are grateful and appreciate that LPDB policy does not confiscate the collateral of cooperatives to repay capital loans in accordance with the capability of the cooperative," said Chairman of the Cooperative H Jajan Suparman.
Currently cooperatives established since 1974 constrained population of dairy cows, which should have six dairy cows per member of the cooperative. While its partners, Ultra Jaya and Cimori need at least six tons of milk per week, can no longer be fulfilled by KUD Sarwa Mukti Cisarua.
"On average, members of the cooperative only have three dairy cows, so it is difficult to meet the quota from the company´s partners," Suparman said.
Supaman admit twice got capital loan from LPDB, the first loan repayment and interest is paid in accordance with the LPDB provisions. But the second loan repayment, constrained by mismanagement and market competition.
"We´ve been trying to apply for technical support, and funds from related agencies to the provincial and district governments, but were ignored, " he said.
Currently the cooperative he leads managing the dairy shelter business, savings and loans, and counter electric payment.
"Members of the cooperative are around 400 people, mandatory savings of 15 thousand rupiah per person," said Supriadi Rahmat, Secretary of the KUD Sarwa Mukti Cisarua.
Strict Requirements
The Indonesian government issued regulation No. 8/2018 to simplify the procedure and requirements of loan application to the LPDB-KUMKM ie registered as cooperatives, competency certificates for cooperative managers, and business health assessments.
"If the cooperative meets all three requirements it will make it easier to get a capital loan," Mr Setyo said.
The LPDB-KUMKM requires 11 attachment documents for capital loan application to LPDB such as requirement list, cooperative establishment certificate, annual member meeting report, financial report, business license, taxpayer registration number, company register, and office status proof.
While the proposal may be submitted to the provincial cooperative service office, Jamkrindo or Jamkrida guarantee institutions in every provincial capital, or directly to the LPDB-KUMKM branch office/center.
"There are three institutions that can apply for capital loan to LPDB namely cooperatives, SMEs, bank and non-bank financial institutions," Mr Setyo said.