UU MD3 Resmi Berlaku Meski Tanpa Teken Presiden Jokowi
Indonesia Makes Criticising Politicians a Crime
Editor : Ismail Gani
Translator : Novita Cahyadi

PUBLISHED: Jum'at, 16 Maret 2018 , 00:29:00 WIB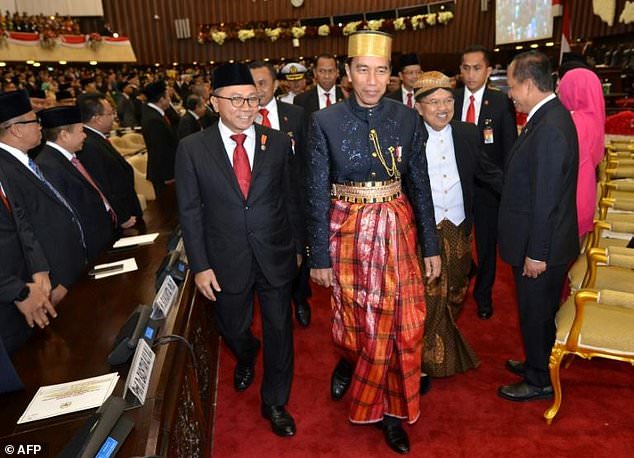 Presiden RI Joko Widodo menolak untuk meneken UU MD3 (Foto: AFP/MailOnline)
SESEORANG dapat dipenjara karena mengritik anggota DPR berdasarkan revisi undang-undang baru yang mulai berlaku Kamis (15/3), dan pengamat politik menuding hal itu sebagai kemunduran besar demokrasi di Indonesia.

Revisi UU No 17/2014 tentang MPR, DPR, DPRD dan DPD yang telah diberi nomor sebagai UU No 2/2018 yang disebut UU MD3 disetujui oleh 560 anggota DPR bulan lalu dan berlaku resmi kemarin, namun Presiden RI Joko Widodo menolak menandatangani UU kontroversial tersebut.

Presiden Jokowi tidak memiliki hak untuk menolak UU MD3, meskipun bisa diajukan judicial review ke Mahkamah Konstitusi (MK).

UU MD3 dituding membuka jalan bagi anggota parlemen untuk mengajukan tuntutan hukum kepada siapa pun yang "tidak menghormati parlemen atau anggotanya" namun tidak menetapkan persyaratan minimum atau maksimum penjara.

Indonesia adalah negara demokrasi terbesar ketiga di seluruh dunia setelah India dan Amerika Serikat (AS).

Banyak pihak menentang UU MD3 karena berpotensi menjebloskan ke penjara para penentangnya di masa depan, kata pengamat.

"Bagaimana hukum dapat menentukan seseorang tidak hormat pada DPR?" kata Koodinator Forum Masyarakat Peduli Parlemen Indonesia (Formappi) Sebastian Salang.

"Ini tidak dijelaskan dengan jelas dan bisa ditafsirkan secara longgar asalkan sesuai dengan kepentingan legislatif untuk membungkam kritik."

Ratusan pemrotes melakukan demonstrasi di luar gedung MK di Jakarta pada Kamis, yang menyerukan agar mencabut undang-undang tersebut.

Juru bicara MK mengatakan telah menerima tiga petisi yang mengajukan judicial review atas UU MD3, namun diperlukan waktu berbulan-bulan sebelum membuat sebuah keputusan.

Setiap tindak investigasi seorang anggota parlemen harus disetujui oleh Mahkamah Kehormatan Dewan (MKD) DPR di bawah undang-undang baru, yang dapat menghentikan penyelidikan oleh Komisi Pemberantasan Korupsi (KPK).

Beberapa pengamat mengatakan undang-undang baru tersebut akan mengkriminalisasi kritik terhadap korupsi endemik dan kinerja buruk parlemen.

Sedikitnya delapan anggota parlemen telah ditangkap karena korupsi dalam beberapa tahun terakhir, termasuk mantan Ketua DPR Setya Novanto yang diadili karena terlibat kasus korupsi KTP elektronik (e-KTP).

Ada kekhawatiran tentang kebebasan berbicara dan hak asasi manusia selama pemerintahan Jokowi.

Indonesia mendorong untuk mengurangi seks gay dan pra-nikah sebagai bagian dari perombakan hukum pidana sweeping, sementara pemerintah telah menggunakan undang-undang Internet sweeping untuk menangkap orang-orang yang dituduh memfitnah presiden dan pejabat tinggi lainnya secara online.

Tahun lalu, pemerintah mengeluarkan sebuah keputusan yang mengizinkan negara tersebut untuk melarang kelompok yang menentang ideologi kenegaraannya.

Jokowi telah meminta pengedar narkoba untuk ditembak jika mereka menolak ditangkap sebagai upaya Indonesia memerangi perdagangan narkoba seperti dikutip AFP yang dilansir MailOnline.
INDONESIAN could be jailed for criticising national politicians under a new law which came into force Thursday, in what critics slammed as a major step back for the world's third-biggest democracy.

The vaguely worded bill passed the 560-member house last month but has just become official, over the objections of President Joko Widodo who refused to sign off on the controversial legislation.

Widodo does not have veto power over the bill, although it can be challenged at the Constitutional Court.

The so-called MD3 law opens to the door to pressing charges against anyone who "disrespects parliament or its members" but does not set out possible minimum or maximum jail terms.

Indonesia is the third biggest democracy globally behind India and the United States.

Protesters across the Southeast Asian archipelago who blasted the bill could potentially see themselves jailed for such demonstrations in the future, critics said.

"How does the law define disrespect?" said Sebastian Salang from the monitoring group Indonesian Parliament Watchdog.

"It is not clearly explained and could be loosely interpreted as long as it fits the lawmakers' interest to silence critics."

Hundreds of protesters staged a rally outside the Constitutional Court in Jakarta Thursday, calling on it to revoke the legislation.

A spokesman for the court said it had already received three petitions challenging the law, but it could take months before it renders a decision.

Any investigation of a parliamentarian would have to be approved by the House Ethics Council under the new law, which could block probes by Indonesia's powerful Corruption Eradication Commission.

Some observers say the new law would criminalise criticism of the endemic corruption and poor performance among some members of Indonesia's political system.

At least eight lawmakers have been arrested for corruption in recent years, including former house speaker Setya Novanto who is on trial in one of the country's biggest-ever graft scandals.

There have been growing concerns about freedom of speech and human rights during Widodo's tenure.

Indonesia is pushing to clamp down on gay and pre-marital sex as part of a sweeping criminal law overhaul, while the government has used sweeping Internet legislation to arrest people accused of defaming the president and other high-ranking officials online.

Last year, the government issued a decree allowing the country to ban groups that oppose its official state ideology.

Widodo has called for drug dealers to be shot if they resist arrest as the country wrestles with what he has called a drug "emergency".