Citarum Disebut Bank Dunia sebagai `Sungai Paling Tercemar di Dunia`
Indonesia Scrubbing the `World`s Dirtiest River`
Editor : Ismail Gani
Translator : Novita Cahyadi

PUBLISHED: Sabtu, 03 Maret 2018 , 03:27:00 WIB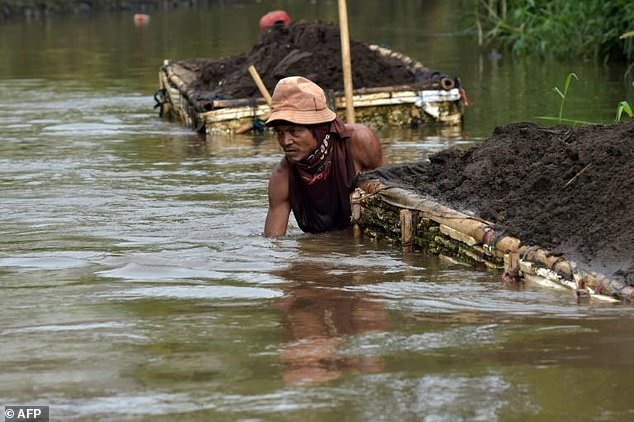 Foto: AFP/MailOnline
PENYAKIT KULIT pada anggota tubuh petani bernama Yusuf Supriyadi adalah peringatan tentang risiko dampak dari tinggal dekat ´sungai paling kotor di dunia´.

Supriyadi bergantung pada air keruh Citarum - yang tercemar oleh sampah rumah tangga, bahan kimia beracun dan kotoran hewan - untuk mengairi sawah kecil di Jawa Barat yang menopang hidup keluarganya yang beranggotakan enam orang.

Hasil panen petani sekarang turun dua pertiga di musim hujan karena pabrik tekstil membuang lebih banyak limbah industri ke sungai. Namun dia tak punya banyak pilihan.

"Ada banjir saat musim hujan, tangan saya gatal dan panennya rusak," kata pria berusia 54 tahun itu kepada AFP.

"Polusi membuat padi saya rusak. Jika saya teruskan, saya akan merugi, tapi kalau tidak, saya tidak punya pekerjaan lain," tambahnya.

Kini menghadapi keadaan darurat kesehatan setelah beberapa dekade melakukan upaya pembersihan yang gagal, pemerintah pusat bergegas untuk mengembalikan fungsi sungai yang tampaknya mustahil terwujud: membuat sungai Citarum dapat diminum lagi pada 2025.

Menggunakan air yang tercemar ini adalah perhitungan berisiko bagi 30 juta orang yang mengandalkannya untuk pengairan, pencucian dan bahkan air minum - termasuk sekitar 80 persen penduduk di ibukota Jakarta yang luas.

Panjangnya hampir 300 kilometer, sungai ini juga merupakan sumber utama pembangkit listrik tenaga air untuk pulau Jawa dan hotspot pariwisata Indonesia yang paling padat penduduknya.

Bank Dunia menyatakannya sebagai sungai paling tercemar di dunia satu dekade yang lalu, sebuah deskripsi yang banyak diambil oleh media dan pemerhati lingkungan.

Tingkat limbah dapat bervariasi tergantung pada bagaimana polusi diukur dan waktu dalam setahun.

Namun Citarum tetap berbahaya dengan standar apapun.

Penelitian sebelumnya telah menunjukkan bahwa Citarum memiliki tingkat kimia beracun yang memprihatinkan - termasuk 1.000 kali lebih banyak daripada standar AS untuk air minum yang aman.

Ini secara teratur muncul di daftar paling tercemar bersama dengan sungai Gangga India, sungai Mississippi di Amerika Serikat dan sungai Kuning China seperti dilansir MailOnline.
THE SCABIES on Indonesian rice farmer Yusuf Supriyadi´s limbs are a daily reminder of the costs of living next to the "world´s dirtiest river".

Supriyadi depends on the Citarum´s murky waters -- a floating carpet of household rubbish, toxic chemicals and animal feces -- to irrigate a small rice plot in West Java that sustains his family of six.

The farmer´s rice yield is now down by two-thirds in the rainy season as textile factories dump more and more industrial waste into the river. But he has few other options.

"There are floods during the rainy season. My hands get itchy and the harvest is damaged," the 54-year-old tells AFP.

"Pollution makes my rice hollow. If I keep going I´ll lose money, but if I don´t, I´ll have no other job," he adds.

Now faced with a health emergency after decades of failed clean-up efforts, Jakarta is stepping in with a seemingly impossible goal: make the Citarum´s water drinkable by 2025.

Using this polluted water is a risky calculation for many of the 30 million people who rely on it for irrigation, washing and even drinking water -- including around 80 percent of residents in the sprawling capital Jakarta.

At nearly 300-kilometres long, the river is also a key source for hydroelectric power for Indonesia´s most populated island Java and tourism hotspot Bali.

The World Bank declared it the most-polluted river in the world a decade ago, an description widely picked up by media and environmentalists.

Waste levels can vary depending on how pollution is measured and the time of the year.

But the Citarum is dangerous by almost any standard.

Previous research has shown it has alarming levels of toxic chemicals -- including 1,000 times more lead than the US standard for safe drinking water.

It regularly appears on most-polluted lists alongside India´s Ganges river, the Mississippi river in the United States and China´s Yellow river.