Sampah Plastik dari Australia Picu Masalah Lingkungan di Jawa Timur
Tonnes of Plastic Waste from Australia are Covering Indonesian Villages
Editor : Ismail Gani
Translator : Novita Cahyadi

PUBLISHED: Selasa, 28 Mei 2019 , 00:35:00 WIB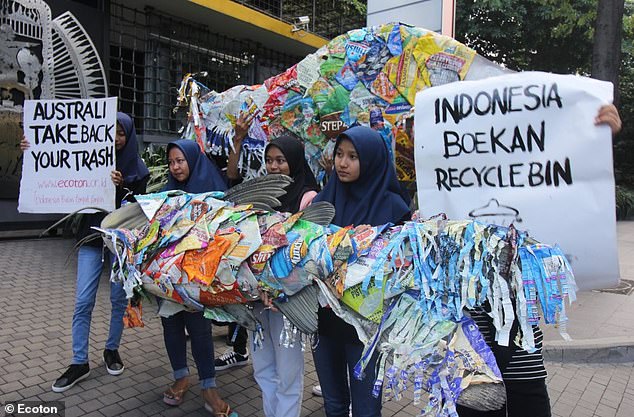 Foto: MailOnline
SEJUMLAH desa di wilayah Jawa Timur menjadi lokasi pembuangan sampah dari produk luar negeri seperti kantong belanja Coles, karton susu Woolworths, dan bahkan kaus kaki Northern Territory.
Kontribusi besar Australia terhadap limbah plastik yang membanjiri desa-desa ini tidak dapat dipungkiri - setelah Indonesia menjadi tujuan ekspor sampah terbesar kedua untuk sampah dari ´negeri kanguru´ sejak China melarang sampah impor dari Australia dalam beberapa tahun terakhir.
Hasil Audit oleh koalisi lingkungan setempat menuding ribuan ton sampah plastik dari seluruh dunia diselundupkan ke Jawa Timur setiap bulan di antara pengiriman kertas untuk didaur ulang di pabrik, menurut media Australia, The Australian.
Perusahaan pengelolaan limbah Australia, Cleanaway, dan Auswaste mengekspor jutaan kilogram kertas limbah ke Jawa Timur, tetapi keduanya menyanggah tudingan The Australian bahwa mereka tidak terlibat dalam penyelundupan plastik.
"Setiap pengiriman limbah yang dikirim oleh Cleanaway ke Indonesia diperiksa dan disetujui sebelum diekspor oleh kontraktor lokal untuk Bea Cukai Indonesia," kata Cleanaway dalam pernyataan resminya, seraya menambahkan bahwa mereka tidak pernah mengekspor produk yang ditolak karena kontaminasi plastik.
"Kami percaya materi yang kami kirim ke Indonesia dan tujuan lain akan didaur ulang dengan cara yang tepat," kata direktur pengelola Auswaste, Vincent Liang.
Desa Bangun adalah salah satu desa di kawasan ini yang telah menjadi sasaran pembuangan limbah global dari mancanegara.
Jalan-jalan dan sawah sekarang digunakan untuk memanen tumpukan sampah saat mereka diletakkan di bawah sinar matahari oleh penduduk setempat sebelum disortir dijual ke pabrik tahu di wilayah tersebut untuk menjaga tungku mereka tetap menyala.
Industri tahu di kawasan itu beralih membakar sampah daripada kayu lebih dari satu dekade lalu karena itu adalah pilihan yang lebih murah tanpa menyadari dampak asap beracun yang mengepul dari cerobong asap mereka.
´Terkadang warga mengeluh tentang asap dan limbah cair. Terkadang pula kamilah yang mengeluh. Kami memberi tahu bosnya, ´limbah ini mengeluarkan bau busuk´ dan dia membiarkan kami beralih ke kayu selama sehari, ´kata Kasning, seorang pekerja seperti dilansir MailOnline.
AMONG THE mountains of rubbish blanketing villages in the East Java region of Indonesia are Coles supermarket bags, Woolworths milk cartons, and even a Northern Territory footy jersey.
Australia´s massive contribution to the plastic waste flooding these villages is undeniable - with Indonesia becoming the second largest export destination for our rubbish since China cracked down on the practice in recent years.
An audit by a local environment coalition alleges thousands of tonnes of plastic waste from across the globe is being smuggled into East Java every month among paper shipments to be recycled in mills, according to The Australian.
Australian waste management companies Cleanaway and Auswaste export millions of kilograms of waste paper to East Java but have told The Australian they are not involved in any smuggling of plastics.
´Every waste shipment sent by Cleanaway to Indonesia is inspected and approved prior to export by local contractors for Indonesian Customs,´ Cleanaway told the publication, adding they have never had a shipment rejected for plastic contamination.
´We believe material we send to Indonesia and other destinations will be recycled in a proper manner,´ Auswaste managing director Vincent Liang said.
The village of Bangun is one of those in the region that has embraced the new industry of dealing with global waste from the West.
The streets and rice fields are now used to harvest piles of rubbish as they are laid out to dry in the sun by locals before being sorted sold to tofu factories in the region to keep their furnaces burning.
The region´s tofu industry switched to burning rubbish instead of wood over a decade ago as it was a cheaper option with little thought being given to the acrid, toxic smoke billowing from their chimneys.
´Sometimes people complain about the smoke and liquid waste. Sometimes it´s us who complains. We tell the boss, ´this waste doesn´t smell good´ and he lets us switch to wood for a day,´ one worker Kasning told the publication.