Karhutla, Jokowi Ancam Pecat Pangdam dan Kapolda lantaran Kabut Asap
Indonesian Leader Threatens Sackings over Rampant Forest Fires
Editor : Ismail Gani
Translator : Novita Cahyadi

PUBLISHED: Rabu, 07 Agustus 2019 , 00:03:00 WIB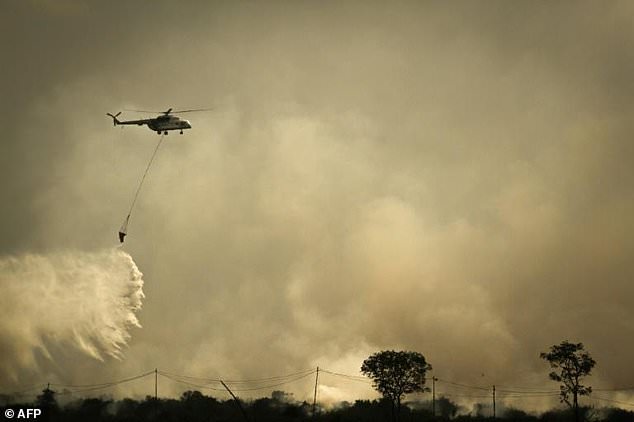 Jokowi mengatakan kebakaran tahun 2015 mengakibatkan kerugian finansial Rp221 triliun setelah membakar sekitar 2,6 juta hektar lahan [Foto: AFP/MailOnline]
PRESIDEN RI Joko Widodo mengancam akan memecat pejabat tinggi TNI dan Polri, Panglima Komando Daerah Militer [Pangdam] dan Kepala Polisi Daerah [Kapolda] apabila gagal mengatasi kebakaran hutan dan lahan [Karhutla] yang menyebabkan kabut asap yang menyebar ke Malaysia dan Singapura.
Presiden Jokowi menyampaikan hal itu pada pengarahan kepada peserta rapat koordinasi nasional [Rakornas] Pengendalian Karhutla 2019 di Istana Negara Jakarta, Selasa [6/8], yang mengingatkan akan memecat para petinggi TNI dan Polri di provinsi yang dilanda Karhutla setelah dikecam negara tetangga di kawasan Asia Tenggara.
"Saya sudah mengingatkan Pangdam, Danrem, Kapolda, Kapolres, aturan yang saya sampaikan 2015 masih berlaku (copot jabatan jika tak bisa atasi karhutla)," kata Jokowi.
"Kita akan dipermalukan di depan negara lain jika kita tidak bisa menyelesaikan masalah kabut asap ini."
"Tidak peduli seberapa kecil apinya, segera matikan," tambahnya.
Pihak berwenang Indonesia mengerahkan ribuan personel tambahan untuk mencegah terulangnya kebakaran 2015, yang merupakan yang terburuk selama dua dekade dan mencekik wilayah itu dalam kabut selama berminggu-minggu.
Kebakaran hutan dan lahan adalah masalah tahunan selama musim kemarau tetapi kian memburuk dalam beberapa pekan terakhir.
Banyak kebakaran terburuk terjadi di gambut kaya karbon, yang sangat mudah terbakar setelah dikeringkan untuk membuka lahan perkebunan kelapa sawit.
Jokowi mengatakan kebakaran tahun 2015 mengakibatkan kerugian finansial Rp221 triliun setelah membakar sekitar 2,6 juta hektar lahan.
"Itu seharusnya tidak pernah terjadi lagi," kata Widodo.
Pejabat dari Indonesia, Malaysia, Singapura, Thailand dan Brunei membahas masalah polusi pada pertemuan tahunan di Brunei yang selesai Selasa, kata kementerian lingkungan hidup Malaysia.
Malaysia akan meminta peserta untuk "mengambil tindakan proaktif" untuk memastikan bahwa kebakaran hutan dan gambut di negara-negara Asia Tenggara dapat dikendalikan untuk menghindari kabut asap, kata kementerian itu dalam sebuah pernyataan menjelang pertemuan.
Malaysia mengatakan kabut asap muncul di sekitar Kuala Lumpur dan di pantai barat Semenanjung Malaysia karena kebakaran di pulau Sumatra dan Kalimantan.
Kualitas udara merosot ke tingkat yang tidak sehat di beberapa bagian Malaysia pekan lalu. Kondisinya lebih baik pada Selasa sore, dengan kualitas udara tercatat "sedang" di banyak tempat.
Langit di atas Singapura tampak kabur dengan lembaga lingkungan mengatakan bahwa kualitas udara moderat.
Pekan lalu, Indonesia mengirim hampir 6.000 personel tambahan dari militer, polisi dan agen bencana untuk memerangi kobaran api sementara darurat telah diumumkan di enam provinsi.
"Kami bekerja keras dan melakukan segala yang kami bisa untuk menghentikan kebakaran sehingga (kabut) tidak akan mencapai negara-negara tetangga," kata juru bicara Badan Nasional Penanggulangan Bencana [BNPB] Agus Wibowo seperti dikutip AFP yang dilansir MailOnline.
INDONESIAN leader Joko Widodo warned Tuesday that officials would be sacked if they failed to stamp out rampant forest fires that are belching out toxic smog over Malaysia and Singapore.
The threat came as Indonesia faced pressure from its neighbours to douse the blazes, which are blamed for sending air quality plummeting in parts of Southeast Asia.
"I´ve told the military and police chiefs to sack people who don´t tackle forest fires," Widodo told a ministers meeting on the issue in Jakarta.
"We´ll be humiliated in front of other countries if we can´t solve this haze problem.
"No matter how small the fire is, put it out immediately," he added.
Indonesian authorities are deploying thousands of extra personnel to prevent a repeat of the 2015 fires, which were the worst for two decades and choked the region in haze for weeks.
The blazes are an annual problem during the dry season but they have worsened in recent weeks.
Many of the worst fires occur in carbon-rich peat, which is highly combustible once drained to make way for agricultural plantations.
Widodo said the 2015 fires caused some 221 trillion rupiah ($15.5 billion) in financial losses and burned about 2.6 million hectares (6.4 million acres) of land.
"That should never happen again," Widodo said.
Officials from Indonesia, Malaysia, Singapore, Thailand and Brunei discussed the pollution issue at an annual meeting in Brunei which wrapped up Tuesday, Malaysia´s environment ministry said.
Malaysia will ask participants to "take pro-active action" to make sure that forest and peat fires in Southeast Asian countries can be controlled to avoid haze, the ministry said in a statement ahead of the gathering.
Malaysia said smog had appeared around Kuala Lumpur and on the west coast of peninsular Malaysia due to fires on Indonesia´s Sumatra island and the Indonesian part of Borneo island.
Air quality dipped to unhealthy levels in some parts of Malaysia last week. Conditions were better Tuesday afternoon, with air quality recorded as "moderate" in many places.
Skies over Singapore looked hazy with the environment agency saying that air quality was moderate.
Last week, Indonesia sent almost 6,000 extra personnel from the military, police and disaster agency to fight the blazes while an emergency has been declared in six provinces.
"We´re working hard and doing everything we can to stop the fires so it (the haze) will not reach neighbouring countries," Indonesian disaster agency spokesman Agus Wibowo said.