Restrukturisasi Kelembagaan, Menkop UKM Lelang Jabatan 3 Eselon 1
The Auction First Echelon Positions in Indonesian Cooperatives & SMEs Ministry
Reporter : Gusmiati Waris
Editor : Cahyani Harzi
Translator : Dhelia Gani

PUBLISHED: Sabtu, 18 Januari 2020 , 00:50:00 WIB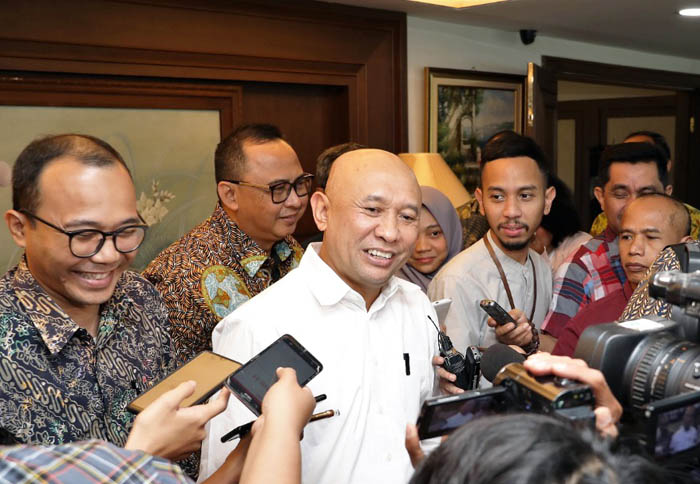 REKRUTMEN TERBUKA: Menkop UKM Teten Masduki [kemeja putih] menjawab pers di kantornya, Jakarta, terkait lelang tiga jabatan eselon satu setingkat direktur jenderal [Foto: Humas Kemenkop UKM]
Jakarta [B2B] - Presiden RI Joko Widodo mendorong pengarusutamaan UMKM dalam pembangunan ekonomi nasional, Kementerian Koperasi dan UKM RI [Kemenkop UKM] membuka rekrutmen terbuka [open bidding] untuk lelang tiga jabatan pimpinan tinggi [JPT] eselon pertama untuk Deputi Bidang Pembiayaan, Deputi Bidang Restrukturisasi Usaha, dan Deputi Bidang Pengawasan. Proses rekrutmen mulai 20 Januari hingga 26 Februari 2020 oleh panitia penyelenggara yang diketuai Sekretaris Menkop UKM, Riza Damanik.
Menkop UKM Teten Masduki mengatakan, tujuan diselenggarakannya rekrutmen terbuka ini antara lain untuk membenahi struktur kelembagaan Kemenkop. Hal itu juga didorong oleh tantangan dari Presiden Joko Widodo untuk membangun perekonomian nasional dengan mengarusutamakan koperasi, UKM, dan UMKM.
"Bagian dari strategi besar untuk pembenahan kelembagaan Kemenkop untuk menjawab tantangan Pak Presiden mendorong pengarusutamaan UMKM dalam pembangunan ekonomi nasional," kata Menkop Teten Masduki kepada pers di Jakarta, Jumat [17/1].
Rangkaian proses rekrutmen tersebut akan dimulai 20 Januari dan berakhir pada 28 Februari 2020. Pengumuman, pendaftaran, dan penyampaian berkas administrasi dilaksanakan 20 Januari-4 Februari; seleksi administrasi 5-11 Februari; pengumuman hasil seleksi administrasi 12-14 Februari; uji kompetensi dan penulisan makalah 19-21 Februari; wawancara dan tes kesehatan 24-25 Februari; dan pengumuman hasil akhir 28 Februari.
Teten Masduki menguraikan alasan mengapa rekrutmen terbuka ini harus disiarkan secara terbuka, karena kementeriannya ingin mendapatkan SDM yang unggul, berpengalaman, dan punya komitmen serta dedikasi untuk memperjuangkan koperasi dan UMKM.
"Kegiatan open bidding jangan diam-diam karena informasinya harus tersebar luas supaya bisa memberi kesempatan ke semua pihak. Ingin lebih transparan agar mudah diawasi semua pihak, nantinya ada kepercayaan dan hasilnya jadi objektif," katanya.
Dengan alasan tersebut, harapannya proses seleksi bisa dilakukan secara transparan. Jika ada kandidat yang kurang baik, Kemenkop bisa meminta masukan-masukan guna mempertimbangkan lolos atau tidaknya peserta tersebut.
Menurutnya, Kemenkop UKM ingin merekrut orang-orang yang kompeten untuk memperjuangkan koperasi dan UMKM, dari PNS maupun non-PNS. Terutama ,non-PNS ya yang sudah punya prestasi di swasta."
Siaran pers yang dilansir Kemenkop UKM menegaskan bahwa kandidat yang ingin memperoleh informasi lebih lanjut soal JPT Madya tersebut bisa melihat di laman website kemenkopukm.go.id, kepegawaian.depkop.go.id/jobbidding, dan media sosial Kemenkop.
Jakarta [B2B] - Indonesian Cooperatives & SMEs Ministry to auction off first echelon positions level of director general and head of the agency. Opened an opportunity for officials from inside or outside the ministry, with the main requirement civil servant status. Indonesian Cooperatives & SMEs Minister, Teten Masduki ensure will not intervene against positions auction process, by involving the selection committee formed by an internal team at the ministry.