Jamsyar dan Dukcapil Kerjasama Data Kependudukan
Indonesian Financial Institutions Utilize State-owned Population Data
Reporter : Gusmiati Waris
Editor : Cahyani Harzi
Translator : Dhelia Gani

PUBLISHED: Kamis, 18 Juli 2019 , 00:54:00 WIB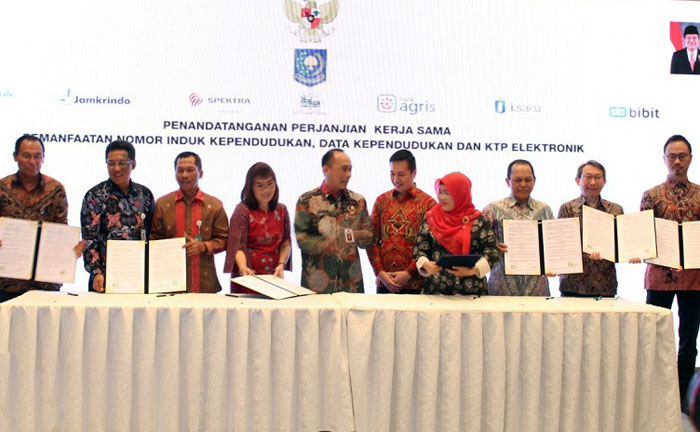 DAMPAK POSITIF: Plt Direktur Utama Jamsyar, Gatot Suprabowo [ke-2 kiri] dan Dirjen Dukcapil Kemendagri, Zudan Arif Fakhrulloh [ke-5 kiri] usai teken kerjasama dengan 13 LK di Jakarta [Foto: Humas Jamsyar]
Jakarta [B2B] - Kementerian Dalam Negeri RI melalui Direktorat Jenderal Kependudukan dan Pencatatan Sipil [Dukcapil] menandatangani kerjasama dengan PT Penjaminan Jamkrindo Syariah [Jamsyar] dan 13 lembaga keuangan [LK] untuk akses pemanfaatan nomor induk kependudukan [NIK], data kependudukan, dan KTP elektronik.
Kerjasama tersebut diteken oleh Dirjen Dukcapil Kemendagri, Zudan Arif Fakhrulloh dengan Plt Direktur Utama Jamsyar, Gatot Suprabowo; Direktur Operasional Jamkrindo, Syariah Achmad Sonhadji; dan perwakilan pimpinan ke-13 LK di Jakarta, Selasa [16/7].
Dirjen Zudan AF mengatakan terdapat tiga jenis layanan yang dapat dimanfaatkan oleh lembaga keuangan terkait pemanfaatan data dan dokumen Ditjen Dukcapil.
Ketiga layanan dimaksud adalah akses data perseorangan untuk verifikasi, pemadanan basis data tiap lembaga keuangan, dan akses pemanfaatan data melalui penggunaan perangkat pembaca KTP elektronik untuk verifikasi keaslian kartu.
"Kerjasama ini memberikan dampak positif untuk negara dan lembaga keuangan. Bagi negara, kerja sama ini membantu melengkapi, meningkatkan akurasi, serta memperkaya basis data kependudukan, sementara lembaga keuangan mendapatkan keamanan, keakuratan, dan kemudahan dalam verifikasi data penduduk," kata Zudan AF.
Menurutnya, ada 1.227 LK telah melakukan kerjasama dengan Dukcapil, hingga Selasa [16/7] untuk pemanfaatan data kependudukan, termasuk LK, sedangkan jumlah penduduk yang telah melakukan perekaman data KTP elektronik mencapai 98,93% dari total penduduk Indonesia.
"Meningkatnya LK yang memanfaatkan data kependudukan dan bertambahnya jumlah penduduk yang melakukan perekaman data KTP elektronik membuat Dukcapil optimistis untuk mewujudkan ekosistem nasional sadar administrasi kependudukan," katanya.
Jakarta [B2B] - Indonesian Home Affairs Ministry through the Directorate General of Population and Civil Registration [Dukcapil Kemendagri] signed an agreement with credit guarantee company, PT Penjaminan Jamkrindo Syariah [Jamsyar] and 13 financial institutions to access the residence number [NIK], population data, and electronic identity card.