Dangdut dan Musik Rock Pikat Hati Pemilih jadi Sorotan Dunia
Music for the Masses Winning Indonesian Voter`s Hearts
Editor : Ismail Gani
Translator : Novita Cahyadi

PUBLISHED: Jum'at, 12 April 2019 , 00:57:00 WIB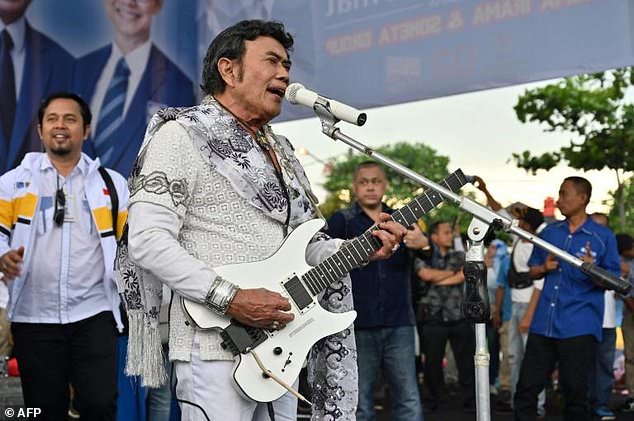 Raja dangdut Rhoma Irama mendukung kampanye Prabowo - Sandi [Foto: AFP/MailOnline]
DARI penggemar musik dangdut yang berjoget hingga band rock yang berdentum dan nada-nada Islam, nusik menjadi penentu untuk membujuk pemilih - dan memilih - menyongsong pemilihan umum di negara demokrasi ketiga terbesar di dunia pekan depan.
Di samping platform politik, para kandidat faham bahwa hiburanlah yang menarik perhatian banyak orang untuk melakukan kampanye di Indonesia yang gila musik.
Tanyakan saja kepada seorang pemilih milenial, Muhammad Ariel, yang pergi ke sebuah konser di mana band rock populer Radja tampil mendukung presiden Joko Widodo, yang lebih dikenal sebagai Jokowi.
Menjerit "di mana para penggemar Jokowi", konser musik Radja dan acungan jempol untuk pemimpin pencinta musik heavy-metal Indonesia beresonansi dengan pemilih muda seperti Ariel, yang merupakan hampir sepertiga dari pemilih.
Kubu Jokowi mengatakan bahwa memenangkan lebih banyak pemilih milenial yang untuk pertama kali mencoblos menjadi sangat penting.
"Saya penggemar Radja karena lagu-lagu mereka hebat, tetapi itu juga karena kami akan memilih kandidat yang sama," kata Ariel dari kampanye terbuka di dekat ibukota Jakarta.
Lebih dari 190 juta orang akan memberikan suara untuk ribuan kandidat, dari presiden hingga legislator lokal, dalam pemilihan terbesar negara Asia Tenggara pada 17 April.
Musik sangat penting di negara berpenduduk 260 juta ini, di mana musik adalah pokok acara televisi, acara olahraga, debat presiden, dan bahkan ulasan ekonomi bank sentral baru-baru ini.
Dan itu harus dilakukan pada saat pemilihan.
"Musik dimaksudkan untuk menangkap minat orang-orang pada strata masyarakat yang lebih rendah," kata Hamdi Muluk, seorang profesor psikologi Universitas Indonesia yang memiliki spesialisasi dalam politik dan perilaku pemilih seperti dikutip AFP yang dilansir MailOnline.
FROM INDONESIA´S hip-swivelling juggernaut dangdut to thumping rock bands and Islam-infused tunes, music could be the clincher for winning hearts -- and votes -- as the world´s third-biggest democracy heads to the polls next week.
Political platforms aside, candidates know it is entertainment that draws the crowds to campaign rallies in music-mad Indonesia.
Just ask millennial voter Muhammad Ariel, who went to a concert where popular rock band Radja performed in support of president Joko Widodo, better known as Jokowi.
Screaming "where are Jokowi´s fans", Radja´s energetic show and thumbs-up for Indonesia´s heavy-metal music loving leader resonates with young voters like Ariel, who make up almost one third of the electorate.
Jokowi´s camp has said that winning over millennial and first time voters was crucial.
"I´m a Radja fan because their songs are great, but it´s also because we´re going to vote for the same candidate," Ariel said from the rally near the capital Jakarta.
More than 190 million people are set to cast a ballot for thousands of candidates, from the president down to local legislators, in the Southeast Asian nation´s biggest-ever election on April 17.
Music is essential in this nation of 260 million, where song-and-dance is a staple of television shows, sporting events, presidential debates and even the central bank´s recent economic review.
And it´s a must-do at election time.
"Music is meant to capture the interest of people on the lower rungs of society," said Hamdi Muluk, a University of Indonesia psychology professor who has a speciality in politics and voter behaviour.