Sambangi Bandung, Braman Setyo Dorong UKM Jabar Manfaatkan Dana LPDB-KUMKM
Indonesia`s Fund Management for SMEs in West Java
Reporter : Gusmiati Waris
Editor : Cahyani Harzi
Translator : Dhelia Gani

PUBLISHED: Minggu, 10 Juni 2018 , 06:33:00 WIB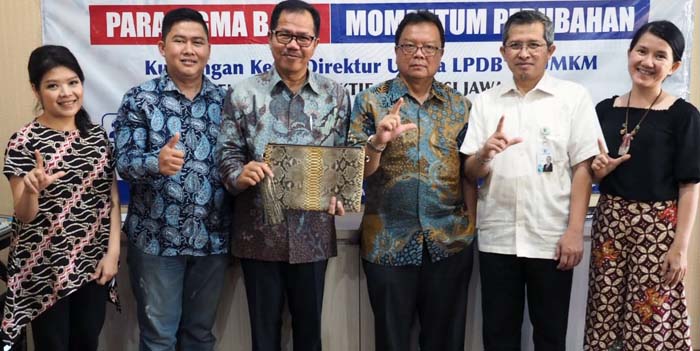 Direktur Utama LPDB-KUMKM Braman Setyo (ke-3 kiri) di Bandung, Jabar (Foto: Humas LPDB)
Bandung, Jabar (B2B) - Para pelaku UKM di Provinsi Jawa Barat didorong oleh Lembaga Pengelola Dana Bergulir (LPDB - KUMKM) untuk memanfaatkan dana bergulir sehingga dapat mendukung pengembangan usaha, mengingat produk mereka telah dikenal dan disukai konsumen, dan LPDB mengharapkan dukungan dinas koperasi & UKM Kabupaten Bogor, Cianjur dan Bandung menjaring para pelaku usaha produktif untuk mengakses dana bergulir LPDB.
"Kami menginisiasi pertemuan ini untuk mendapat masukan dan mengetahui kendala yang dihadapi oleh para pelaku UKM sektor produktif untuk mengakses dana pembiayaan bergulir dari LPDB," kata Direktur Utama LPDB-KUMKM, Braman Setyo usai pertemuan dengan puluhan pengusaha UKM di Bandung, Jumat (8/6).
Braman menambahkan, para pengusaha UKM tersebut menjadi sasaran LPDB, karena mereka mempunyai usaha produktif, dan menurutnya ada 17 pengusaha UKM yang berminat mendaftar kepada LPDB untuk mendapatkan pinjaman dana bergulir.
Dia tidak menampik bahwa sejak 2015, pelaku UKM di Jawa Barat sudah mengajukan pinjaman dana bergulir kepada LPDB, namun masih ada beberapa persyaratan yang belum terpenuhi sehingga mereka diminta mengajukan lagi, dan dari pertemuan tersebut diketahui bahwa pelaku UKM di Jawa Barat tergolong serius mendapatkan pinjaman.
"Mereka memiliki prospek, karena produk mereka sudah ada pembelinya, sehingga LPDB akan membangun komunikasi dengan dinas koperasi di seluruh Indonesia. Terlebih lagi kelangsungan dari pembiayaan LPDB sudah ada yang menjamin," katanya lagi.
Maksudnya, kata Braman, kelayakan usaha dan pendanaan bergulir LPDB dijamin oleh PT Jaminan Kredit Indonesia (Jamkrindo) atau perusahaan penjaminan lainnya, "jadi prinsip dari hulu ke hilir sudah terpenuhi."
Provinsi Jawa Barat menjadi penting bagi LPDB-KUMKM lantaran pelaku UKM-nya unggul pada produk kuliner, manufaktur dan fesyen. Provinsi berikutnya adalah Sumatera Selatan yang memiliki potensi dan prospek eknomi di bidang pertanian, perkebunan, dan perikanan.
"Begitu pula Provinsi Aceh dari sektor perkebunannya khususnya produksi minyak nilam, karet, kopi dan sebagainya," kata Braman.
Bandung, West Java (B2B) - The Indonesia´s fund management institutions lending to cooperatives and SMEs or the LPDB-KUMKM expects SMEs entrepreneurs in West Java province, to utilize the capital loan so as to support business development, considering their products have been known and liked by consumers, according to the president director of LPDB.
"We initiate the meeting to find out the obstacles faced by productive sector entrepreneurs to obtain a business capital loan from LPDB," said LPDB-KUMKM President Director, Braman Setyo after met with dozens of SME entrepreneurs here on Friday (June 8).
Mr Setyo added that the SME entrepreneurs are targeted by the LPDB, because their business is quite productive, and according to him there are 17 SME entrepreneurs who are interested to obtain LPDB capital loan.
He does not deny that since 2015, SMEs in West Java are interested in getting a loan from LPDB, but there are still some requirements that have not been met so they are asked to keep trying.
"They have prospects, because their products already exist buyers, so LPDB will establish communication with the regional cooperative office across the country," he said.
The business feasibility and capital loan of LPDB are guaranteed by Jaminan Kredit Indonesia or Jamkrindo or other insurance companies, said Mr Setyo.
West Java province becomes important for the LPDB because it excels in culinary, manufacturing and fashion products from SMEs. The next province is South Sumatra which has potential and economic prospect in agriculture, plantation and fishery.
"Similarly, Aceh province from its plantation sector, especially the production of patchouli, rubber, coffee and so on," said Mr. Setyo.