Omset 2018 Naik 270,84%, 2.713 KUKM Manfaatkan Akses Pasar Smesco
Indonesian Govt Supports Product and SMEs Marketing in Smesco Building
Reporter : Gusmiati Waris
Editor : Cahyani Harzi
Translator : Dhelia Gani

PUBLISHED: Kamis, 14 Februari 2019 , 10:01:00 WIB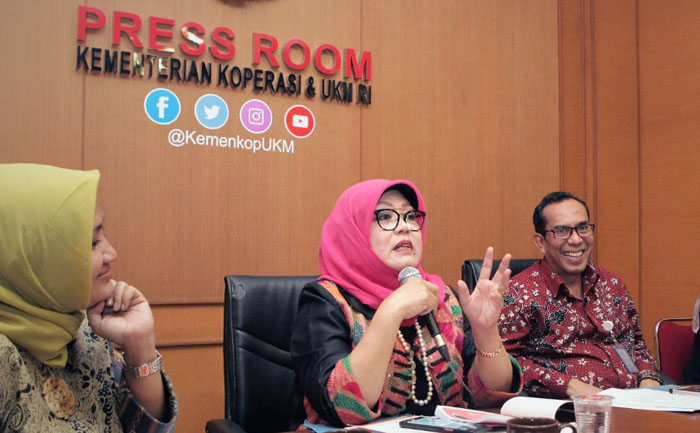 ETALASE KUKM: Direktur Utama LLP-KUKM, Emilia Suhaimi (tengah) menjawab pers di Jakarta (Foto: istimewa)
Jakarta (B2B) - Sedikitnya 2.713 KUKM tahun lalu memanfaatkan fasilitas promosi dan pemasaran produk unggulan di 34 paviliun provinsi di Gedung Smesco Jakarta, untuk mengakses pasar nasional dan global sehingga memicu kenaikan omset hingga 270,84% ketimbang 2017.
Hal itu mendorong Lembaga Layanan Pemasaran (LLP-KUKM) Kementerian Koperasi dan UKM akan menambah jumlah KUKM melalui aneka program seperti temu mitra, bimbingan teknis, pendampingan pemasaran, inkubasi bisnis, dan aneka pameran strategis di dalam negeri dan mancanegara.
"Smesco Indonesia tahun ini akan meningkatkan layanan informasi pasar, promosi, jaringan pemasaran bagi produk KUKM di seluruh Indonesia. Layanan tersebut merupakan tupoksi Smesco Indonesia memberikan layanan konsultasi manajemen, teknik dan inkubasi pemasaran," kata Direktur Utama LLP-KUKM, Emilia Suhaimi kepada pers di Jakarta, Rabu (13/2).
Menurutnya, Smesco Indonesia sebagai ´etalase bisnis KUKM´ akan melakukan canvassing ke daerah-daerah untuk mencari produk unggulan dan mitra baru yang berkualitas dari seluruh provinsi di Indonesia, yang belum terbuka akses pasarnya sehingga akan menambah koleksi dan khasanah keragaman produk unggulan KUKM.
"Tahun lalu, telah dilakukan canvassing di enam provinsi yakni Aceh, Riau, Jawa Tengah, Jawa Timur, Bangka Belitung, dan Maluku Utara dan didapatkan 72 UKM mitra binaan baru. Tahap kedua di enam provinsi lain yakni Bengkulu, Lampung, DI Yogyakarta, Kalimantan Timur dan Nusa Tenggara Timur," kata Emilia S.
Jakarta (B2B) - At least 2,713 Indonesian cooperatives and SMEs or KUKM past year use facilities of promotion and marketing in 34 pavilions province of Smesco Building Jakarta, to access national and global markets, which has triggered a turnover of 270.84% compared to 2017.
Increased turnover encouraged the Marketing Services Institute at the Cooperatives and SMEs Ministry or the LLP-KUKM will increase the number of KUKM through various programs such as partner meetings, technical guidance, marketing assistance, business incubation, and various domestic and foreign strategic exhibitions.
"This year Smesco Indonesia will improve market information services, promotions, marketing networks for KUKM products across the country. Marketing services are the responsibility of Smesco Indonesia to provide management consulting, technical and incubation marketing services," President Director of LLP-KUKM, Emilia Suhaimi told the press here on Wednesday (Feb
According to her, the Smesco Indonesia will do canvassing to the regions to find superior products and quality new partners across the provinces, to open market access so that it will increase the diversity of superior products of cooperatives and SMEs.
"Last year, canvassing was carried out in six provinces, namely Aceh, Riau, Central Java, East Java, Bangka Belitung, and North Maluku and managed to get 72 new UKM partners. The second phase in six provinces, namely Bengkulu, Lampung, Yogyakarta, East Borneo and East Nusa Tenggara," Suhaimi said.