Pasca Bencana, Kemenkop UKM Sinergi Pemulihan UMK di NTB dan Sulteng
Indonesian Govt Supports the Recovery of SMEs in Disaster Affected Regions
Reporter : Gusmiati Waris
Editor : Cahyani Harzi
Translator : Dhelia Gani

PUBLISHED: Rabu, 20 Februari 2019 , 01:12:00 WIB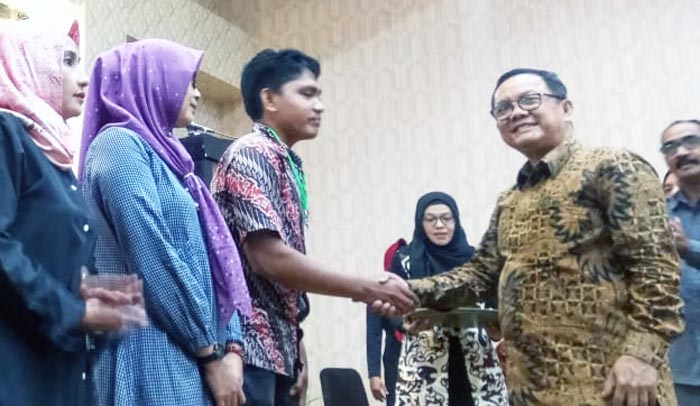 PELATIHAN VOKASI: Deputi Bidang Restrukturisasi Usaha, Abdul Kadir Damanik (kanan) menyalami pendidikan vokasi di Lombok Tengah (Foto: Humas Kemenkop UKM)
Mataram, NTB (B2B) - Kota Palu, Kabupaten Sigi dan Donggala di Provinsi Sulawesi Tengah (Sulteng); serta Kabupaten Lombok Utara, Lombok Barat, Lombok Timur dan Kota Mataram di Provinsi Nusa Tenggara Barat (NTB) menjadi target Kementerian Koperasi dan UKM melakukan sinergitas pemulihan usaha bagi koperasi dan usaha mikro kecil (UMK) yang terdampak bencana gempa bumi dan tsunami.
Sinergitas dimaksud adalah kolaborasi Deputi Restrukturisasi Usaha dengan Deputi Pengembangan SDM pada Kemenkop UKM di NTB melalui bantuan pemerintah @Rp4,5 juta kepada 150 UMK, penerapan early warning system (EWS) dan pelatihan vokasi kepada 80 orang di Lombok Tengah. Sementara di Sulteng berupa program bantuan modal usaha kepada 150 UMK di Palu, Sigi dan Donggala @Rp5 juta per UMK.
Deputi Bidang Restrukturisasi Usaha, Abdul Kadir Damanik mengatakan hal terpenting saat ini adalah restrukturisasi usaha melalui sosialisasi di kabupaten terdampak bencana, sehingga kementerian dapat meningkatkan performa kinerja usahanya, menata kembali aspek usaha yang tidak efisien.
"Restrukturisasi harus kontinyu agar kinerja UMK meningkat dan mampu memanfaatkan peluang usaha," kata Deputi Damanik di Mataram, belum lama ini.
Kepala Dinas Koperasi dan UKM Kabupaten Lombok Tengah, Ihksan mengapresiasi kegiatan pelatihan kepada koperasi dan UMK binaannya.
Mataram of West Nusa Tenggara (B2B) - Palu City, Sigi and Donggala District in Central Sulawesi province and districts of North Lombok, West Lombok, East Lombok and the Mataram City in West Nusa Tenggara province or the NTB, became focus of Indonesian government through the Cooperatives and SMEs Ministry support recovery of SME businesses affected by earthquake and tsunami disaster.
The synergy is collaboration of Deputy for Business Restructuring and Deputy HR Development, in NTB through government assistance @ IDR5.5 million to 150 SMEs, early warning system and vocational training in Central Lombok. While in Central Sulawesi with business capital assistance program for 150 SMEs in Palu, Sigi and Donggala @ IDR 5 million per SMEs.
Deputy for Business Restructuring, Abdul Kadir Damanik, said the most important thing now is business restructuring through socialization in disaster affected districts, so the ministry can improve its business performance, and rearrange inefficient businesses.
"The restructuring must be continuous so that performance of SMEs increases to take advantage of business opportunities," said Deputy Damanik here recently.
The Head of Central Lombok´s Cooperative and SMEs Office, Ihksan appreciated training activities for cooperatives and SMEs in his district.