Rakernas Dekopin 2018, Meliadi Sembiring Ingatkan Rekomendasi Kongres Makassar
Indonesian Govt Reminds the Task of the Dekopin for National Development
Reporter : Gusmiati Waris
Editor : Cahyani Harzi
Translator : Dhelia Gani

PUBLISHED: Minggu, 14 Oktober 2018 , 11:30:00 WIB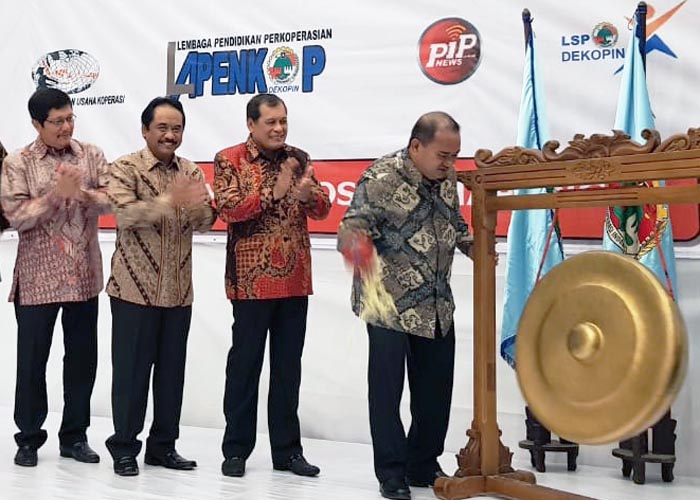 TARGET MAKASSAR: Sesmenkop UKM Meliadi Sembiring memukul gong untuk membuka Rakernas Dekopin 2018 didampingi Ketua Dekopin Nurdin Halid (ke-2 kanan) Foto: Humas Kemenkop UKM
Semarang, Jateng (B2B) - Pemerintah RI mengingatkan Dewan Koperasi Indonesia (Dekopin) untuk mengevaluasi tugasnya sebagai mitra pemerintah sesuai UU Perkoperasian No 25/1992 dan implementasi hasil Kongres Koperasi III pada 12 - 14 Juli 2017 di Makassar, tentang tugas utama Dekopin terkait aspirasi koperasi, kesadaran berkoperasi, pendidikan perkoperasian, dan mengembangkan kerjasama koperasi dengan badan usaha lain.
Hal itu dikemukakan Sekretaris Kementerian Koperasi dan UKM, Meliadi Sembiring pada Rapat Kerja Nasional Rakernas Dekopin 2018 di Semarang, Jumat (12/10) yang dihadiri Ketua Umum Dekopin Nurdin Halid, Ketua Dewan Pengawas Marjito, Ketua Majelis Pakar Sularso, pengurus induk Dekopin dan Dekopinda Selindo.
"Sebagai mitra pemerintah, Dekopin diminta untuk mengevaluasi pelaksanaan empat tugas pokok yang diemban Dekopin. Juga implementasi rekomendasi Kongres Koperasi di Makassar juga mesti dievaluasi untuk memastikan program yang telah disusun berjalan sesuai target," kata Meliadi Sembiring.
Dia mengelaborasi empat tugas pokok Dekopin yakni memperjuangkan dan menyalurkan aspirasi koperasi, meningkatkan kesadaran berkoperasi di kalangan masyarakat, melakukan pendidikan perkoperasian bagi anggota koperasi dan masyarakat, dan terakhir adalah mengembangkan kerja sama antarkoperasi dan antara koperasi dengan badan usaha lain.
Terkait kepengurusan Dekopin 2014-2019, Meliadi mengatakan, meski hanya tinggal setahun, namun banyak hal bisa dilakukan Dekopin khususnya untuk membuat program setahun ke depan dan juga meletakkan landasan untuk kepengurusan 2019-2024, untuk memastikan insan koperasi bisa menjadi pelaku usaha yang sejajar dengan badan usaha lain.
"Misalnya tugas memperjuangkan dan menyalurkan aspirasi koperasi. Statemen ini kelihatan sederhana tapi maknanya sangat luas. Saya melihat Dekopin dan pemerintah, tugasnya hampir sama.
Dekopin adalah partner utama pemerintah mengembangkan koperasi. Program pemerintah untuk reformasi total koperasi mencakup rehabilitasi, reorientasi dan pengembangan koperasi, menjadi tujuan kita bersama," katanya.
Lebih lanjut Meliadi berpesan agar koperasi mengoptimalkan potensi yang dimilikinya. Misalnya dalam hal pasar, dimana anggota koperasi pada dasarnya adalah captive market yang bisa digarap.
"Misalkan satu koperasi anggotanya 10 ribu orang. Pengurus koperasi yang jeli, akan dapat menyediakan segala kebutuhan ekonomi anggotanya, mulai dari kebutuhan finansial, perumahan, pangan dan sebagainya.
Ini sangat memungkinkan dan harus dilakukan, dan itu akan mampu mendorong pertumbuhan perkoperasian kita," ungkap Meliadi.
Sementara Nurdin Halid mengakui bahwa kepengurusan 2014 - 2019 sudah memasuki tahap akhir, mengingat kepentingan 26,5 juta anggota koperasi di bawah naungan 153 ribu koperasi merupakan kekuatan struktural kelembagaan dan ekonomi nasional.
"Pertanyaannya apakah potensi ini sudah menjadi kekuatan ekonomi, jawabnya belum, namun bagi Dekopin hal ini merupakan tantangan untuk mengembangkan kemampuan koperasi khususnya menarik minat generasi muda di era milenial," kata Nurdin Halid.
Semarang of Central Java (B2B) - The Indonesian government is reminding the Indonesian Cooperative Council or the Dekopin to evaluate Dekopin´s duties as the government partner accordance to the Cooperative Law Number 25/1992 and carry out Cooperative Congress III on 12-14 July 2017 in Makassar, about Dekopin´s main task related to cooperative aspirations, cooperative awareness, cooperative education, and develop a cooperative partnership with other business entities.
It was stated by the Secretary of Indonesia Cooperatives and SMEs Ministry, Meliadi Sembiring at the 2018 Dekopin´s national work meeting here on Friday (October 12) was attended by Chairman of the Dekopin Nurdin Halid.
"As the government partner, the Dekopin was asked to evaluate implementation of four main tasks of the Dekopin. Also implementing the recommendations of Makassar Congress to make sure the program that has been prepared goes according to the target," Mr Sembiring said.
He elaborated on the four main tasks of Dekopin to fight for cooperative aspirations, raising awareness of cooperatives among the community, cooperative education for members of cooperatives and the community, and finally, developing cooperation between cooperatives and other business entities.
Related to Dekopin 2014 - 2019, Mr Sembiring said lot of things in Dekopin in the next year especially for Dekopin 2019-2024, to ensure that cooperatives can become equal business actors with other business entities.
"For example the task of fighting for cooperative aspirations. This statement is simple but its meaning is broad. Dekopin and the government are almost the same task. Dekopin is the main partner of the government to develop cooperatives. The government program for total cooperative reform includes the rehabilitation, reorientation and development of cooperatives is our common goal," he said.
Mr Sembiring reminded the cooperative to optimize its potential. For example about markets, where members of cooperatives are basically captive markets that can be worked on.
"For example, one cooperative has 10 thousand members. A good cooperative manager, will provide all the economic needs of its members, starting from financial needs, housing, food and so on. This is possible and must be done, and it will be able to encourage the growth of our cooperatives," Mr Sembiring said.
While Nurdin Halid admitted that the management of 2014 - 2019 had entered the final phase, considering the interests of 26.5 million members under the auspices of 153 thousand cooperative units are the structural strengths of national institutions and economics.
"The question is whether this potential has become an economic power, the answer is no, but for Dekopin this is a challenge to develop the ability of cooperatives especially to attract young people in the millennial era," Mr Halid said.