Dunia Sorot Hasil Rekapitulasi KPU Jokowi Menang Pilpres 2019
Indonesia`s Joko Widodo Wins Second Term as President
Editor : Ismail Gani
Translator : Novita Cahyadi

PUBLISHED: Rabu, 22 Mei 2019 , 01:14:00 WIB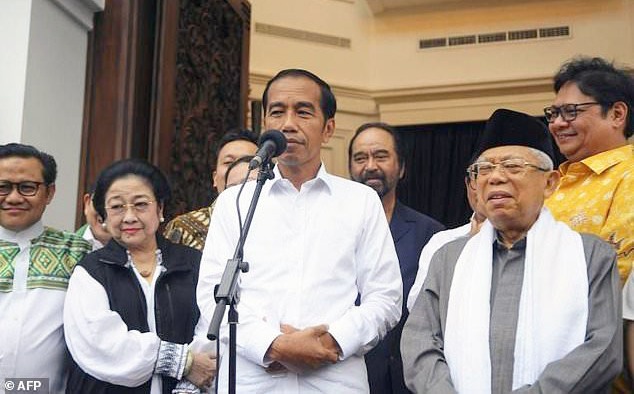 Presiden dan Wapres terpilih Joko Widodo dan Ma´ruf Amin bersama ketua umum partai koalisi [Foto: AFP/MailOnline]
JOKO WIDODO kembali terpilih sebagai Presiden RI untuk periode kedua, di negara demokrasi terbesar ketiga di dunia, sesuai hasil rekapitulasi Pemilu Serentak 2019 yang diumumkan Komisi Pemilihan Umum [KPU], Selasa dini hari, mengalahkan saingannya Prabowo Subianto, yang bersumpah untuk menentang kemenangan Joko Widodo.
KPU dijadwalkan mengumumkan hasil Pemilu Presiden [Pilpres] pada 22 Mei setelah Pemilu Serentak pada 17 April di Indonesia yang berpenduduk 260 juta jiwa.
Namun di tengah kekhawatiran tentang kerusuhan dan demonstrasi jalanan sebagai tanggapan terhadap penghitungan akhir, rekapitulasi hasil penghitungan suara diumumkan lebih awal.
Jokowi dan wakil presidennya, Ma'ruf Amin memenangkan pemilihan dengan total suara 55,5% unggul atas Prabowo Subianto - Sandiaga Uno yang meraih 44,5%, seperti diumumkan KPU.
"Putusan ini diumumkan pada 21 Mei ... dan akan segera berlaku secara efektif," kata Ketua KPU Arief Budiman dalam siaran langsung yang disiarkan langsung oleh televisi.
Jokowi, 57, diprediksi menang Pilpres sesuai hasil tidak resmi, berdasarkan hitung cepat [quick count].
Penantangnya, Prabowo Subianto, 67, menyatakan menolak kemenangan Jokowi, menuduh Pilpres berlangsung curang secara terstruktur, sistematis dan masif yang memicu unjuk rasa pendukung Prabowo.
Sekitar 32.000 personel keamanan dikerahkan di seluruh ibukota Jakarta, termasuk di depan kantor pusat KPU yang telah dibarikade dengan kawat berduri.
Ketegangan juga meningkat setelah polisi mengatakan pada Jumat bahwa mereka telah menangkap puluhan terduga teroris yang berhubungan dengan Negara Islam [ISIS], termasuk beberapa yang berencana meledakkan bom pada unjuk rasa menentang hasil rekapitulasi KPU.
April lalu, Indonesia mengadakan Pemilu Serentak, sebuah pemilihan umum yang berlangsung serentak dalam satu hari yang diikuti lebih dari 190 juta pemilih terdaftar dan tercatat rekor 245.000 calon legislator [Caleg] untuk meraih kursi di DPR dan DPRP provinsi/kabupaten/kota.
Kampanye Pemilu Serentak tahun ini diramaikan oleh berita palsu [hoax] melalui media sosial yang diarahkan pada kedua calon presiden.
Jokowi menunda menyatakan kemenangan setelah hasil quick count ditolak oleh Prabowo Subianto yang bersikeras bahwa dia adalah pemimpin berikutnya di Indonesia.
Prabowo juga gagal menjadi presiden pada 2014 setelah Mahkamah Konstitusi menyatakan kemenangan untuk Jokowi seperti dikutip AFP yang dilansir MailOnline.
INDONESIA'S Joko Widodo has been re-elected as president of the world's third-biggest democracy, the elections commission said early Tuesday, beating rival Prabowo Subianto, a retired general who has vowed to challenge any victory for the incumbent leader.
The commission was expected to announce the official results of the April 17 poll on Wednesday in the Southeast Asian nation of 260 million.
But amid fears about unrest and street demonstrations in response to the final count, the final tally was released early with little advance notice.
Widodo and his vice-presidential running mate Ma'ruf Amin won the election by a 55.5 percent to 44.5 percent margin over Subianto and Sandiaga Uno, the elections commission said.
"This ruling was announced on May 21... and will be effectively immediately," the commission's chair Arief Budiman said in a live streamed announcement that was broadcast on major media.
Widodo, 57, had been widely predicted to win according to unofficial results.
His challenger Subianto, 67, has vowed to challenge any victory for Widodo, alleging widespread voter fraud, and warned that it could spark street protests across the world's biggest Muslim majority nation.
Some 32,000 security personnel were being deployed across the capital Jakarta, including in front of the General Elections Commission's downtown office which has been barricaded with razor wire.
Tensions have also been heightened after police said Friday that they have arrested dozens of Islamic-State linked terror suspects, including some who planned to detonate bombs at political demonstrations when election results were to be announced.
Last month, Indonesia held its biggest-ever election, a massive one day poll featuring more than 190 million registered voters and a record 245,000 candidates vying for the presidency, parliamentary seats and local legislator positions.
This year's campaign was punctuated by bitter mudslinging and a slew of fake news online -- much of it directed at the presidential contenders.
Widodo held off declaring victory after the unofficial results last month as Subianto insisted he was the archipelago's next leader.
Subianto lost a 2014 presidential bid to Widodo which he unsuccessfully challenged in court.