Moratorium, Target LPDB-KUMKM 2018 Baru Capai 3,1% dari Rp1,2 Triliun
Indonesian Govt Applies a Moratorium of Venture Capital Loan for Cooperatives and SMEs
Reporter : Gusmiati Waris
Editor : Cahyani Harzi
Translator : Dhelia Gani

PUBLISHED: Senin, 22 Oktober 2018 , 11:50:00 WIB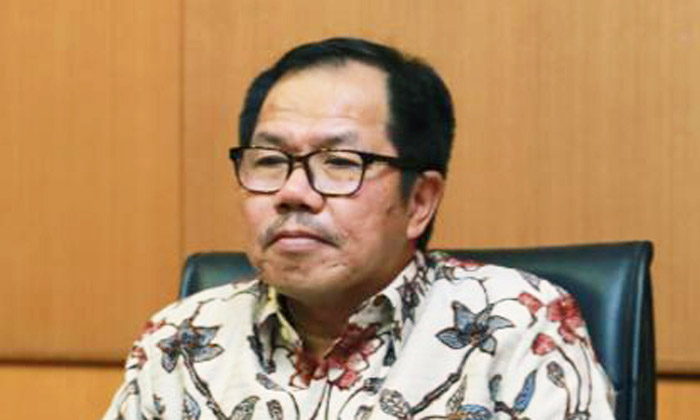 MORATORIUM DANA BERGULIR: Direktur Utama LPDB-KUMKM Braman Setyo (Foto: B2B/Mya)
Jakarta (B2B) - Kebijakan moratorium penyaluran dana bergulir LPDB KUMKM sejak Oktober hingga Maret 2018 mengakibatkan dukungan modal usaha Kementerian Koperasi dan UKM kepada KUMKM melalui LPDB KUMKM masih sangat minim. Hingga Oktober 2018, dana bergulir yang disalurkan LPDB hanya Rp38,5 miliar dari target 2018 sebesar Rp1,2 triliun atau 3,21% sementara kredit macet atau non performing loan (NPL) sebesar 0,7%.
"Moratorium mengharuskan badan layanan umum seperti LPDB-KUMKM harus melakukan penataan dan verifikasi ulang seluruh dokumen pengajuan yang masuk sejak 2015. Tanpa perbaikan, tata kelola dikhawatirkan muncul kembali kasus hukum seperti yang terjadi sebelumnya," kata Braman Setyo kepada pers di Jakarta, belum lama ini.
Braman Setyo mengakui hingga saat ini ada 1.170 proposal pengajuan dana bergulir kepada LPDB-KUMKM dari UKM, koperasi, dan lembaga keuangan nonbank, namun setelah verifikasi diikuti pemantauan dan pemeriksaan langsung kepada pihak yang mengajukan proposal, dan yang tidak memenuhi persyaratan ditolak.
"Ada di antara proposal pengajuan yang saat ini sudah tidak ada lagi kegiatan usaha baik itu dari UKM, koperasi maupun lembaga keuangan non bank dinyatakan tidak memenuhi syarat," katanya.
Kondisi tersebut yang menjadi alasan utama penataan ulang mekanisme, infrastruktur hingga verifikasi data sehingga harus dilakukan moratorium selama enam bulan. Saat ini 41 proposal dinyatakan memenuhi kriteria dan layak mendapatkan dana bergulir, terdiri atas 26 pengajuan dengan pola syariah, dan 15 pola konvensional.
"Saat ini ada 41 calon mitra debitur yang sedang di-review, secara keseluruhan cukup baik dari 1.170 proposal yang masuk. LPDB-KUMKM sangat serius memilih dokumen proposal yang layak mendapatkan dana bergulir karena memang berkualitas. Mereka hampir dipastikan akan menerima dana bergulir," kata Braman Setyo.
Jakarta (B2B) - The Indonesian government implements a moratorium on business capital loans to cooperatives and SMEs on October 2017 to March 2018 by the Cooperatives and SMEs Ministry through the LPDB-KUMKM. Until October 2018, business capital loans for cooperatives and SMEs have only reached IDR38.5 billion from this year´s target of IDR1.2 trillion or 3.21% while the non performing loan is 0.7%, according to senior ministry official.
"The moratorium requires public service agencies such as LPDB-KUMKM to reorganize and re-verify all proposals since 2015. Without good improvement and governance, legal cases will reappear as before," President Director of LPDB-KUMKM, Braman Setyo told the press here, recently.
Mr. Setyo admitted that currently there are 1,170 proposals to LPDB-KUMKM from SMEs, cooperatives, and nonbank financial institutions, but after verification followed by monitoring and inspection directly to the owner of the proposal, and immediately rejected because it did not meet the requirements.
"There are among the proposals that there are currently no more business activities, both from SMEs, cooperatives and non-bank financial institutions because they do not meet the requirements," he said.
This condition is the main reason for restructuring the mechanism, infrastructure and data verification so that a moratorium must be carried out for six months. Currently 41 proposals are stated to meet the criteria and are eligible for business capital loans consisting of 26 proposals for sharia patterns, and 15 conventional patterns.
"Currently there are 41 prospective debtor partners reviewed, but overall quite good of 1,170 proposals. The LPDB-KUMKM is very serious about choosing a proper proposal document. They are almost certain to receive business capital loans," Mr Setyo said.