Pinjaman Bunga Rendah, Kemenkop UKM Ingatkan Ancaman Penipuan berdalih Koperasi
Indonesia`s Cooperatives are Misused with Fraudulent Mode of Capital Loan Low Interest
Reporter : Gusmiati Waris
Editor : Cahyani Harzi
Translator : Dhelia Gani

PUBLISHED: Minggu, 14 Oktober 2018 , 11:59:00 WIB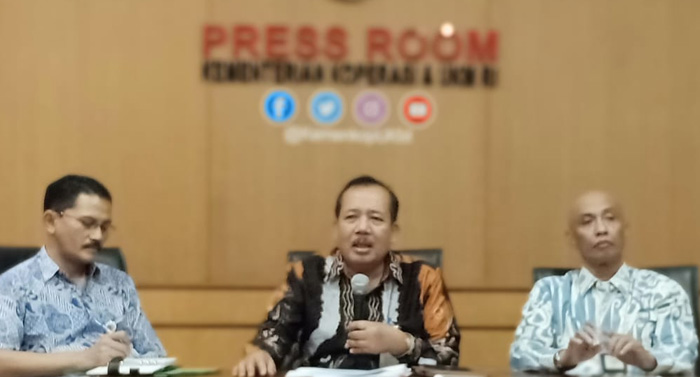 PENIPUAN DI PONSEL: Deputi Bidang Pengawasan Kemenkop UKM, Suparno (tengah) menjawab pers didampingi Sesdep Daniel Asnur (kanan) dan Asdep Cecep Rahmat (kiri) Foto: B2B/Mya
Jakarta (B2B) - Kementerian Koperasi dan UKM mengingatkan masyarakat untuk waspada terhadap segala bentuk penipuan yang mengatasnamakan koperasi, khususnya yang menawarkan pinjaman berbunga rendah, dengan lebih dahulu meminta transfer ke rekening pribadi oknum, dan meminta masyarakat yang dirugikan untuk segera melaporkan kepada Polri disertai bukti-bukti kuat.
"Sebelumnya mulai ada iklan yang diduga modus penipuan yang dilakukan oknum berdalih menawarkan pinjaman yang mengatasnamakan koperasi, dengan lebih dahulu meminta biaya administrasi melalui transfer ke rekening pribadi oknum," Deputi Bidang Pengawasan Kementerian Koperasi dan UKM Suparno kepada pers di Jakarta, Jumat (12/10).
Dia mengimbau dan mengingatkan masyarakat tidak terjebak modus penipuan apa pun yang mengatasnamakan koperasi, dan meminta masyarakat yang dirugikan untuk segera melapor kepada polisi disertai bukti-bukti yang kuat
Suparno menambahkan, pihaknya telah melatih satuan tugas khusus (Satgas) untuk tugas pengawasan koperasi-koperasi di daerah. Ke depan, satgas-satgas akan dilatih agar semakin profesional sesuai dengan kualitas dan standar kompetensinya.
Saat ini, Kemenkop UKM juga telah menertibkan koperasi-koperasi nakal lalu memberikan sanksi, mulai dari teguran hingga terberat pada pencabutan badan hukum.
"Saya yakin masyarakat akan semakin cerdas dalam mengelola informasi, sehingga modus-modus penipuan yang mengatasnamakan koperasi dapat diberantas. Namun kementerian akan tetap membina koperasi yang memiliki itikad baik untuk memperbaiki diri dengan memberikan pembinaan," kata Suparno.
Jakarta (B2B) - Indonesian government reminds the public to be aware of the fraudulent mode in the name of cooperatives by offering low-interest loans, fraud mode by asking the victim to transfer to the fraudster's personal account, and the victims were asked to report to the police immediately with evidence of fraud.
"Starting from an advertisement made by a cooperative person under the pretense of offering loans in the name of cooperatives, by first asking for administrative fees and then transferring it to a personal account of the fraudster," Deputy Minister for Supervision, Suparno told the press here on Friday (October 12).
He appealed and reminded the public not to get caught in the fraud mode on behalf of the cooperative, and ask people who are victims of fraud immediately report to the police with evidence of fraud.
Suparno said that he had trained a special task force to oversee cooperatives throughout the country. In the future, they will be trained to improve professionalism according to quality and competency standards.
At present, the ministry has also curbed cooperatives that have indicated fraudulent practices such as reprimand to revoke a legal entity as the cooperative.
"I'm sure people will be smarter to receive information, so that the fraud mode in the name of cooperatives can be eradicated, but the ministry will continue to foster cooperatives that have good intentions to stop fraudulent practices," said Suparno, who goes by one name, like many Indonesians.