Menteri Puspayoga: Koperasi di Indonesia Harus Besar seperti di Negara Lain
Indonesian Cooperatives must Developing as in Other Countries: Minister
Reporter : Gusmiati Waris
Editor : Cahyani Harzi
Translator : Dhelia Gani

PUBLISHED: Minggu, 17 Maret 2019 , 01:16:00 WIB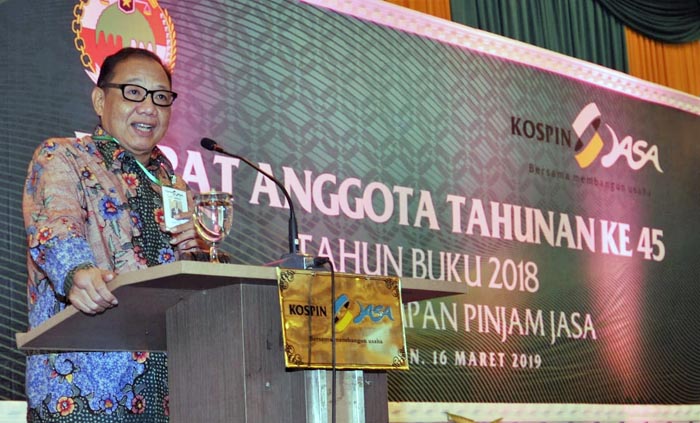 RAT KOSPIN JASA: Menkop UKM AAGN Puspayoga memberi arahan pada RAT Kospin Jasa di Pekalongan [Foto: Humas Kemenkop UKM]
Pekalongan, Jateng [B2B] - Koperasi di Indonesia harus tumbuh dan berkembang menjadi koperasi besar seperti negara lain, Kementerian Koperasi dan UKM akan mendukung dengan regulasi yang memberi kemudahan bagi koperasi mengembangkan potensi usaha dan bisnisnya.
"Pemerintah membuka peluang sebesar-besarnya bagi koperasi bisa besar seperti di negara lain," kata Menteri Koperasi dan UKM Puspayoga pada rapat anggota tahunan [RAT] ke-45 Kospin Jasa di Pekalongan, Sabtu [16/3].
Puspayoga mengemukakan sejumlah negara yang berhasil mengembangkan koperasi sekaliber korporasi seperti Selandia Baru, Singapura, Amerika Serikat, Jepang, dan Korea.
Menkop UKM meminta koperasi potensial memberi masukan kepada pemerintah tentang hal-hal yang diperlukan untuk menyusun regulasi terbaik bagi koperasi.
"Jangan lagi koperasi kecil-kecil terus, koperasi setara dengan perusahaan terbatas harus bisa besar. Tetapi, besarnya koperasi adalah bersama-sama dengan anggota, " kata Puspayoga.
Dia menegaskan dukungan pemerintah terhadap pertumbuhan koperasi sudah dilakukan sejak awal Pemerintahan Joko Widodo di penghujung 2014. Hal itu terlihat dari naiknya PDB koperasi dari 1,71% pada 2014 menjadi 4,48% pada 2017.
Presiden Jokowi pada Hari Koperasi 2018, juga telah menegaskan koperasi harus besar. "Pemerintah hadir dalam memberi regulasi untuk memudahkan koperasi menjalankan usahanya dan dapat berkembang seperti di negara lain."
Menkop mengatakan Kospin Jasa menjadi salah satu contoh koperasi yang berhasil menjadi besar, sebagai salah satu tiga koperasi terbesar di Indonesia yang menyalurkan kredit usaha rakyat [KUR]. Artinya, Kospin Jasa sudah setara bank karena penyalur KUR harus memenuhi persyaratan Sistem Layanan Informasi Keuangan dari Otoritas Jasa Keuangan.
Puspayoga secara khusus mengapresiasi Kospin Jasa yang meskipun target kinerja 2018 tidak tercapai tetapi tetap memberikan sisa hasil usaha [SHU] bagi anggota melebihi target.
Dalam RAT tersebut juga hadir Walikota Pekalongan Saelany Mahfudz dan sejumlah pengurus koperasi dari Forum Komunikasi Besar Indonesia.
Pekalongan of Central Java [B2B] - Indonesian cooperatives must grow and develop into big cooperatives like other countries, Cooperatives and SMEs Ministry will support with regulations that make it easier for cooperatives to develop their business potential, according to Indonesian minister.
"The government opens opportunities as much as possible for cooperatives to develop as in other countries," said Cooperatives and SMEs Minister AAGN Puspayoga here on Saturday [March 16].
Puspayoga stated that number of countries have succeeded in developing cooperatives as big as corporations such as New Zealand, Singapore, the United States, Japan and Korea.
He called on potential cooperatives to provide input to the government on the things needed to develop the best regulations for cooperatives.
"Cooperatives must developing their business potential, because have the opportunity to develop like a private company but it developed together with members," said Puspayoga.
He stressed the government´s support for the development of cooperatives since the beginning of Joko Widodo´s administration in late 2014. As proof, the cooperative´s gross domestic income increased of 1.71% in 2014 to 4.48% in 2017.
President Widodo at the commemoration of the Cooperative Day 2018 has stressed that cooperatives must develop their potential. "The government is present by making regulations that make it easier for cooperatives to run their businesses."
Minister Puspayoga said the Kospin Jasa is the ideal cooperative, as one of the three big cooperatives in Indonesia that provide people´s business credit.
Kospin Jasa is already the bank´s equivalent because it has the requirements of the Financial Information Service System of the Indonesian Financial Services Authority.
Puspayoga specifically appreciates Kospin Jasa anyway provide business benefits to members even though the 2018 business target is not achieved.