Konglomerasi Terbukti Gagal, Koperasi Ideal Bangun Ekonomi Kerakyatan
Cooperatives are Ideal for the Indonesian Economy and Not Conglomeration
Reporter : Gusmiati Waris
Editor : Cahyani Harzi
Translator : Dhelia Gani

PUBLISHED: Senin, 04 Februari 2019 , 01:22:00 WIB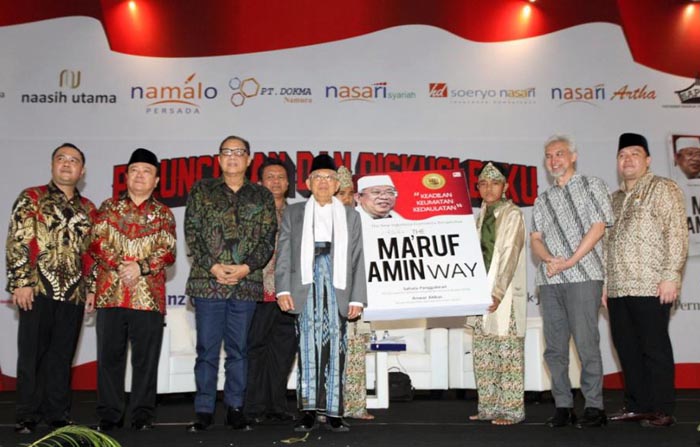 PELUNCURAN BUKU: Ketua MUI KH Ma´ruf Amin (ke=4 kiri) dan Menkop UKM AAGN Puspayoga pada peluncuran buku The Ma´ruf Amin Way (Foto: Humas Kemenkop UKM)
Jakarta (B2B) - Konsep ekonomi nasional dengan pendekatan teori trickle down effect terbukti gagal, yang terjadi justru kesenjangan ekonomi, paling ideal adalah koperasi sebagai tulang punggung ekonomi kerakyatan, untuk mewujudkan ekonomi berkeadilan yang berpihak pada keumatan dan menjunjung tinggi kedaulatan.
"Koperasi harus menjadi motor utama ke depan agar ekonomi kerakyatan menjadi tulang punggung ekonomi nasional, sesuai dengan Pancasila dan UUD 1945 yang mengamanatkan pengembangan ekonomi nasional berdasarkan azas kekeluargaan, gotong royong, kebersamaan dan mutualisme," kata Ketua Majelis Ulama Indonesia (MUI) KH Ma´ruf Amin pada peluncuran buku The Ma´ruf Amin Way di Jakarta, Jumat (1/2).
Buku yang ditulis oleh Sahala Panggabean dan Anwar Abbas, Ma´ruf Amin menekankan poin penting untuk mewujudkan ekonomi berkeadilan, adalah berpihak pada keumatan dan menjunjung tinggi kedaulatan adalah gerakan koperasi.
"Saya bukan ahli ekonomi, menurut pengamatan saya teori trickle down effect yang dianut akan melahirkan konglomerat, diharapkan menetes ke bawah. Ternyata tidak netes-netes, yang di atas tetap makin kuat, yang bawah makin lemah," kata Ma´ruf Amin pada peluncuran bukunya yang dihadiri oleh Menteri Koperasi dan UKM Puspayoga, Direktur LPPOM MUI Lukmanul Hakim, pengurus NU, Muhammadiyah dan penggerak koperasi.
Jakarta (B2B) - The concept of Indonesian economy with trickle down effect theory proved a failure, what happens is actually economic inequality, the ideal is a cooperative as the backbone of a people´s economy, to realize an economy that prioritizes the people.
"The cooperatives must be the main drivers of the national economy according to the constitutional mandate that national economic development must be based on mutual cooperation, togetherness and mutualism," said the Chairman of the Indonesian Ulema Council or the MUI KH Ma´ruf Amin at the book launch of The Ma´ruf Amin Way here on Friday (February 1).
The book written by Sahala Panggabean and Anwar Abbas, Ma´ruf Amin stressed the important points to side with the people who uphold sovereignty is a cooperative.
"I am not an economist, but according to my observation the theory of trickle down effect is proven to only create conglomerates, the Indonesian people remain poor and miserable," said Amin said at the launch of his book which was attended by Cooperatives and SMEs Minister, AAGN Puspayoga.