Strategi Nasional Pengembangan UMKM, Kemenkop UKM Gandeng Tiga PTN
Indonesia`s Leading State Universities Support the Cooperatives and SMEs
Reporter : Gusmiati Waris
Editor : Cahyani Harzi
Translator : Dhelia Gani

PUBLISHED: Sabtu, 11 Mei 2019 , 01:32:00 WIB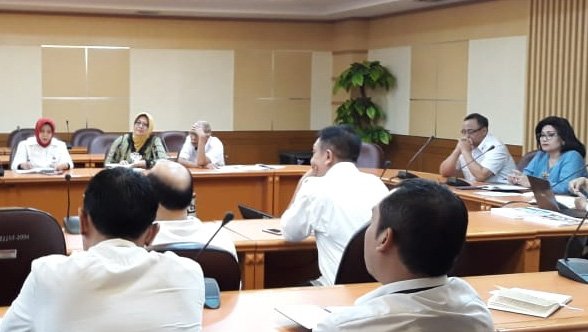 Foto:Humas Kemenkop UKM
Jakarta [B2B] - Pemerintah RI menggandeng Sekolah Bisnis dan Manajemen Institut Teknologi Bandung [SBM ITB], Institut Pertanian Bogor [IPB] dan Universitas Indonesia [UI] untuk mendukung penyusunan Strategi Nasional Pengembangan UMKM Indonesia yang ditargetkan rampung 2020.
"Penyusunan strategi nasional akan menjadi pedoman semua lini pemangku kepentingan agar regulasi dan program yang dijalankan Kementerian Koperasi dan UKM dapat bersinergi dan meningkatkan daya saing pelaku UMKM secara komprehensif tanpa saling tumpang tindih," kata Sekretaris Kementerian Koperasi dan UKM, Rully Indrawan kepada pers usai rapat dengan pihak-pihak terkait di Jakarta, belum lama ini.
Menurutnya, strategi nasional sangat dibutuhkan pemerintah dan para pemangku kepentingan, mengingat banyaknya kementerian dan lembaga negara yang menangani UMKM di Indonesia.
Rully menambahkan ´strategi nasional´ untuk mengatasi belum adanya pedoman utama terkait aspek pajak, akses keuangan, akses pembiayaan, inklusif gender, produktivitas, data, dan banyak hal lainnya agar dapat berkesinambungan.
"UMKM selama ini berjalan auto pilot, dan pemerintah perlu hadir dalam hal-hal strategis sehingga menjadi pekerjaan penting dan besar untuk kepentingan UMKM dan ditargetkan rampung pada 2020", katanya.
Jakarta [B2B] - Indonesian government collaborates with the Center for Business and Management of Bandung´ Institute Technology [SBM ITB], Bogor Agricultural Institute [IPB] and Jakarta´s University of Indonesia [UI] to support the preparation of the Indonesian National Cooperative and SME Development Strategy which is targeted to be completed by 2020.
"The national strategy will be a guideline for stakeholders so that regulations and programs run by the Cooperatives and SMEs Ministry are synergized and increase the competitiveness of cooperatives and SMEs comprehensively without overlapping," Secretary of Cooperatives and SMEs Ministry, Rully Indrawan told the press here, recently.
According to him, the national strategy is needed by the government and stakeholders, because many ministries and government institutions also deal with cooperatives and SMEs in Indonesia.
Indrawan said ´national strategy´ to overcome the absence of key guidelines related to aspects of tax, financing, gender, productivity, data and others.