Realisasi Rp19,29 T, Volume Penjaminan Jamsyar 2018 Lampaui Target
Positive Trend of the 2018 Indonesian Sharia Guarantee Business
Reporter : Gusmiati Waris
Editor : Cahyani Harzi
Translator : Dhelia Gani

PUBLISHED: Minggu, 09 Desember 2018 , 13:52:00 WIB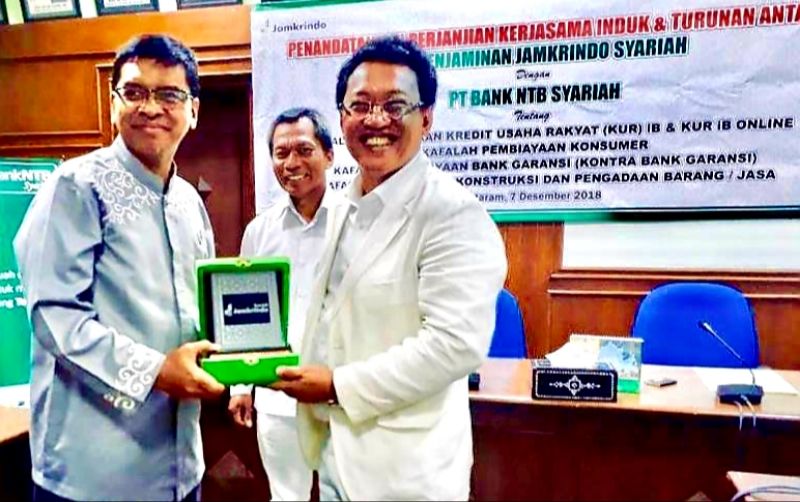 BANK NTB SYARIAH: Plt Direktur Utama Jamsyar, Gatot Suprabowo (kanan) dan Direktur Utama PT Nusa Tenggara Barat Syariah, Kukuh Rahardjo (Foto: Humas Jamsyar)
Mataram, NTB (B2B) - Perusahaan penjaminan syariah, PT Penjaminan Jamkrindo Syariah (Jamsyar) menargetkan laba Rp18,9 miliar dari total target penjaminan 2018 sebesar Rp13,8 triliun, realisasi penjaminan per 30 November mencapai Rp19,29 triliun atau 139,10% dari RKAP 2018, sedangkan laba pada posisi yang sama mencapai Rp21,7 miliar (115,1% dari RKAP).
"Realisasi volume penjaminan per 30 November 2018 mencapai Rp19,29 triliun, yang berarti melampaui target Rp13,8 triliun atau 139,10% dari RKAP tahun ini," kata Plt Direktur Utama Jamsyar, Gatot Suprabowo usai menandatangani kerjasama dengan PT Nusa Tenggara Barat Syariah di Mataram, Jumat (7/12).
Gatot S menambahkan kerjasama Jamsyar dengan Bank NTB Syariah diharapkan dapat memberikan kontribusi positif bagi pencapaian target bisnis untuk ekspansi pasar 2019.
Kerjasama strategis tersebut meliputi kafalah pembiayaan kredit usaha rakyat (KUR) online, kafalah pembiayaan konsumer, kafalah pembiayaan kontra bank garansi, dan kafalah pembiayaan konstruksi pengadaan barang dan jasa, yang ditandatangani oleh Kukuh Rahardjo selaku Direktur Utama PT Nusa Tenggara Barat Syariah.
Manfaat kerjasama tersebut bagi Bank NTB Syariah selaku penerima jaminan adalah akan menambah jumlah customer based karena calon debitur yang memiliki collateral yang tidak bankable kemudian menjadi bankable, dengan demikian bank dapat melakukan ekspansi bisnisnya sehingga penyaluran pembiayaan bisa meningkat tanpa menghilangkan aspek kehati-hatian (prudential).
Dengan pembiayaan yang dijamin oleh penjamin, maka perhitungan risiko dalam menghitung ATMR (Aktiva Tertimbang Menurut Risiko) pada sebuah bank menjadi lebih kecil bobot risikonya sehingga CAR akan meningkat karena CAR diperoleh dari perbandingan antara modal dengan ATMR dimana dengan modal yang tetap namun ATMR menurun maka CAR menjadi lebih besar sehingga kapasitas lending bank menjadi lebih besar.
"Manfaat untuk debitur yang dijamin adalah apabila tanpa penjaminan belum tentu mendapatkan pembiayaan dari bank karena persyaratan yang tidak bankable," kata Gatot Suprabowo.
Mataram of West Nusa Tenggara (B2B) - Indonesian sharia guarantee company, Jamkrindo Syariah Guarantee or Jamsyar targets profit of IDR 18.9 billion of the 2018 total guarantee target of IDR 13.8 trillion, realization of guarantees per November 30 reached Rp19.29 trillion or 139.10% of the 2018 RKAP, while profits in the same position reached Rp21.7 billion (115.1% of the RKAP).
"The realization of guarantee volume per November 30, 2018 reached Rp19.29 trillion, which exceeded the target of IDR 13.8 trillion or 139.10% of this year's RKAP," Acting President Director of Jamsyar, Gatot Suprabowo told the press here on Friday (December 7).
Suprabowo added that Jamsyar's collaboration with Bank NTB Syariah is expected to contribute positively to the achievement of the 2019 business target.
The strategic collaboration includes the kafalah of people's business credit online, the kafalah of consumer financing, the bank guarantee of contra financing, and the construction financing of the procurement of goods and services, signed by Kukuh Rahardjo as President Director of PT Nusa Tenggara Barat Syariah.
The benefits of collaboration will increase the number of customers based because prospective debtors who have collateral that are not bankable then become bankable, thus banks can expand their business so that financing can increase without losing the prudential aspect.
With financing guaranteed by the guarantor, the risk calculation in calculating Risk Weighted Assets or the ATMR in a bank becomes smaller in the risk so that the CAR will increase, from the comparison of capital with fixed capital but ATMR decreases, CAR becomes larger so that the lending capacity of the bank becomes larger.
Guaranteed benefits for debtors are if without guarantees, they will not necessarily get bank financing because the requirements are not bankable," Mr Suprabowo said.