Gajah dan Kuda Angkut Surat Suara Atasi Kendala Transportasi
Planes, Rebels and Elephants: Indonesia Gears Up for Jumbo Polls
Editor : Ismail Gani
Translator : Novita Cahyadi

PUBLISHED: Rabu, 17 April 2019 , 01:37:00 WIB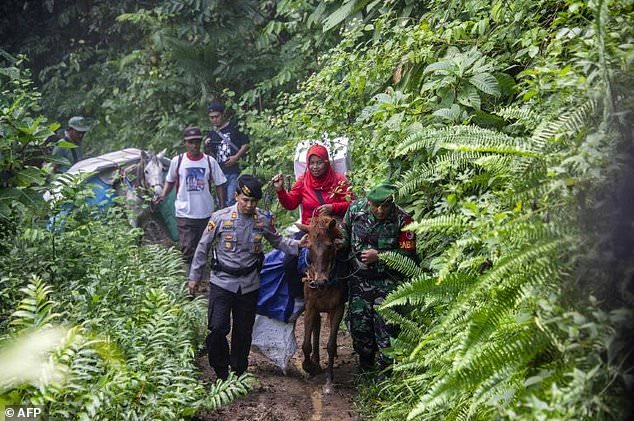 Foto: AFP/MailOnline
DARI MENGIRIM kotak suara oleh gajah di Lampung hingga menjaga pemilih tetap aman di wilayah Papua dari serangan pemberontak, Indonesia tercatat sebagai negara yang akan mengadakan pemilihan umum serentak terbesar di dunia, dengan jumlah penduduk 260 juta jiwa.
Hari Rabu, lebih dari 190 juta pemilih terdaftar di negara mayoritas Muslim akan memberikan suara mereka hanya dalam waktu delapan jam pemungutan suara, dengan komisi pemilihan berjuang melawan hujan lebat, pemilih ganda, serangan cyber.
Dan jika itu tidak cukup sulit, negara demokrasi terbesar ketiga di dunia setelah India dan Amerika Serikat menggelar yang pertama untuk sistem yang sudah berusia dua dekade, yang bangkit dari abu kediktatoran yang didukung militer: memegang presiden, parlemen dan jajak pendapat lokal semua dalam satu hari.
"Ini adalah negara yang sangat besar sehingga kami akan melakukan yang terbaik," kata Arief Budiman, Ketua Komisi Pemilihan Umum [KPU] kepada pers di Jakarta belum lama ini.
Dia tidak bercanda.
Memanfaatkan kuda, sepeda motor, speedboat, dan pesawat terbang, para petugas KPU telah mendistribusikan kotak suara kardus - dijaga oleh staf keamanan bersenjata - ke setiap sudut kepulauan sepanjang 4.800 kilometer yang dihuni oleh ratusan etnis.
Sementara gajah membawa kotak suara melalui provinsi Aceh di Sumatra, kuda digunakan untuk menjangkau masyarakat terpencil di sudut tenggara pulau Jawa.
"Jalannya berlumpur saat musim hujan sehingga terpaksa menggunakan kuda untuk mengangkut material pemilu," kata Suhartanto, kepala polisi di kecamatan Tempurejo.
Kotak suara ringan - menggantikan kotak logam yang digunakan dalam pemilihan umum sebelumnya - sudah siap, kata Budiman, seraya meyakinkan bahwa kotak suara "sangat kuat".
"Anda bisa memercikkan air ke atasnya - dan tidak akan rusak," katanya.
Ini dikonfirmasi minggu ini di dekat Jakarta ketika ratusan kotak rusak ditinggalkan di tumpukan berlumpur setelah hujan deras membanjiri gudang penyimpanan.
Kantong plastik dimasukkan ke dalam kotak untuk melindungi jutaan surat suara di negara tropis yang digunakan mengantisipasi hujan seperti dikutip AFP yang dilansir MailOnline.
FROM SENDING ballot boxes by elephant in Sumatra to keeping voters safe in Papua´s rebel territory, Indonesia is pulling out all the stops for one of the world´s biggest one-day polls across a vast archipelago of 260 million.
On Wednesday, over 190 million registered voters in the Muslim-majority country will cast their votes in just eight hours of polling, with the election commission battling torrential downpours, voter fraud and damaging cyber attacks.
And if that wasn´t hard enough, the world´s third-largest democracy behind India and the United States is staging a first for its two-decade-old system, which rose from the ashes of a military-backed dictatorship: holding presidential, parliamentary and local polls all in one day.
"This is a very big country so we´ll do our best," Arief Budiman, the commission´s chief, told a recent gathering of journalists and diplomats.
He´s not kidding.
Calling on four-legged transport, motorbikes, speedboats and planes, officials have been distributing cardboard ballot boxes -- guarded by armed security staff -- to every corner of the 4,800 kilometre (3,000 miles) long archipelago, which is home to hundreds of ethnic groups and languages.
While elephants carried ballot boxes through Sumatra´s Aceh province, horses were used to reach to remote communities in the southeast corner of Java island.
"The path is muddy during the rainy season so we need to use horses to transport election material," said Suhartanto, the police chief in Tempurejo sub-district, who goes by one name.
The lightweight ballot boxes -- replacing metal ones used in previous polls -- are up to the job, Budiman insisted, declaring them to be "very strong".
"You can sprinkle water on them -- but not a flood," he said.
This was confirmed this week near Jakarta when hundreds of spoiled boxes were left in a muddy heap after torrential rain flooded a storage warehouse.
Plastic bags are being inserted into the boxes to protect millions of ballot papers in a tropical country used to pounding rainstorms.