Kemenkop UKM Tunjuk 330 Konsultan Pendamping PLUT-KUMKM Berkompetensi
Indonesian Govt Develop Integrated Business Service Center of Cooperatives and SMEs
Reporter : Gusmiati Waris
Editor : Cahyani Harzi
Translator : Dhelia Gani

PUBLISHED: Kamis, 31 Januari 2019 , 14:11:00 WIB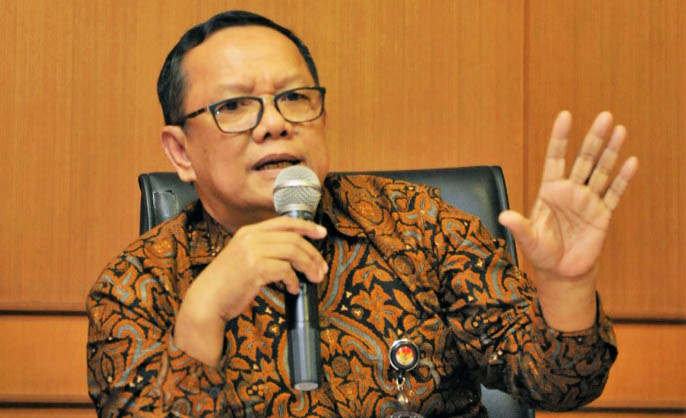 LAYANAN TERPADU: Deputi Restrukturisasi Usaha Kementerian Koperasi dan UKM, Abdul Kadir Damanik (Foto: Humas Kemenkop UKM)
Jakarta (B2B) - Kementerian Koperasi dan UKM RI telah menunjuk 330 orang konsultan pendamping PLUT-KUMKM berkompetensi yang telah disetujui SKKNI bidang Pendamping UKM melalui Keputusan Menteri Ketenagakerjaan RI No 81/2017. Saat ini terdapat 61 PLUT-KUMKM di 31 provinsi, konsultan pendamping berkewajiban mendukung tugas pokok dan fungsi PLUT-KUMKM untuk pendampingan kelembagaan, SDM, produksi, pembiayaan, pemasaran, dan pengembangan teknologi informasi.
"Kompetensi Pendamping UMKM terdiri atas profesi pengelola lembaga pendamping dan profesi konsultan pendamping UMKM, masing-masing profesi tersebut terdiri atas empat jenjang yakni tiga sampai enam dari sembilan jenjang KKNI," kata Abdul Kadir Damanik, Deputi Restrukturisasi Usaha Kementerian Koperasi dan UKM kepada pers di Jakarta, Rabu (30/1).
Sebagaimana diketahui, PLUT-KUMKM adalah pusat layanan usaha terpadu koperasi dan usaha mikro kecil menengah. Hingga saat ini, program PLUT-KUMKM yang dimulai sejak 2013, tersebar di 31 provinsi - kecuali DKI Jakarta, Kalimantan Utara dan Sumatera Selatan - terdiri dari 26 PLUT-KUMKM di tingkat provinsi dan 35 di kabupaten/kota.
"Pemerintah tahun ini berencana mengembangkan 12 PLUT baru di seluruh Indonesia," kata Abdul KD.
Menurutnya, PLUT-KUMKM bertujuan memberikan layanan jasa finansial, nonfinansial dan berbagai solusi atas permasalahan koperasi dan UMKM untuk meningkatkan produktivitas, nilai tambah, kualitas kerja dan daya saing usaha koperasi dan UKM.
Abdul KD menambahkan, layanan pendampingan PLUT-KUMKM oleh konsultan pendamping di tingkat kabupaten/kota meliputi lima layanan yakni kelembagaan, SDM, produksi, pembiayaan, dan pemasaran. Sementara di tingkat provinsi ditambah dua bidang layanan: pengembangan teknologi informasi dan jaringan kerjasama.
Jakarta (B2B) - Indonesian Cooperatives and SMEs Ministry has appointed 330 330 competent consultants of cooperative and SME integrated business service center or PLUT-KUMKM according to the Indonesian Minister of Manpower Decree Number 81/2017. Currently there are 61 PLUT-KUMKM in 31 provinces, the consultant is obliged to support the main tasks and functions for institutional, HR, production, financing, marketing, and information technology.
"The competency of consultants consists of managers and consultants, each of which consists of four levels," said Abdul Kadir Damanik, Deputy of Business Restructuring of Indonesian Cooperatives and SMEs Ministry here on Wednesday (January 30).
Until now, the PLUT-KUMKM program which began in 2013, spread in 31 provinces - except DKI Jakarta, North Kalimantan and South Sumatra - consisting of 26 PLUT-KUMKM at the provincial level and 35 in the district/city.
"This year the government plans to developing 12 new PLUTs across the country," said Damanik.
According to him, the PLUT-KUMKM aims to provide financial services, non-financial services and various solutions to the problems of cooperatives and SMEs, the aim is to increase productivity, added value, work quality and business competitiveness of cooperatives and SMEs.
Damanik added, the PLUT-KUMKM assistance services by consultants at the district/city level include five services: institutional, HR, production, financing, and marketing. While for the provincial level, two service fields are added: information technology development and cooperation networks.