Volume Usaha Naik 29,90%, Pemerintah Tingkatkan Nilai Tambah Produk KUMKM
Business Volume of Indonesian Cooperatives and SMEs of 2019 Rose by 29.90%
Reporter : Gusmiati Waris
Editor : Cahyani Harzi
Translator : Dhelia Gani

PUBLISHED: Minggu, 10 Februari 2019 , 01:44:00 WIB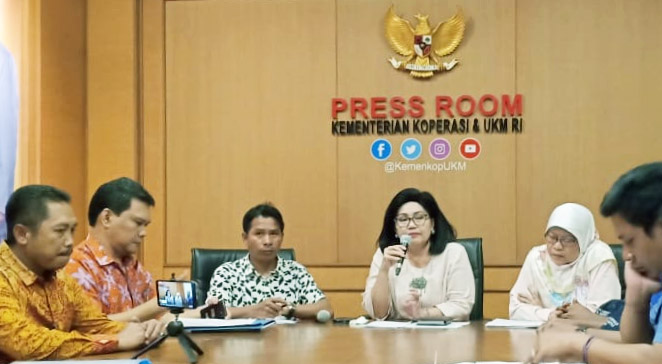 PENINGKATAN VOLUME: Deputi Bidang Produksi dan Pemasaran Kemenkop UKM, Victoria br Simanungkalit (ke-3 kanan) menjawab pers (Foto: B2B/Mya)
Jakarta (B2B) - Kementerian Koperasi dan UKM RI akan meningkatkan nilai tambah sumber daya lokal produk dari koperasi dan UMKM melalui kolaborasi dengan kementerian, BUMN, perusahaan swasta, organisasi non pemerintah dan para pemangku kepentingan. Tahun lalu, volume usaha sektor riil terfasilitasi meningkat 29,90%, dan pertumbuhan ekspor KUMKM yang difasilitasi meningkat rata-rata 12,32%.
"Kemenkop UKM akan kolaborasi dengan para pemangku kepentingan untuk meningkatkan nilai tambah usaha UMKM, diharapkan meningkat dari capaian tahun lalu," kata Deputi Bidang Produksi dan Pemasaran Kemenkop UKM, Victoria br Simanungkalit kepada pers di Jakarta, Jumat (8/2).
Deputi Victoria mengatakan, Kemenkop UKM fokus pada nilai tambah usaha pertanian, perikanan, peternakan, pariwisata, kerajinan tangan, dan fashion, dan tahun ini Kemenkop UKM akan berkontribusi pada tiga prioritas nasional yakni pertanian, industri dan jasa.
Hal itu dilakukan, katanya lagi, mengacu pada tiga indikator kinerja utama yakni persentase peningkatan volume usaha KUMKM sektor riil terfasilitasi 10%, persentase pertumbuhan ekspor koperasi dan UMKM terfasilitasi masing-masing 2% dan 5%, hingga persentase KUMKM yang meningkat volume usahanya melalui kemitraan 50%.
"Kemenkop UKM juga akan melakukan penguatan dengan pendekatan industrialisasi dengan skala ekonomi, khususnya petani untuk mendapatkan nilai tambah melalui koperasi," kata Victoria.
Jakarta (B2B) - Indonesian government will increase the added value of local product resources of cooperatives and SMEs through collaboration with ministries, SOEs, private companies, non-government organizations and stakeholders. Last year, facilitated real sector business volume increased by 29.90%, and export growth of SMEs increased by an average of 12.32%.
"The ministry will collaborate with stakeholders to increase the added value of SME businesses, expected to increase from last year´s achievements," Deputy for Production and Marketing, Victoria br Simanungkalit told the press here on Friday (February 8).
Deputy Simanungkalit said the government focused on the added value of agriculture, fisheries, animal husbandry, tourism, handicrafts and fashion and this year the ministry will contribute to three national priorities namely agriculture, industry and services.
According to her, it refers to the three main performance indicators, namely the percentage increase in the volume of real sector SMEs business facilitated by 10%, percentage of cooperative and UKM export growth facilitated by 2% and 5%, up to the percentage of SMEs that increase their business volume through 50% partnership.
"The ministry will also strengthen with an economical scale industrialization approach, especially farmers to get added value through cooperatives," Simanungkalit said.