Koperasi Go Public, Menkop Dorong Anak Usaha KiSel Masuk Lantai Bursa
Indonesian Minister Support Cooperatives for an Initial Public Offering in the Stock Market
Reporter : Gusmiati Waris
Editor : Cahyani Harzi
Translator : Dhelia Gani

PUBLISHED: Selasa, 24 April 2018 , 14:59:00 WIB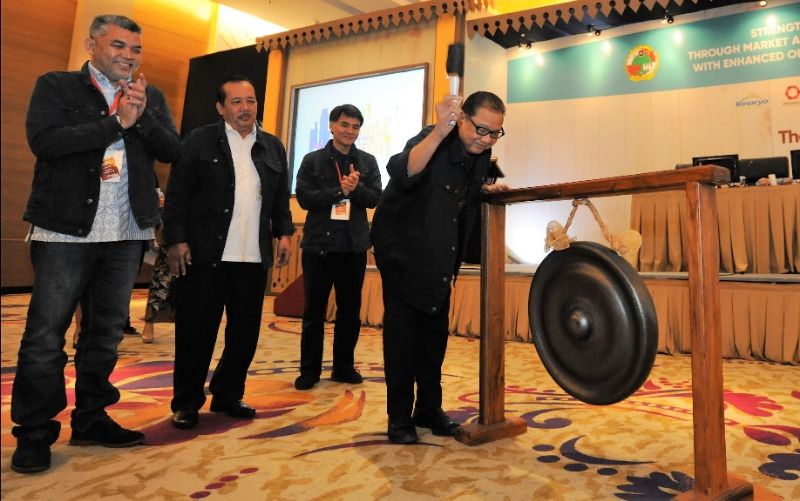 Ketua Dewan Pengawas KiSel, Hasbi Hasibuan, Hasbi Hasibuan mengapresiasi kehadiran Menteri Puspayoga dalam RAT KiSel sebagai cambuk untuk meningkatkan kinerjanya (Foto: B2B/Foto2: Humas Kemenkop UKM)
Jakarta (B2B) - Pemerintah RI mendorong anak perusahaan koperasi berpeluang masuk lantai bursa seperti halnya Kospin Jasa melalui PT Asuransi Jiwa Syariah Mitra Jaya Abadi Tbk pada 2017. Menteri Koperasi dan UKM, AAGN Puspayoga menilai Koperasi Telekomunikasi Seluler (KiSel) layak memiliki anak perusahaan untuk go public, dan KiSel tercatat sebagai koperasi terbesar dunia di peringkat 128.
Menteri Puspayoga mengatakan Kospin Jasa layak menjadi panutan sebagai koperasi yang sukses mengantarkan anak perusahaannya menjual saham di lantai bursa, dengan penawaran saham perdana (initial public offering/IPO) pada 2017 seharga Rp140 per lembar saham, kemudian naik ke Rp300 dan saat ini harga sahamnya per lembar di kisaran Rp1.000.
"Prestasi KiSel di peringkat 128 sebagai koperasi terbesar dunia, sangat membanggakan dan mengharumkan nama koperasi Indonesia. Saya ingat, dua tahun lalu KiSel masih di urutan 300-an," kata Puspayoga.
Kinerja KiSel tergolong positif, total aset hingga Desember 2017 mencapai Rp1,48 triliun dengan omset Rp6,4 triliun dan sisa hasil usaha (SHU) mencapai Rp63,7 miliar.
"Artinya, KiSel mampu untuk bersaing dengan perusahaan swasta besar, meski bukan koperasi terbesar, tapi saya nilai layak disebut koperasi terbaik di Indonesia," katanya.
Ketua Dewan Pengawas KiSel, Hasbi Hasibuan mengakui visi koperasinya menjadi yang terbaik di Indonesia meskipun dari sisi aset belum menjadi nomor satu, namun terus berupaya mencapai target kinerja usaha didukung jaringan luas dari Aceh sampai Papua.
Hasbi mengapresiasi kehadiran Menteri Puspayoga dalam rapat anggota tahunan (RAT) KiSel sebagai cambuk untuk meningkatkan kinerjanya, yang tidak terlepas dari dukungan Kementerian Koperasi dan UKM.
Jakarta (B2B) - The Indonesian government encourages cooperative subsidiary to go public on the stock exchange as Kospin Services through the Asuransi Jiwa Syariah Mitra Jaya Abadi company in 2017. The Cooperatives and SMEs Minister AAGN Puspayoga considers Koperasi Telekomunikasi Seluler or KiSel for intial public offering because and KiSel is listed as the world´s largest cooperative in the ranking of 128.
Minister Puspayoga said Kospin Services deserves to be a role model as a successful cooperative to support its subsidiaries in the stock exchange, with an initial public offering or IPO of 140 rupiah per share, then up to 300 rupiah, and currently 1,000 rupiah per share.
"KiSel´s achievement in rank 128 as the world´s largest cooperative, is very proud for Indonesia," Puspayoga said.
The KiSel´s performance is positive, total assets until December 2017 reached 1.48 trillion rupiah with a turnover of 6.4 trillion rupiah and KiSel´s profit for 2017 reached 63.7 billion rupiah.
"It means, KiSel is able to compete with large private companies, although not the largest cooperative, but deserve to be the best cooperative in Indonesia," he said.
Chairman of the KiSel Supervisory Board, Hasbi Hasibuan recognizes his cooperative vision of being the best in Indonesia even though his assets are not the highest, but still strive to achieve the target as the largest cooperative across the country.
Mr. Hasibuan appreciated the Minister Puspayoga attended the annual meeting of cooperative members as a driver, given the support of the ministry.