LPDB-KUMKM Berniat Dukung Pengembangan Koperasi Kopi di Jambi
Indonesia`s Fund Management for SMEs Intends to Support Coffee Cooperative in Jambi
Reporter : Gusmiati Waris
Editor : Cahyani Harzi
Translator : Dhelia Gani

PUBLISHED: Kamis, 03 Mei 2018 , 15:22:00 WIB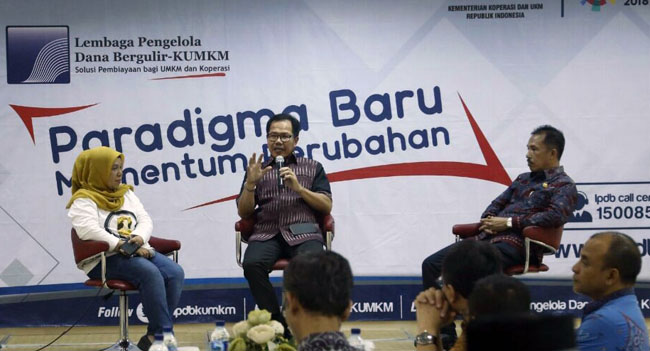 Direktur Utama LPDB KUMKM Braman Setyo (tengah) dengan Kepala Dinas Perkebunan Pemprov Jambi Agus Rizal dan Ketua Komunitas UMKM Kopi Jambi, Rina Safitri (Foto: istimewa)
Jakarta (B2B) - Lembaga Pengelola Dana Bergulir Koperasi dan Usaha Mikro Kecil dan Menengah (LPDB-KUMKM) tahun ini akan memfokuskan pembiayaan pada sektor pertanian, yang merupakan amanat Presiden RI Joko Widodo untuk mendukung program NawaCita, dan Pemprov Jambi mengharapkan LPDB-KUMKM dapat mendukung koperasi kopi yang selama ini terkendala pembiayaan.

Harapan tersebut dikemukakan oleh Kepala Dinas Perkebunan Provinsi Jambi Agus Rizal dan Ketua Komunitas UMKM Kopi Provinsi Jambi, Rina Safitri kepada Direktur Utama LPDB KUMKM Braman Setyo pada diskusi bertema 'Potensi Pembiayaan LPDB-KUMKM ke Sektor Usaha Pengolahan Kopi Asli Indonesia' di Jakarta, belum lama ini.

Agus Rizal mengatakan potensi ekspor produk pertanian dan perkebunan di Jambi sangat besar khususnya kopi, kelapa sawit, dan karet sementara peluang ekspor terbesar adalah kopi namun terkendala oleh masalah pembiayaan.

"Jambi paling lengkap industri pertanian dan perkebunan, sehingga bila ada tambahan bantuan pembiayaan dari LPDB-KUMKM tentu akan mendorong industri kopi lebih maju," katanya.

Menurutnya, kantor yang dia pimpin akan mendorong dan siap mendampingi LPDB-KUMKM hingga ke tingkat petani kopi. "Berilah kami kesempatan dalam hal pembiayaan, kami dari dinas akan mendorong dan siap mendampingi petani."

Rina Safitri menambahkan bahwa koperasi di Jambi sangat banyak namun terkendala pembiayaan sehingga tak ubahnya peribahasa, 'hidup segan, mati tak mau'.

"Sebagian besar koperasi kelapa sawit, namun belum ada koperasi kopi. Kami harapkan dukungan pembiayaan bagi para pelaku usaha perkebunan dan UMKM kopi di Jambi," katanya.

Braman Setyo mengapresiasi harapan tersebut dan diakuinya bahwa LPDB-KUMKM tahun ini fokus pada pembiayaan sektor pertanian, dengan menargetkan penyaluran dana bergulir hingga Rp1,2 triliun.

Dari jumlah tersebut, Rp480 miliar menyasar koperasi simpan pinjam, Rp120 miliar ke koperasi sektor riil, Rp360 miliar untuk UMKM, dan Rp240 miliar untuk lembaga keuangan bukan bank (LKBB).

Braman mengakui diskusi tersebut bertujuan mendapatkan masukan langsung dari pelaku usaha kopi tanah air, baik dari sisi tarif, skema dan syarat yang harus disiapkan oleh LPDB-KUMKM untuk mendukung industri kopi dalam negeri.
Jakarta (B2B) - The Indonesia´s fund management institutions lending to cooperatives and SMEs or the LPDB-KUMKM will focus on supporting financing in the agricultural sector as the mandate of President Joko Widodo program, and Jambi provincial government expects the LPDB-KUMKM can support coffee cooperatives that have been constrained financing, according to senior ministry official.

The expectations was said by the Head of Jambi plantation office, Agus Rizal; Chairman of Jambi's Coffee SMEs, Rina Safitri to the President Director of LPDB-KUMKM, Braman Setyo in a discussion in Jambi, recently.

Mr Rizal said the export potential of Jambi's agricultural and plantation products is very large, especially coffee, palm oil and rubber while the biggest export opportunity is coffee but is constrained by financing problems.

"Jambi is the most complete agricultural and plantation industry, and if supported by LPDB-KUMKM financing will encourage the development of Jambi coffee industry," he said.

According to him, the office he leads will encourage and ready to assist LPDB-KUMKM to coffee farmers. "Give us financing opportunities, my office will encourage and be ready to assist the farmers."

Ms Safitri said that the cooperative in Jambi is very much but constrained financing.

"Most of the palm oil cooperatives, but there is no coffee cooperative, we expect financing support for plantation and SMEs in Jambi," she said.

Setyo appreciated it and admitted that LPDB-KUMKM this year focused on financing the agricultural sector, by targeting 1.2 trillion rupiah financing support.

Of these amount, 480 billion rupiah targeted savings and loan cooperatives, 120 billion rupiah to real sector cooperatives, 360 billion rupiah for SMEs, and 240 billion rupiah to non-bank financial institutions.

Mr. Setyo acknowledged the discussion aims to get direct input from coffee entrepreneurs in terms of tariffs, schemes and conditions that must be prepared by LPDB-KUMKM to support the domestic coffee industry.