Koperasi `Zaman Now` Harus Mampu Adaptasi Teknologi dan Tuntutan Pasar
Cooperatives in Indonesia must Adapt the Technology and Market Demands
Reporter : Gusmiati Waris
Editor : Cahyani Harzi
Translator : Dhelia Gani

PUBLISHED: Minggu, 29 Juli 2018 , 15:45:00 WIB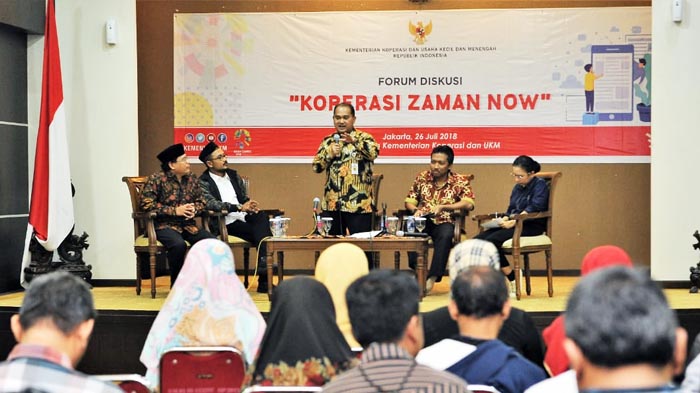 Sesmenkop UKM Meliadi Sembiring sebagai keynote speaker dan para narsum FGD: Ketua Koperasi Baldah; Asdep Penyuluhan Kemenkop UKM, Bagus Rahman; PR Manager Kosakti Amrul Hakim. (Foto2: Humas Kemenkop UKM)
Jakarta (B2B) - Koperasi yang baik di era saat ini dan ke depan adalah harus mengikuti kemajuan teknologi dan tuntutan kekinian, maka koperasi ´zaman now´ dituntut mampu melakukan identifikasi lingkungan khususnya kemampuan SDM, sumber pembiayaan, dan kegiatan pemasaran.
"Koperasi zaman now itu bagaimana bisa hidup, tumbuh dan berkembang dengan mengikuti perkembangan teknologi dan tuntutan pasar," kata Sekretaris Kementerian Koperasi dan UKM, Meliadi Sembiring dalam arahannya sebagai keynote speech pada forum group discussion (FGD) bertema ´Koperasi Zaman Now´ di Jakarta pada Kamis (26/7).
Menurut Meliadi, koperasi harus berfikir progresif yakni ´koperasi kecil´ bagaimana mengembangkan diri menjadi ´kelas menengah´ kemudian menjadi ´besar´ dan seterusnya seperti dilakukan perusahaan swasta yang mampu mengembangkan konglomerasi.
Begitu pula dengan koperasi di bidang produksi dapat meningkatkan hasil produksinya, koperasi bidang jasa mampu mengembangkan diri menjadi penyedia jasa terkemuka, andal, dan terpercaya.
"Koperasi zaman now itu harus mampu pula memberdayakan kaum muda untuk tertarik mengelola koperasi sebagai wadah berusaha," kata Meliadi.
Jakarta (B2B) - Cooperatives in Indonesia today and in the future must be able to adapt technological developments and the present demand, then the cooperative is required to identify the environment, especially the ability of human resources, financing sources, and marketing activities, according to senior ministry official.
"Today´s cooperative is how to survive, develop, by following the development of technology and market demands," said Secretary of Cooperatives and SMEs Ministry, Meliadi Sembiring in his speech as keynote speaker in forum group discussion here on Thursday (July 26).
According to Mr Sembiring, cooperatives should think progressively that is ´small cooperative´ how to develop into ´middle class´ then become ´big´ and so on as do private companies.
Similarly, production cooperatives can increase production capacity, service cooperatives are able to develop into leading and trusted service providers.
"Today´s cooperative should also be able to empower young people to be interested in managing cooperatives to develop business," he said.