230 Pembakar Hutan dan Lahan Ditangkap Polisi
Indonesian Police Arrest Scores of People Linked to Huge Forest Fires
Editor : Ismail Gani
Translator : Novita Cahyadi

PUBLISHED: Jum'at, 20 September 2019 , 15:46:00 WIB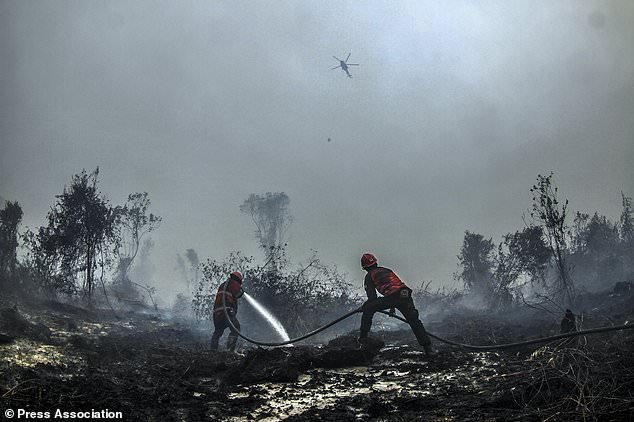 Press Association/MailOnline
KEPOLISIAN RI [Polri] menyatakan bahwa telah menangkap 230 orang yang diduga sebagai pelaku pembakaran yang menyebarkan kabut asap yang merusak kesehatan di sebagian besar Asia Tenggara.

Mereka termasuk tiga orang yang ditangkap pada Senin berusaha membakar hutan untuk membuka lahan di Taman Nasional Tesso Nilo, yang merupakan habitat bagi sekitar 140 gajah liar yang terancam punah, kata Karo Penmas Mabes Polri, Brigjen Pol Dedi Prasetyo.

Mereka yang ditangkap terancam hukuman penjara karena melanggar UU Perlindungan Lingkungan yang mengamanatkan hukuman penjara maksimum 10 tahun karena membakar lahan.

Kebakaran Indonesia adalah masalah tahunan yang membebani hubungan dengan negara-negara tetangga.

Asap telah menyelimuti sebagian wilayah Indonesia, Singapura, Malaysia, dan Thailand selatan dalam kabut asap yang mengancam kesehatan.

Visibilitas yang buruk disebabkan oleh asap telah menyebabkan penundaan penerbangan di beberapa bandara di Indonesia dan Malaysia dan mendorong pihak berwenang untuk menutup sekolah di beberapa wilayah dari kedua negara.

Pihak berwenang Indonesia telah menyegel tanah yang dimiliki oleh setidaknya 49 perusahaan perkebunan dalam sepekan terakhir untuk diselidiki setelah kebakaran ditemukan di lahan konsesi mereka.

Satelit Badan Nasional Penanggulangan Bencana [BNPB] mendeteksi 2.719 hotspot di seluruh Indonesia pada Kamis. Dikatakan 99% dari hotspot disebabkan oleh tindakan sengaja membakar hutan dan lahan.

BNPB mengatakan 44 helikopter telah menjatuhkan lebih dari 71 juta galon air dan 163 ton garam untuk penyemaian awan sebagai bagian dari upaya pemadam kebakaran.

Pihak berwenang telah mengerahkan lebih dari 9.000 orang untuk memerangi kebakaran, yang telah meratakan lebih dari 812.000 hektar tanah di Sumatera dan Kalimantan, dengan lebih dari setengahnya di provinsi Riau, Jambi, Sumatra Selatan, Kalimantan Barat, Kalimantan Tengah, dan Kalimantan Selatan.

Kebakaran musim kemarau tahunan di Indonesia sangat berbahaya pada 2015, membakar 10.000 mil persegi tanah. Bank Dunia memperkirakan kerugian akibat kebakaran hutan dan lahan sekitar kebakaran menelan biaya US$16 miliar), dan sebuah studi Harvard dan Columbia mepmerkirakan kabut asap mempercepat 100.000 kematian di wilayah tersebut seperti dikutip Press Association yang dilansir MailOnline.
INDONESIAN police said they have arrested 230 people suspected of starting fires that are spreading health-damaging haze across a large part of south-east Asia.

They include three men caught on Monday trying to clear land to plant crops in the Tesso Nilo National Park, which is home to about 140 endangered wild elephants, said Dedi Prasetyo, the national police spokesman.

Those arrested could be prosecuted under an environmental protection law that mandates a maximum 10-year prison sentence for setting fires to clear land.

Indonesia's fires are an annual problem that strain relations with neighbouring countries.

The smoke has blanketed parts of Indonesia, Singapore, Malaysia and southern Thailand in a noxious haze.

Poor visibility caused by smoke has caused delays of flights at several airports in Indonesia and Malaysia and prompted authorities to shut schools in some parts of the two countries.

Indonesian authorities have sealed off land owned by at least 49 plantation companies in the past week for investigation after fires were found on their land.

Indonesian Disaster Mitigation Agency satellites detected 2,719 hotspots across the country on Thursday. It said 99% of the hotspots were caused by deliberately set fires.

The agency said 44 helicopters had dropped more than 71 million gallons of water and 163 tons of salt for cloud seeding as part of the firefighting efforts.

Authorities have deployed more than 9,000 people to fight the fires, which have razed more than 812,000 acres of land across the nation, with more than half in the provinces of Riau, Jambi, South Sumatra, West Kalimantan, Central Kalimantan and South Kalimantan.

Indonesia's annual dry season fires were particularly disastrous in 2015, burning 10,000 square miles of land. The World Bank estimated the fires cost Indonesia 16 billion dollars (£12 billion), and a Harvard and Columbia study estimated the haze hastened 100,000 deaths in the region.