Manajemen Tata Kelola, Kemenkop & UKM Dukung Revitalisasi Pasar Rakyat di Bali
Indonesian Govt Supports the Revitalization of Traditional Markets in Bali
Reporter : Gusmiati Waris
Editor : Cahyani Harzi
Translator : Dhelia Gani

PUBLISHED: Minggu, 01 Juli 2018 , 15:53:00 WIB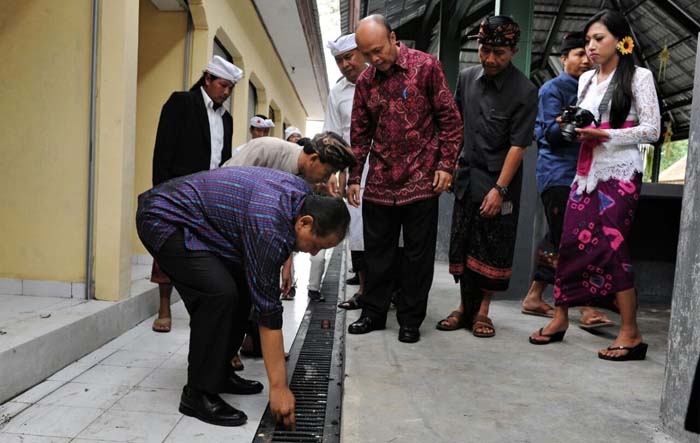 Menteri Koperasi dan UKM, AAGN Puspayoga (batik biru) turun tangan membersihkan saluran air di Pasar Banjar Nagari Denpasar didampingi Deputi Deputi Produksi dan Pemasaran I Wayan Dipta (batik merah) Foto: istimewa
Gianyar, Bali (B2B) - Kementerian Koperasi dan UKM menyadari pembangunan fisik tidak memberikan jaminan dan kepastian dalam menjaga pasar rakyat tetap bertahan dalam jangka panjang, sehingga diperlukan terobosan yang tepat, dengan penguatan kelembagaan dan pengembangan SDM pengelola dan pedagang pasar rakyat.

Hal itu dikemukakan oleh Asisten Deputi Pemasaran Ir Herustiati dan Asisten Deputi Prasarana dan Asisten Sarana dan Pemasaran Produksi, Berry Fauzi mewakili Deputi Produksi dan Pemasaran I Wayan Dipta pada kunjungan pers di Pasar Desa Pakraman Nagari Gianyar, Bali pada Sabtu (30/6) dan diterima oleh Kepala Pasar I Nyoman Suparta.

Herustiati mengatakan program revitalisasi pasar rakyat dan penataan sarana usaha kawasan pedagang kaki lima (PKL) di seluruh Indonesia, khususnya Provinsi Bali dapat meningkatkan transaksi jual beli yang semula hanya bersifat mingguan menjadi pasar harian.

Menurutnya, program revitalisasi pasar rakyat dan penataan sarana usaha kawasan PKL mendapat apresiasi dari pelaku KUMKM, mengingatkan program tersebut dianggap telah memperbaiki dan meningkatkan sarana ekonomi yang selaras dengan upaya pemerataan, pembangunan hingga memperluas kesempatan kerja.

Hal itu dibenarkan oleh I Nyoman Suparta bahwa dukungan dana revitalisasi pasar dan manajemen tata kelola pasar rakyat berdampak positif pada pengembangan Pasar Banjar Nagari yang saat ini diisi oleh 56 pedagang pemilik kios dan 40 lapak dari pedagang musiman.

"Kondisi pasar menjadi lebih baik setelah revitalisasi, begitu pula dengan tata kelola meskipun begitu ada kendala khususnya dana hibah dari pemerintah daerah yang menjadi beban pengelola pasar. Kami berharap kendala tersebut dapat diatasi oleh kementerian," kata I Nyoman Suparta.

Berry Fauzi menambahkan revitalisasi pasar rakyat dan manajemen tata kelola diharapkan dapat mengubah stigma tentang pasar rakyat yang kumuh, becek, dan tidak menarik mampu diubah menjadi pasar yang penuh pesona, atraktif, dan memberikan tempat yang layak berjualan bagi pedagang, dan layak belanja bagi pembeli.

Tugas Perbantuan
Dalam berbagai kesempatan, I Wayan Dipta menegaskan komitmen Kemenkop & UKM memberikan stimulus pembangunan fisik pasar rakyat melalui pola tugas perbantuan.

Berry menambahkan koperasi pengelola pasar rakyat dengan didukung penuh pedagang di dalamnya mampu mewujudkan pasar rakyat yang benar-benar menjadi pilihan masyarakat untuk berbelanja di tengah maraknya pasar-pasar modern.

Herustiasti menambahkan kebijakan pengembangan pasar rakyat terbingkai dalam tiga tahapan. Pada tahap awal diberikan stimulasi pembangunan fisik melalui pola tugas perbantuan dengan harapan daerah semakin partisipatif. Tahapan kedua dilakukan peningkatan profesionalisme melalui pendampingan manajemen.

Pada tahap ketiga dilakukan berbagai upaya penguatan kelembagaan dan peningaktan kapasitas sehingga ke depan koperasi pengelola pasar rakyat akan mampu mewujudkan pasar yang bercorak modern dan mandiri.

Dalam rangka mempertahankan eksistensi serta meningkatkan potensi pasar rakyat dan kawasan PKL sebagai penggerak perekonomian masyarakat di daerah, sejak tahun 2003-2017 telah membangun sebanyak 728 unit pasar yang tersebar di 383 Kabupaten/Kota.

Sedangkan tahun ini, pemerintah akan membangun sebanyak 51 unit pasar rakyat yang diprioritaskan di daerah perbatasan, tertinggal, maupun pasca bencana. Pemerintah juga akan melaksanakan program penataan sarana usaha 20 kawasan PKL bagi 1000 pedagang atau pelaku KUMKM.
Gianyar of Bali (B2B) - Indonesian Cooperatives and SMEs Ministry is aware of efforts to maintain the existence of traditional markets, should be supported by institutional enhancement and development of human resources managers that synergize with the stakeholders, according to senior ministry officials.

It was stated by the ministry's Deputy Assistant of Marketing Herustiati and Assistant Deputy of Facilities and Marketing, Berry Fauzi represent his boss, Deputy Minister of Production and Marketing I Wayan Dipta during a press visit in Gianyar's Pakraman Nagari Market on Saturday (June 30) and I Nyoman Suparta as the head of the traditional market.

Herustiati said the people's market revitalization program and the arrangement of business facilities of street vendors across the country, especially in Bali province aims to increase trading transactions from weekly to daily.

According to her, the central government program is welcomed by traders and SMEs, to support business development and job opportunities.

It was confirmed by I Nyoman Suparta that the market revitalization and management of traditional market governance have a positive impact to development of Denpasar's Banjar Nagari Market which is currently supported by 56 kiosk owners, and 40 stalls from street vendors.

"The market conditions are getting better, as well as governance despite constrained grant funds from local governments that become the burden of market managers," Mr Suparta said.

Mr Fauzi said the central government policy is expected to change the stigma about a slum, muddy, and unattractive market become an attractive market, and provide a decent place for traders, and stakeholders.

Government Support
Indonesian Ministry of Cooperatives and SMEs expect people´s market revitalization program and arrangement of street vendors region can increase the sale and purchase transactions weekly to daily, said the Deputy Minister of Production and Marketing, I Wayan Dipta.

"Revitalization of the people´s market is expected to open opportunities for SMEs as street vendors to develop their business," said I Wayan Dipta here recently.

According to Dipta, the people´s market revitalization program and the arrangement of business facilities of street vendors are appreciated by SME entrepreneurs and he reminded the program in harmony with equity, development and extending employment opportunities.

"The real contribution to regional economic growth by providing means of distribution and marketing of regional products," he said.

In order to maintain and increase the market potential of people and street vendors as a driver of the people´s economy in the region, the central government in Jakarta from 2003 to 2017 has built 728 units of the people´s market in 383 districts and cities.

While this year, the central government will build 51 units of the people market in border areas, underdeveloped regions, and post-disaster areas. The government will also conduct a structuring program of 20 street hawkers for 1000 street vendors as SMEs.