Paviliun Provinsi Gedung Smesco Direvitalisasi untuk Wisata Kuliner di Jakarta
Indonesian SME Marketing Center Supports Culinary Development
Reporter : Gusmiati Waris
Editor : Cahyani Harzi
Translator : Dhelia Gani

PUBLISHED: Sabtu, 03 Februari 2018 , 16:18:00 WIB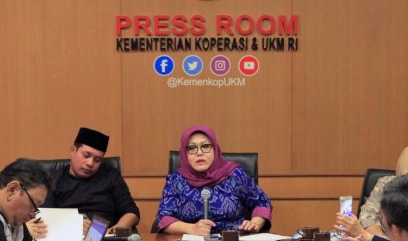 REVITALISASI SMESCO: Direktur Utama LLP-KUKM, Emilia Suhaimi (tengah) menjawab pers didampingi Kabag Humas Kemenkop UKM Sudarmono (Foto: istimewa)
Jakarta (B2B) - Kementerian Koperasi dan UKM RI akan meningkatkan kegiatan promosi dan pemasaran produk unggulan UKM di Gedung Smesco Jakarta, khususnya revitalisasi paviliun provinsi dengan kuliner khas daerah dari 34 provinsi di seluruh Indonesia, dengan melibatkan pemerintah provinsi/kabupaten/kota untuk mendukung upaya Lembaga Layanan Pemasaran Koperasi Usaha Kecil Menengah (LLP-KUKM) sebagai pengelola Smesco.

"LLP-KUKM akan memperbanyak kuliner dari seluruh Nusantara, sehingga masyarakat yang kangen masakan dari daerahnya tak perlu jauh-jauh mencari di Jakarta. Cukup datang ke Gedung Smesco saja," kata Direktur Utama LLP-KUKM, Emilia Suhaimi kepada pers di Jakarta, Jumat (2/2).

Langkah tersebut merupakan bagian dari branded baru Smesco Indonesia, untuk meningkatkan fungsi dan layanannya sebagai pusat promosi dan pemasaran produk-produk unggulan KUKM dan menjadi destinasi belanja dan pusat oleh-oleh di Jakarta.

Menurutnya, pengembangan wisata kuliner juga merupakan bagian dari mendorong tingkat kunjungan dari pengunjung ke paviliun provinsi yang masih tergolong rendah, karena hal itu berdampak signifikan pada tingkat penjualan produk KUKM.

"Revitalisasi paviliun provinsi dengan wisata kuliner juga didorong rendahnya tingkat kunjungan karena minimnya kuliner yang tersedia di Smesco," kata Emilia.

LLP-KUKM juga akan mengintegrasikan antar paviliun dan pembagian area secara berimbang, dan revitalisasi diyakini oleh Emilia Suhaimi memiliki korelasi positif dengan jumlah omset di paviliun provinsi.
Jakarta (B2B) - The Indonesian government will improve promotion and marketing of SME products in Smesco Building Jakarta, the nation´s capital, especially revitalization of the provincial pavilion with the typical cuisine across the country, which is supported by the provincial/ regency/city government, according to the manager of the Indonesian SME marketing center.

"The cooperatives and SMEs ministry will encourage the promotion of regional cuisine across the country, so that people who miss the cuisine from the village will find it easier in Jakarta. Come to the Smesco building," President Director of Cooperatives and SMEs Marketing Institution or the LLP-KUKM, Emilia Suhaimi told the press here on Friday (February 2).

The effort is part of Smesco Indonesia´s new branded, to improve functionality and service as a center for promotion and marketing of SME´s flagship products, as well as a shopping and souvenir center in Jakarta.

According to her, development of culinary tourism as part of efforts to increase visitor traffic to the provincial pavilion, because it will have a significant impact on sales of SME products.

"Revitalizing the provincial pavilion with culinary tourism also aims to increasing the number of visits to Smesco building," Mrs Suhaimi said.

The LLP-KUKM will also integrate the provincial pavilion and visitor area, and revitalization is believed to increase the turnover of SME product sales.