HarKopNas 2019, Presiden Jokowi akan Hadir di Purwokerto
President Widodo will Attend Commemoration of Indonesia`s Cooperative Day 2019
Reporter : Gusmiati Waris
Editor : Cahyani Harzi
Translator : Dhelia Gani

PUBLISHED: Selasa, 25 Juni 2019 , 16:34:00 WIB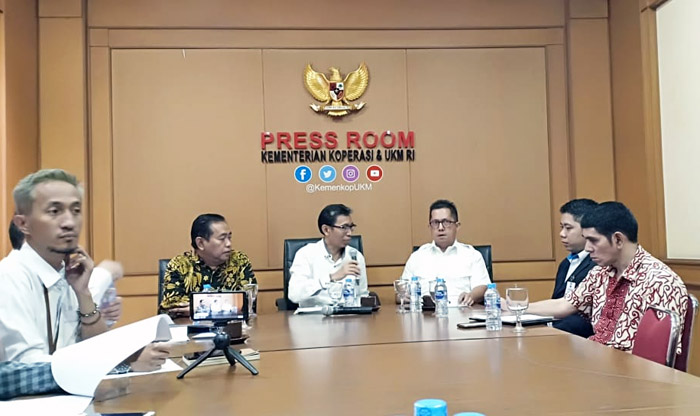 DEPUTI KELEMBAGAAN UKM Luhur Pradjiarto [tengah, pegang mikrofon] dan Ketua Panitia HarKopNas 2019, Pahlevi Pangerang [kanan, kemeja putih] menjawab pers [Foto: Humas Kemenkop UKM]
Jakarta [B2B] - Presiden RI Joko Widodo dijadwalkan menghadiri puncak peringatan Hari Koperasi Nasional 2019 [HarKopNas] di GOR Satria, Purwokerto, Kabupaten Banyumas, Provinsi Jawa Tengah pada Jumat [12/7] yang akan dihadiri sekitar 20.000 pelaku koperasi dan pemangku kepentingan koperasi dari seluruh Indonesia.
Ketua HarKopNas 2019, Pahlevi Pangerang mengatakan perayaan hari koperasi tahun ini agak berbeda, karena untuk pertama kalinya puncak peringatan HarKopNas diadakan di ibukota kabupaten, sementara biasanya diselenggarakan di ibukota provinsi.
Selain terobosan baru memilih kota kabupaten, HarKopNas 2019 berlangsung dalam periode cukup lama, delapan bulan, Maret hingga Oktober 2019, yang juga sangat kental dengan warna milenial serta budaya dan kearifan lokal.
"Dekopin dan pemerintah pusat, dalam hal ini Kementerian Koperasi dan UKM selalu berupaya agar hari koperasi yang dirayakan setiap tahun menjadi wadah konsolidasi segenap stakeholders gerakan koperasi nasional," kata Pahlevi Pangerang.
Dia menambahkan, peringatan hari koperasi juga merupakan momentum tahunan sebagai upaya terus-menerus mempromosikan koperasi sebagai sistem ekonomi berkeadilan yang menyejahterakan.
"Kegiatan puncak Harkopnas 2019 akan dihadiri Presiden Jokowi sebagai sebagai tahun keempat menghadiri puncak Harkopnas. Dalam tiga tahun terakhir, Presiden Jokowi selalu hadir seperti di Jambi pada 2016, 2017 di Makassar, dan Banten pada 2018," katanya.
Selain memberikan arahan, Presiden Jokowi juga akan juga menyematkan tanda kehormatan Satya Lencana Pembangunan dan Satya Lencana Wirakarya kepada pejabat dan tokoh yang berjasa dalam pembangunan. Diawali oleh Menteri Koperasi dan UKM AAGN Puspayoga yang akan menyerahkan penghargaan Bakti Koperasi, Koperasi Berprestasi, dan Penyerahan Kredit Usaha Rakyat.
Jakarta [B2B] - Indonesian President Joko Widodo is scheduled to attend the 2019 National Cooperative Day commemoration [2019 HarKopNas] in Purwokerto city of Banyumas district in Central Jawa province on Friday [July 12] which will be attended by around 20,000 cooperative communities and cooperative stakeholders across the country.
Chairperson of the 2019 HarKopNas Committee, Pahlevi Pangerang said the cooperative day celebrations for the first time were held in the district capital, while usually held in the provincial capital.
In addition to the new breakthrough in organizing in the regency city, the 2019 HarKopNas, it lasts quite a long time, eight months, March to October 2019 with millennial style, culture and local wisdom.
"Indonesian Cooperative Council or Dekopin and the central government, especially the Cooperatives SMEs strives for cooperative days to be celebrated every year it is forum for consolidation of stakeholders of national cooperative movement," Pangerang said.
He said, the cooperative day was also an annual momentum as an effort to promote cooperatives as Indonesia´s economic system.