Rp140 Triliun, Target Penyaluran KUR 2019 Dukung Pengembangan UMKM
IDR 140 Trillion, the Target of Indonesian People`s Business Loans for 2019
Reporter : Gusmiati Waris
Editor : Cahyani Harzi
Translator : Dhelia Gani

PUBLISHED: Rabu, 23 Januari 2019 , 16:35:00 WIB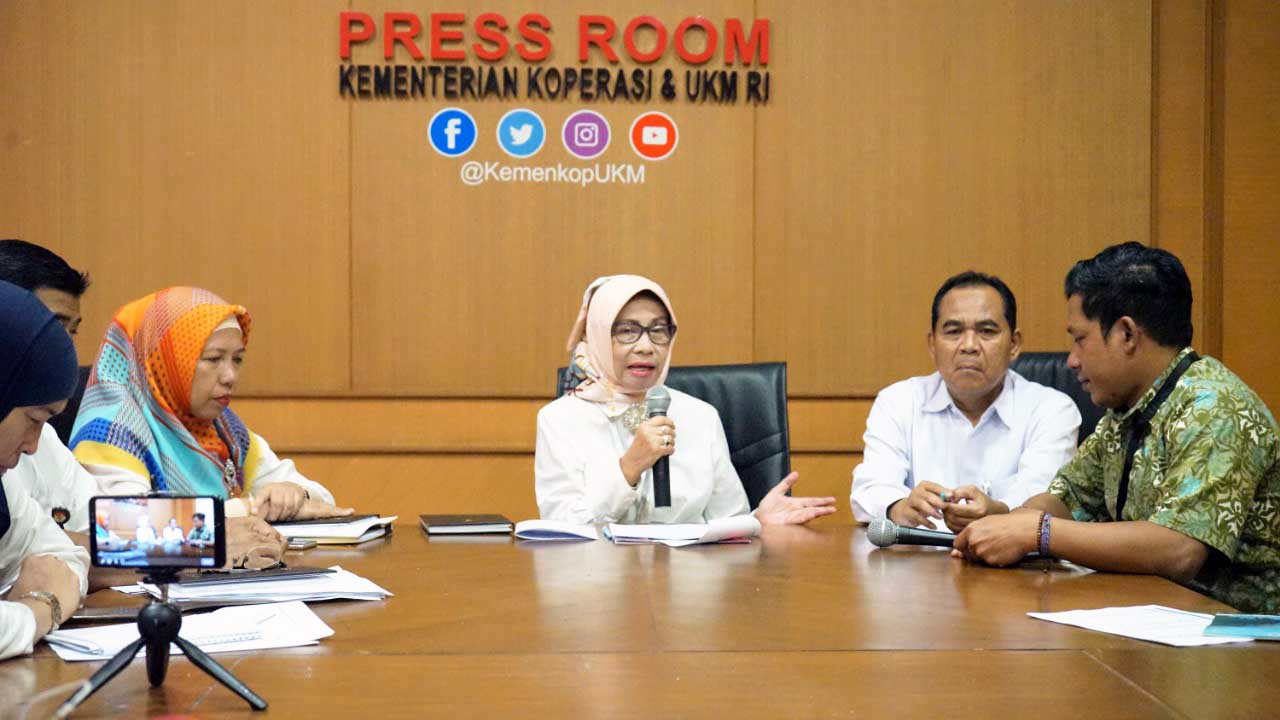 REALISASI KUR 2018: Deputi Bidang Pembiayaan Kemenkop dan UKM Yuana Sutyowati menjawab pers didampingi Kabag Humas Sudarmono (Foto: Humas Kemenkop UKM)
Jakarta (B2B) - Pemerintah RI mematok target penyaluran kredit usaha rakyat (KUR) untuk 2019 sebesar Rp140 triliun, bunga 7% per tahun, sementara realisasi penyaluran KUR pada 2018 mencapai Rp120,08 triliun atau 97,21% dari target Rp123,8 triliun, dengan jumlah debitor penerima KUR 2018 sekitar 4,44 juta pelaku UMKM di seluruh Indonesia. Sedangkan realisasi penyaluran KUR sejak Agustus 2015 hingga 31 Desember 2018 mencapai Rp334,22 triliun kepada 13,89 juta pelaku UMKM.
Deputi Bidang Pembiayaan Kemenkop dan UKM Yuana Sutyowati mengatakan dari total realisasi KUR tahun lalu, didominasi untuk skema KUR Mikro sebanyak 61,34%, KUR Kecil mencapai 38,18% dan KUR untuk TKI hanya 0,48%.
Sementara lembaga penyalur KUR sebanyak 42 lembaga keuangan yang terdiri 36 lembaga perbankan dan enam lembaga keuangan non bank termasuk dua koperasi simpan pinjam.
Menurut Yuana, untuk memperluas penyaluran KUR, komite kebijakan mengusulkan adanya skema KUR untuk kalangan pensiunan, khususnya para pegawai pada masa persiapan pensiun (MPP) yang mempunyai usaha produktif, sehingga penyaluran KUR lebih luas dan berdampak positif pada peningkatan ekonomi masyarakat.
"KUR untuk kalangan pensiunan tergolong KUR khusus, dengan jaminan dari penerimaan pensiunnya, atau bagian dari kolateral, dan syarat utamanya harus memiliki usaha. Hal ini sebagai ikhtiar dari pemerintah agar dana KUR dapat mendukung pertumbuhan ekonomi," kata Yuana Sutyowati kepada pers di Jakarta, Selasa (22/1).
Jakarta (B2B) - The Indonesian government sets a target for people´s business loans or the KUR for 2019 amounting to IDR140 trillion, interest of 7% per year, while realization of KUR 2018 reached IDR 120.08 trillion or 97.21% from the target of IDR 123.8 trillion, the number of debtors around 4.44 million SME entrepreneurs across the country. While the realization of KUR from August 2015 to December 31, 2018 reached IDR 334.22 trillion to 13.89 million SME entrepreneurs.
Deputy for Financing of Indonesian Cooperatives and SMEs Ministry, Yuana Sutyowati said of the total realization of KUR last year, dominated by 61.34% micro schemes, 38.18% small schemes, and only 0.48% for Indonesian workers abroad.
While KUR channeling institutions have 42 financial institutions, 36 banks and six non-banks including two savings and loan cooperatives.
According to Sutyowati, to expand KUR´s reach, the policy committee proposed the existence of a KUR scheme for retirees, especially employees during retirement preparation who have productive businesses, so that KUR distribution is broader and has a positive impact on improving the economy of the community.
"KUR for pensioners is a special KUR, with a guarantee of receiving his pension, or part of collateral, and the main requirement must have a business. This is an effort of the government so that KUR funds can support economic growth," Sutyowati told the press here on Tuesday (January 22).