Wabah PMK Meluas, 246 Ekor Sapi Terjangkit di Magetan
PMK Outbreak Spreads, 246 Cows Infected in Magetan
Editor : Ismail Gani
Translator : Novita Cahyadi

PUBLISHED: Rabu, 25 Mei 2022 , 16:37:00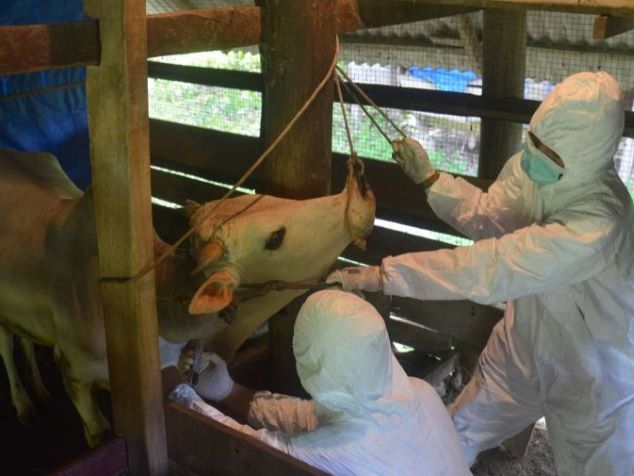 PENYAKIT HEWAN: Petugas sedang memeriksa seekor sapi yang dicurigai terjangkit wabah penyakit mulut dan kuku di Magetan.
Magetan, Jatim [B2B] - Sebanyak 246 ekor sapi dinyatakan positif terjangkit Penyakit Mulut dan Kuku [PMK] di Kabupaten Magetan.
Kepala Dinas Peternakan dan Perikanan Magetan Nur Haryani membenarkan kalau hampir 250 ekor sapi yang dinyatakan positif PMK.
"Per hari ini pukul 11.19 sudah ada 246 sapi yang dinyatakan positif PMK. Tersebar di 51 desa di 14 kecamatan di Magetan," kata Nur Haryani pada beritajatim.com, Rabu [25/5].
Meski bertambah, belum ada sapi yang dinyatakan sembuh dan belum ada yang dilaporkan mati maupun dipotong paksa. Kini, pihaknya masih melakukan pendataan terhadap sapi yang sakit. Lockdown kandang juga masih berlanjut.
Sebelumnya, pada Senin lalu jumlah sapi yang terjangkit berjumlah 105 ekor yang tersebar di 21 desa di 12 kecamatan, kemudian pada Selasa meningkat jadi 194 sapi. Kini makin bertambah jadi 246 sapi.
"Saat ini ada 20 ekor sapi yang sudah menunjukkan perkembangan ke arah sembuh. Perawatan masih berlanjut untuk sapi lain yang terjangkit," kata Nur.
Kini, pihaknya masih terus melakukan pengobatan rutin. Berikut meminta pada masyarakat agar selalu menjaga kebersihan kandang ternak dan membatasi siapa saja yang masuk area kandang untuk mengurangi penularan wabah PMK.
Total ada 118 ribu ekor sapi yang ada di Magetan. Pun yang terjangkit PMK yakni sapi jenis limosin, simental, dan PO.
Magetan of East Java [B2B] - A total of 246 cows were tested positive for Mouth and Nail Disease in Magetan Regency.
Head of the Livestock and Fisheries Service of Magetan, Nur Haryani, confirmed that nearly 250 cows were tested positive for PMK.
"As of today at 11:19 am, 246 cows have tested positive for PMK. Spread over 51 villages in 14 sub-districts in Magetan," said Nur Haryani on beritajatim.com, Wednesday [25/5].