Jambi Tuntas Festival, Pertemukan Pengusaha UKM dengan Buyers
Jambi Festival is the Business Venue for Craftsmen and SMEs with Buyers
Reporter : Gusmiati Waris
Editor : Cahyani Harzi
Translator : Dhelia Gani

PUBLISHED: Minggu, 25 November 2018 , 16:54:00 WIB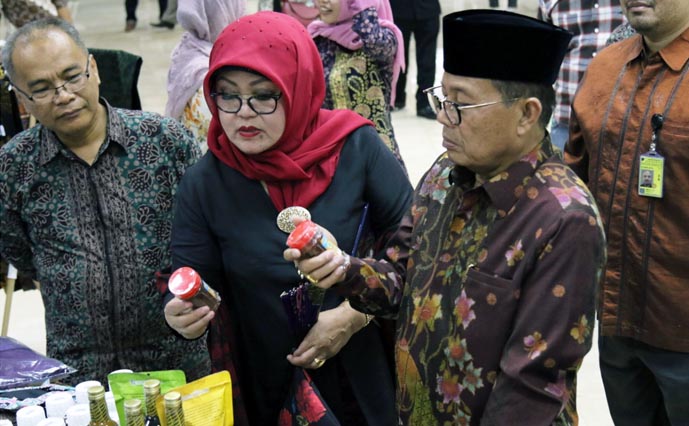 PRODUK KULINER: Plt Gubernur Jambi H Fachrori Umar (kanan) dan Direktur Utama Smesco Indonesia, Emilia Suhaimi mengamati produk UKM unggulan Jambi (Foto: Humas LLP)
Jakarta (B2B) - Sejumlah perajin dan pengusaha UKM terkemuka dari Provinsi Jambi mendapat kesempatan bertemu dengan buyers nasional dan mancanegara pada Jambi Tuntas Festival (JTF) di Gedung Smesco Indonesia, yang dibuka oleh Plt Gubernur Jambi H Fachrori Umar didampingi Direktur Utama Smesco Indonesia, Emilia Suhaimi di Jakarta, Minggu (25/11).
Gubernur H Fachrori Umar mengatakan kegiatan JTF bertujuan akselerasi promosi produk unggulan Jambi sekaligus memperkenalkan seni budaya, produk kerajinan, dan peranan koperasi dan UKM menunjang pariwisata Jambi.
"Mudah-mudahan upaya dan usaha yang dilakukan ini dapat meningkatkan ekonomi masyarakat yang pada gilirannya akan mewujudkan Jambi yang lebih tertib, unggul, nyaman, tangguh, adil dan sejahtera di segala bidang," kata H Fachrori Umar dalam sambutannya.
Emilia Suhaimi menilai kerjasama Smesco Indonesia dan Pemprov Jambi dapat mempertemukan perajin dan pengusaha UKM Jambi dengan para buyer nasional maupun mancanegara.
"Diharapkan mampu memperkenalkan produk dan budaya Jambi yang tersohor, dan interaksi antara perajin dan masyarakat, serta mempermudah masyarakat mendapatkan kuliner atau kerajinan Jambi," kata Emilia S.
Dia menyatakan akan terus mendorong Gedung Smesco Indonesia sebagai one stop shopping, destination dan meeting point bagi pelaku usaha UMKM dan masyarakat antara lain dengan revitalisasi paviliun provinsi menjadi display permanen, pusat promosi, dan pemasaran produk unggulan KUKM daerah bercirikan keunikan 34 provinsi.
Jakarta (B2B) - A number of prominent SMEs and craftsmen from Jambi province had the opportunity to meet with national and foreign buyers at the Jambi Tuntas Festival in Smesco Indonesia building, who was opened by Acting Jambi Governor H Fachrori Umar accompanied by Director of Smesco Indonesia, Emilia Suhaimi here on Sunday (November 25).
Governor Umar said the festival´s activities aimed at accelerating the promotion of superior products in Jambi to introduce cultural arts, handicraft products, and promote Jambi tourism.
"Hopefully this festival to support development and people´s welfare," said Mr Umar in his remarks.
"An event to promote SMEs and Jambi culture, the interaction of craftsmen with the community, and make it easier for people to buy typical Jambi culinary and handicrafts," Mrs Suhaimi said.
He stated that she would continue to encourage Smesco Indonesia Building as the one stop shopping, destination and meeting point for MSME entrepreneurs and the community.