Deputi Kelembagaan Dorong Koperasi Lakukan Reformasi Total
Indonesian Cooperatives Must Reform for the Welfare of Members: Official
Reporter : Gusmiati Waris
Editor : Cahyani Harzi
Translator : Dhelia Gani

PUBLISHED: Sabtu, 11 Agustus 2018 , 17:16:00 WIB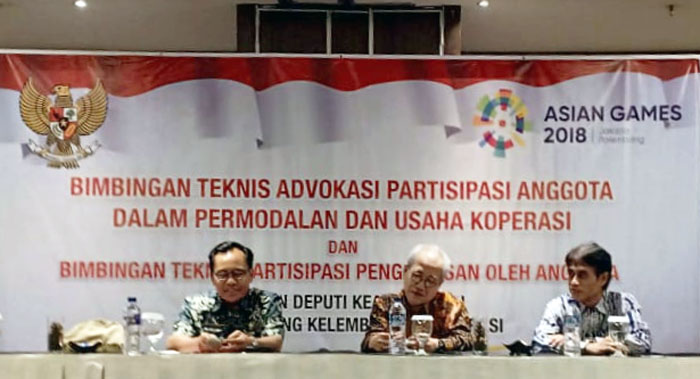 Foto: B2B/Mya
Solo, Jateng (B2B) - Pemerintah RI mengingatkan koperasi untuk melakukan reformasi total dengan rehabilitasi, reorientasi, dan pengembangan kemampuan pengelola koperasi untuk mendorong usaha koperasi semakin besar sehingga omsetnya mencapai triliunan rupiah.
"Kalau dulu kondisi sebagian besar koperasi tergolong menyedihkan ... ya miskin .... gurem .. maka sekarang mesti kita ubah dengan membangkitkan semangat seluruh anggota koperasi untuk bersatu dan bekerja keras demi mengangkat harkat dan martabat koperasi Indonesia," kata Pelaksana Tugas (Plt) Deputi Kelembagaan di Kementerian Koperasi & UKM, Untung Tri Basuki di Solo, Jateng pada Kamis (9/8).
Untung mengingatkan bahwa koperasi-koperasi di Indonesia harus mampu menguasai perekonomian nasional, menjadikan koperasi sebagai entitas bisnis yang mumpuni di Indonesia.
"Koperasi di Sukoharjo bisa membuat warga di Sukoharjo bukan sekadar jadi penonton atau konsumen dari kegiatan bisnis perusahaan tertentu, tapi koperasi setempat yang mampu memajukan perekonomian Sukoharjo," kata Untung pada kegiatan bimbingan teknis (Bimtek) tentang ´Advokasi Partisipasi Anggota dalam Permodalan dan Partisipasi Pengawasan oleh Anggota´.
"Kita harus bangun koperasi yang berkualitas, koperasi yang dapat menguasai Indonesia, koperasi yang bisa membuat rakyat Indonesia menjadi tuan rumah di negeri sendiri," katanya lagi.
Anggota Koperasi
Asisten Deputi Keanggotaan Koperasi Kemenkop UKM, Puji Martini menambahkan kegiatan Bimtek di Solo bertujuan agar anggota koperasi memahami fungsi dan manfaatnya sebagai pemilik koperasi, sehingga koperasi dapat meningkatkan partisipasi anggotanya baik dalam usaha maupun permodalan.
"Tidak dibatasi dari simpanan pokok dan simpanan wajib saja, tapi diharapkan partisipasi anggota dapat mendorong koperasi mengembangkan usaha hingga mampu menembus pasar modal. Punya saham koperasi melalui bursa saham," kata Puji Martini di tempat yang sama.
Sementara Kepala Dinas Perdagangan, Koperasi dan UKM Sukoharjo, Sutarmo mengakui bahwa koperasi kerap kurang menghargai potensi dari anggota koperasi, padahal mereka adalah pemilik yang mestinya dapat ditingkatkan sehingga modal koperasi ke depan bisa berkembang lebih besar.
"Kendala ada di beberapa koperasi, padahal masih bisa digali terutama dari anggota. Misalnya koperasi guru, maka permodalan akan lebih mudah karena dapat disisihkan dari gaji guru tersebut. Kalau ditotal di Sukoharjo saja, bisa terkumpul miliaran rupiah, dan itu cukup untuk membiayai kebutuhan anggota koperasi khususnya para guru," kata Sutarmo.
Solo of Central Java (B2B) - The Indonesian government warned cooperatives to total reform through rehabilitation, reorientation, and development of cooperative manager capacity to encourage cooperative business to become large so that its turnover reaches trillions of rupiah.
"If in the past most cooperatives were in a sad condition ... poor ... small ... then we must change by encouraging members of the cooperative to unite and work hard for the progress of the Indonesian cooperative," said Acting Deputy for Institutional Affairs of the Indonesian Cooperatives & SMEs, Untung Tri Basuki here on Thursday (August 9).
Mr Basuki reminded that cooperatives in Indonesia must master the national economy, making the cooperative the best business entity in Indonesia.
"Cooperatives in Sukoharjo can make residents in Sukoharjo not just become spectators or consumers of certain business activities, but local cooperatives that drive the economy of Sukoharjo, "said Mr Basuki on technical guidance of the participation of cooperative members and supervision activities.
"We must build quality cooperatives, a cooperative that can make the Indonesian people become the host in their own country," he said.
Cooperative Members
Assistant Deputy of Cooperative Membership in the ministry, Puji Martini Puji Martini said the technical guidance activities in Solo aimed to make cooperative members understand their functions and benefits as cooperative owners, so that cooperatives can increase the participation of their members in both business and capital.
"Not limited to principal savings and mandatory savings, but it is expected that member participation can encourage cooperatives to develop businesses," Martini said.
While the Head of Sukoharjo Cooperatives Office, Sutarmo said recognizing that cooperatives often do not appreciate the potential of members, even though they are owners who determine the development of cooperatives.
"Constraints on teacher cooperatives, cooperative capital can be collected from teacher salaries as mandatory and principal savings," Sutarmo said.