Pilpres dan Pileg Indonesia Dipuji Pengamat Politik Asing
Indonesia`s `Smooth` Polls a Beacon in Sea of Strongmen: Analysts
Editor : Ismail Gani
Translator : Novita Cahyadi

PUBLISHED: Minggu, 21 April 2019 , 18:01:00 WIB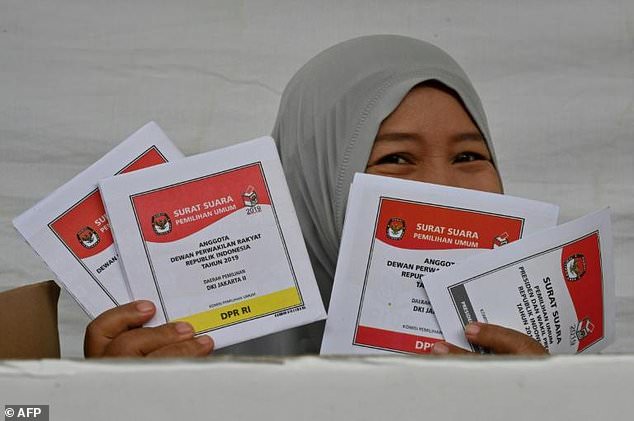 Foto: AFP/MailOnline
INDONESIA dipuji sukses melaksanakan pemilihan umum yang rumit dan kompleks di wilayah kepulauan yang luas - terdiri atas beragam etnis - pekan ini, memperkuat citranya sebagai mercusuar demokratis di wilayah yang sebagian besar negara di bawah pemerintahan otoriter, kata para pengamat asing.

Kendati begitu asing mencermati negara mayoritas Muslim terbesar di dunia masih diselubungi maraknya aksi Islam militan dan setumpuk tantangan lainnya.

Pada Rabu, 190 juta penduduk Indonesia memberikan suara untuk memilih presiden baru, senator, anggota parlemen dan legislator lokal, dalam pemilihan umum serentak yang berlangsung satu hari untuk memilih 245.000 calon legislatif [Caleg] dan dua calon presiden.

Hasil hitung cepat [quick count] dari Pilpres memberi masa jabatan kedua bagi Presiden Joko Widodo, tetapi ia menunda menyatakan kemenangan dan memutuskan menunggu hasil resmi dari Komisi Pemilihan Umum [KPU] bulan depan.

Namun, mantan jenderal saingannya, Prabowo Subianto - yang disebut asing memiliki ikatan kuat dengan kediktatoran Suharto yang runtuh pada 1998 - ngotot bahwa dia yang menang, dan menyatakan menentang hasil hitung cepat sejumlah lembaga survei.

Prabowo melakukan hal yang sama, namun gagal, setelah kalah dari Jokowi pada 2014 dan diyakini mustahil bagi Prabowo memenangkan Pilpres 2019.

Terlepas dari ketidakpastian yang masih ada, prestasi demokrasi Indonesia masih sangat kontras dengan pemerintah yang kuat di Filipina dan Kamboja, rezim otoriter Vietnam dan Laos, langkah-langkah pasca-junta Myanmar yang kacau dan pemilihan kacau di Thailand, yang pertama sejak kudeta 2014.

"Di wilayah yang tidak condong ke demokrasi, di mana otoritarianisme sedang meningkat, demokrasi Indonesia benar-benar memiliki bobot - meskipun bisa saja berubah lebih konservatif," kata Christine Cabasset dari Institut Penelitian Kontemporer Asia Tenggara yang berpusat di Bangkok seperti dikutip AFP yang dilansir MailOnline.

Erosi Lambat
Meningkatnya partisipasi pemilih, lembaga survei terkemuka mencatat 82 persen jumlah pemilih yang memberikan suaranya pada Pemilu 2019, tertinggi sejak pemilihan legislatif tahun 2004, seperti dilaporkan media nasional.

"Penduduk berbondong-bondong mendatangi TPS. Para pemilih menggunakan hak pilihnya, terutama para pemilih milenial," kata Bridget Welsh, seorang pakar Asia Tenggara di Universitas John Cabot di Roma.

"Ini menjadi pertanda baik untuk kepentingan demokrasi dan untuk tata kelola yang lebih baik," tambahnya.

Meski begitu, Welsh sangat kritis terhadap kekuasaan yang diraih Jokowi, dan ada keraguan tentang apakah pria berusia 57 tahun itu akan menggunakan modal politiknya untuk melindungi kemajuan demokrasi dalam dua dasawarsa terakhir yang dikhawatirkan oleh sejumlah pihak.

"Prediksi saya selama lima tahun ke depan adalah bahwa kita akan terus melihat erosi lambat kualitas demokrasi," kata Marcus Mietzner, seorang profesor di Universitas Nasional Australia.

"(Tapi) bukan dorongan penuh ke otoritarianisme," tambahnya.

Jokowi sendiri dituduh cenderung bertindak otoriterianisme menyusul penangkapan aktivis kampanye oposisi mengacu pasal pencemaran nama baik yang diatur UU Informasi dan Transaksi Elektronik [ITE] yang dituding kontroversial, sementara Perpu yang dikeluarkan dalam masa jabatannya melarang organisasi massa, Hizbut Tahrir Indonesia [HTI].

Pengamat lain menyatakan prihatin atas pengaruh baru militer, yang mengincar lebih banyak posisi penting pada jabatan sipil di negara berpenduduk 260 juta - yang berbeda agama, suku, etnis dan bahasa daerah.

Atas Nama Islam
Reputasi Indonesia untuk toleransi beragama juga telah diuji oleh kelompok Islam garis keras yang semakin vokal, yang dinilai semakin berani setelah memprotes dan menuntut mantan Gubernur DKI Basuki Tjahaja Purnama karena penistaan agama dan masuk penjara pada 2017.

Perjuangan ekstremisme selama bertahun-tahun digarisbawahi tahun lalu oleh pemboman bunuh diri di beberapa gereja di kota terbesar kedua di Surabaya - di tengah jurang pemisah dalam masyarakat antara Muslim moderat dan garis keras.

"Kedua kandidat mengeksploitasi Islam sebagai masalah kampanye," kata Made Supriatma, seorang peneliti tamu di lembaga think tank yang berbasis di Singapura, Yusof Ishak Institute.

"Perang agama ini pasti akan memiliki beberapa efek dalam debat politik di Indonesia di tahun-tahun mendatang."

Pilihan Jokowi pada ulama konservatif Ma'ruf Amin sebagai calon wakil presiden - sebagian untuk menetralisir serangan terhadap kepercayaan agamanya sendiri - telah menimbulkan kekhawatiran tentang bagaimana kaum minoritas akan berpasangan selama lima tahun ke depan.

Penyuka sesama jenis, transgender atau LGBT menjadi sasaran pelecehan dan penangkapan, sementara seorang wanita Kristen dipenjara karena tuduhan penistaan agama setelah mengeluhkan volume pengeras suara masjid.

"Reformasi sektor militer adalah suatu keharusan, demikian juga perlindungan minoritas dan mengatasi intoleransi dan ekstrimis," kata Yohanes Sulaiman, seorang analis politik di Universitas Jenderal Achmad Yani.

Kemajuan Penting
Beberapa pengamat juga menyoroti jejak kediktatoran lama Indonesia yang runtuh dalam sistem saat ini yang penuh dengan kasus korupsi.

"Sulit untuk disingkirkan," kata Supriatma.

"Semua partai politik didominasi oleh pemain lama, baik secara nasional maupun regional."

Tapi tetap ada keinginan untuk menuju demokrasi yang bebas korupsi, kolusi dan nepotisme [KKN].

"Demokrasi Indonesia masih dalam proses," kata Dewi Fortuna Anwar, profesor riset di Lembaga Ilmu Pengetahuan Indonesia [LIPI] katanya seperti dikutip AFP yang dilansir MailOnline.

"Tetapi faktanya Anda tidak pergi ke jalan-jalan dan membawa senjata jika Anda ingin memperdebatkan pemungutan suara, tetapi Anda melalui proses pengadilan - itu adalah bagian dari demokrasi Indonesia."
INDONESIA pulled off a complex yet peaceful election across its vast -- and ethnically diverse -- island territory this week, cementing its place as a democratic beacon in a sea of authoritarian governments, analysts say.

But the world's biggest Muslim-majority nation still faces a spike in militant Islam and myriad other challenges.

On Wednesday, the sprawling Southeast Asian archipelago saw as many as 190 million voters cast ballots to elect a new president, parliamentarians and local legislators, in a one-day contest with a record 245,000 candidates.

Preliminary results appeared to hand a second term to President Joko Widodo, but he held off declaring victory pending official results next month.

However, his rival ex-general Prabowo Subianto -- who has strong ties to the Suharto dictatorship that collapsed in 1998 -- insisted he won, and vowed to challenge the results.

He did the same, unsuccessfully, after losing to Widodo in 2014 and there is little to suggest Subianto will win this latest fight.

Despite the lingering uncertainty, Indonesia's democratic feat still stands in stark contrast to strongman governments in the Philippines and Cambodia, authoritarian Vietnam and Laos, Myanmar's stumbling post-junta steps and a chaotic election in Thailand, its first since a 2014 coup.

"In a region that is not inclined towards democracy, where authoritarianism is on the rise, Indonesia's democracy really has weight -- even if it is turning more conservative," said Christine Cabasset at the Bangkok-based Research Institute on Contemporary Southeast Asia.

- 'Slow erosion' -
In a nod to voter participation, one reputable pollster recorded 82 percent turnout in this week's polls, the highest since 2004 legislative elections, local media reported.

"People are voting and making a difference. Indonesians have embraced their own electoral power, especially younger voters," said Bridget Welsh, a Southeast Asia expert at John Cabot University in Rome.

"This bodes well for greater demands for better governance," she added.

Still, Welsh was sharply critical of Widodo's rights records, and there are doubts about whether the 57-year-old will use his political capital to safeguard two decades of democratic progress that some fear is being undermined.

"My prediction over the next five years is that we will continue to see a slow erosion of democratic quality," said Marcus Mietzner, an associate professor at the Australian National University.

"(But) not a full push into authoritarianism," he added.

Widodo himself has been accused of creeping authoritarianism following arrests of opposition campaigners under a controversial electronic defamation law, while a decree during his tenure allowed Jakarta to ban mass organisations.

Others have raised concerns about the renewed influence of the military, which is eyeing more civilian government positions in the country of 260 million -- home to hundreds of ethnic groups and languages.

- 'Exploited Islam' -
Indonesia's reputation for religious tolerance has also been tested by increasingly vocal hardline Islamists, who were emboldened after their calls to prosecute Jakarta's Christian governor for blasphemy saw him jailed in 2017.

A years-long struggle with extremism was underlined last year by suicide bombings at several churches in its second-biggest city Surabaya -- amid a growing gulf in society between moderate and hardline Muslims.

"Both candidates exploited Islam as campaign issues," said Made Supriatma, a visiting fellow at Singapore-based think tank Yusof Ishak Institute.

"This religious war surely will have some effects in political debates in Indonesia in the years to come."

Widodo's choice of conservative cleric Ma'ruf Amin as his running mate -- in part to neutralise attacks on his own religious credentials -- has stirred fears about how minorities will fare over the next five years.

Gay and transgender people have been subject to abuse and arrest, while a Christian woman was jailed for blasphemy after complaining about the volume of a mosque's loudspeaker.

"Military sector reform is a must, so is the protection of minorities and tackling intolerance and extremists," said Yohanes Sulaiman, a political analyst at the Universitas Jenderal Achmad Yani.

- 'A work in progress' -
Some also see traces of Indonesia's long collapsed dictatorship in the current, corruption-riddled system.

"It is hard to root out," said Supriatma.

"All political parties are dominated by old players, both nationally and regionally."

But there is little appetite for anything but another smooth power transition.

"Indonesian democracy is still a work in progress," said Dewi Fortuna Anwar, a research professor at the Indonesian Institute of Sciences.

"But the fact you do not go to the streets and bring your guns if you want to dispute a vote, rather you go through a court process -- that is very much part of Indonesian democracy."