Kemenkop UKM Dorong Pengembangan IKM Makanan dan Minuman
Annual Members` Neeting Deciding the Cooperative Progress in Indonesia
Reporter : Gusmiati Waris
Editor : Ismail Gani
Translator : Dhelia Gani

PUBLISHED: Senin, 09 Maret 2020 , 18:36:00 WIB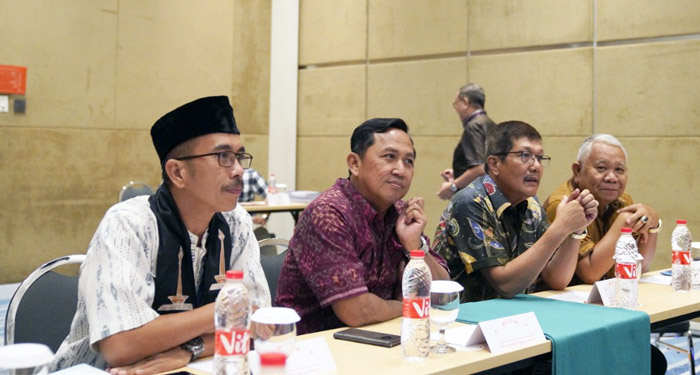 RAT KOPERASI: Sekretaris Deputi Kelembagaan, Ahmad Zabadi [ke-2 kiri] hadiri RAT KBIN di Jakarta mewakili Deputi Kelembagaan Kementerian Koperasi & UKM, Rully Nuryanto [Foto: Humas Kemenkop UKM]
Jakarta [B2B] - Deputi Kelembagaan Kementerian Koperasi & UKM, Rully Nuryanto diwakili Sekretaris Deputi Kelembagaan, Ahmad Zabadi menghadiri rapat anggota tahunan [RAT] Koperasi Berkah Industri Nusantara [KBIN] dalam kaitan pertanggung jawaban kegiatan koperasi tahun buku 2019 dan rencana kerja dan anggaran tahun 2020.
KBIN berdiri pada Juni 2019 oleh 23 anggota pendiri dan saat RAT beranggotakan 88 industri kecil dan menengah [IKM] makanan dan minuman serta sejumlah IKM yang mendaftar sebagai calon anggota.
KBIN merupakan wadah para pelaku IKM di Jakarta, Jatim, Jateng dan Jabar dengan skema keanggotaan terdiri dari 15 IKM inti yang masing-masing memiliki mitra atau IKM plasma berkisar 20 sampai 50 IKM potensial anggota.
Jumlah IKM pengolahan nonmigas 4.4 juta, menyerap 10.1 juta Tenaga Kerja. Dimana 36% diantaranya (1.6 juta) IKM makanan minuman menyerap 42.5% atau 4.74 juta tenaga kerja dengan kontribusi 37% terhdp PDB sektor IKM secara keseluruhan.
Ekspor industri makanan minuman Indonesia per 2019 sebesar US$27.28 miliar. Tahun 2020, IKM makanan dan minuman diperkirakan tumbuh 9% dengan kemampuan produksi gula 2.2 juta ton atau masih di bawah kebutuhan 5.8 juta ton yakni 2.8 juta ton utk konsumsi langsung dan 3 juta ton untuk industri makanan minuman dan farmasi
Tercatat koperasi penyalur GKR yg mendapat surat dukungan [SD] dari Kemenkop UKM sekitar tujuh koperasi beranggotakan 847 IKM dan total kuota GKR 10.885 ton per bulan. Ketimbang total IKM makanan minuman yang mencapai 1.6 juta, maka jumlah koperasi penyalur GKR masih terbatas dan belum memadai untuk menjangkau kebutuhan bahan baku untuk IKM makanan minuman di Indonesia.
Jakarta [B2B] - Progress of the cooperative is not determined by the number of units, but the number of members, and able to compete in a competitive market. "Quality is not determined the number of cooperatives but the number of members, and community involvement," according to senior official of Indonesian Cooperatives & SMEs Ministry.