Hanya di Indonesia Buaya jadi Hewan Peliharaan, Ini Faktanya
Pet Crocodile being Washed and Played with at a Family`s Home in Indonesia
Editor : Ismail Gani
Translator : Novita Cahyadi

PUBLISHED: Sabtu, 03 Februari 2018 , 18:48:00 WIB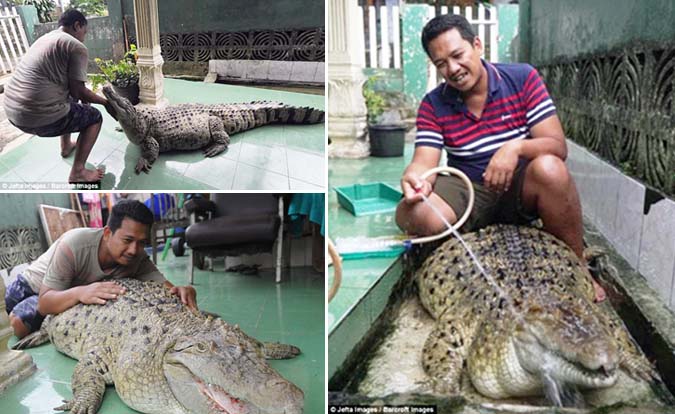 Setelah hewan peliharaanya menjadi viral, wisatawan dari Amerika Serikat, Australia dan Eropa datang hanya untuk melihat reptil raksasa yang dipelihara Muhammad (Foto2: MailOnline)
FOTO-FOTO mengejutkan ini memperlihatkan seekor buaya seberat 200 kg diperlakukan layaknya hewan peliharaan, dimandikan, dan bermain dengan keluarga.

Hewan buas itu dinamai Kojek, santapan kesukaannya adalah 1,5 kg ikan mas dalam sehari dan telah menjadi hewan peliharaan tidak lazim namun menjadi kebanggaan keluarga Iwan sebagai hewan peliharaan.

Muhammad Iwan, 41, membeli buaya muara saat baru lahir seharga Rp25 ribu dari nelayan yang menangkapnya di Pantai Pangandaran pada 1997.

Lebih dari dua dekade kemudian, kesukaan Kojek terhadap ikan mendorong tubuhnya lebih gemuk sehingga menjadi sangat terkenal di kampung induk semangnya.

Rekaman video memperlihatkan bagaimana Muhammad memandikan buaya sepanjang 2,6 meter di halaman rumahnya di Kecamatan Sempur, Jawa Barat, saat anak-anaknya yang berusia dua dan 10 tahun, bermain tak jauh dari sang buaya.

Namun Muhammad menegaskan bahwa reptil berusia 21 tahun itu benar-benar jinak dan tidak akan pernah menyerang dirinya maupun anak-anaknya.

Saat Muhhamad pertama kali membeli Kojek, panjangnya hanya 25 cm dan bisa hidup nyaman di akuarium berukuran sedang.

Dia hanya memberi makan ikan mas pada hewan peliharaannya yang tidak lazim tersebut, tapi kini dia harus menyediakan Rp50.000 sepekan untuk membeli ikan mas segar, untuk makan Kojek sekitar 1,5 kg dan 5 kg ikan setiap hari.

Setelah hewan peliharaanya menjadi viral, wisatawan dari Amerika Serikat, Australia dan Eropa datang hanya untuk melihat reptil raksasa yang dipelihara Muhammad.

"Ketika masih kecil Kojek memiliki sifat yang galak dan bahkan menggigit jari saya, tapi dia segera menjadi jinak saat saya bawa ke rumah," katanya.

´Kojek terlihat seperti hewan buas, tapi dia suka berinteraksi dengan manusia."

´Saya suka buaya dan saya sangat peduli dengan Kojek, dan saya pikir dia melihat saya sebagai ayahnya. Dia hewan peliharaan yang baik."

"Perlakuannya tidak terlalu spesial. Saya membersihkan kolamnya seminggu sekali dan memandikan kemudian menyikat giginya."

Ayah dua anak ini mengklaim beberapa wisatawan asing menawarinya hingga Rp1 miliar untuk membeli Kojek.
Namun Muhammad menolak karena memandangnya sebagai hewan peliharaannya dan menjadi bagian dari keluarga.

Dia menguras air di kolamnya seminggu sekali untuk membuat Kojek tetap sehat dan bahkan menyikat giginya yang besar seperti dilansir MailOnline.
ASTONISHING footage shows a 200kg crocodile being petted, washed and played with at a family´s home in Indonesia.

The enormous beast, named Kojek, guzzles 1.5kg of goldfish a day and has become an unlikely star after being welcomed into the Iwan family as a pet.

Muhammad Iwan, 41, bought the estuarine crocodile when he was a newborn for just £1.31 from fishermen who caught him in Pangandaran Beach in 1997.

More than two decades later, Kojek´s love of fish has seen him balloon to such a huge size that he has become notorious in his homeland.

Incredible footage shows Muhammad bathing the 8ft 8in crocodile in the yard of his home in Sempur Sub-District, West Java, as his young children, aged two and 10, play just metres away.

But Muhammad insists the 21-year-old beast is completely tame and would never attack him or his youngsters.

When Muhhamad first bought Kojek, he measured just 25cm long and could live comfortably in a medium-sized aquarium.

He only fed carp to his unusual pet to begin with, but now forks out roughly £2.61 a week on fresh goldfish, feeding Kojek between 1.5kg and 5kg of the fish every day.

Because of his online stardom, tourists from as far away as America, Australia and Europe have travelled to see the gargantuan reptile for themselves.

´When he was little Kojek had a fierce nature and even bit my finger, but he soon grew tame when I took him into my home,´ he said.

´Kojek looks like a beast, but he loves to interact with humans.

´I love crocodiles and I care a lot about Kojek, and I think he sees me as his father. He´s a good pet.

´His treatment is not too special. I clean his water once a week and give him skin care and brush his teeth.´

The dad-of-two claims some tourists have offered him up to £52,300 for Kojek.

But Muhammad sees his pet as part of the family.

He changes the water in his pond once a week to keep him healthy and even brushes his enormous teeth.