Potongan Kaki dan Lengan di Jasad Pencari Kerang di Kaltim Disorot Media Asing
Human Limbs Found inside Belly of Indonesia Croc: Police
Editor : Ismail Gani
Translator : Novita Cahyadi

PUBLISHED: Minggu, 04 Maret 2018 , 23:17:00 WIB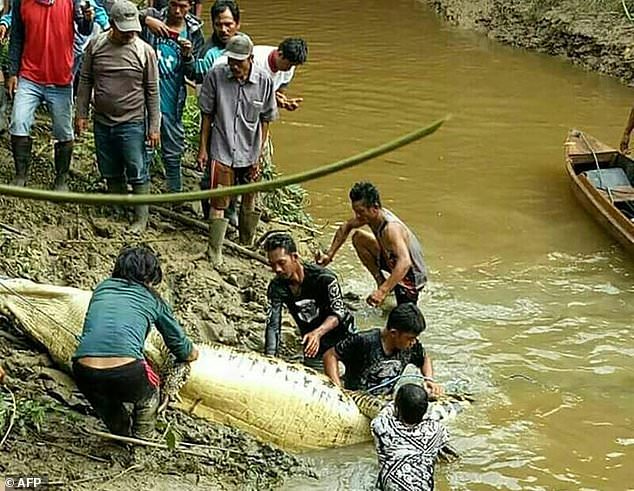 Istri korban mengatakan bahwa mendiang yang bernasib naas meninggalkan rumah untuk mencari kerang yang bisa mereka makan (Foto: AFP/MailOnline)
SEBUAH KAKI dan lengan manusia ditemukan di dalam perut seekor buaya besar yang diduga membunuh seorang pria hingga tewas di Kalimantan, menjadi sorotan media asing.

Polisi menembak mati seekor buaya sepanjang enam meter yang berada dekat tepi sungai dimana seorang pekerja perkebunan kelapa sawit setempat hilang dua hari sebelumnya, dan hanya ditemukan sepeda motor dan sandal yang ditemukan di lokasi tempat pria tersebut menghilang, kata polisi.

Pencarian tersebut berakhir pada Kamis ketika jasad dari pria berusia 36 tahun Andi Aso Erang - kehilangan dua anggota badan - ditemukan mengambang di bagian lain sungai di Kalimantan Timur.

Polisi mengatakan mereka melihat seekor buaya di dekatnya dan membunuhnya setelah ditemukan di Desa Marukangan, Kecamatan Sandaran, Kutai Timur, Provinsi Kalimantan Timur.

"Di dalam perut buaya, kami menemukan lengan kiri dan kaki yang kami yakini milik korban," kata Kapolres Kutai Timur, AKBP Teddy Ristiawan.

Istri korban mengatakan bahwa mendiang yang bernasib naas meninggalkan rumah untuk mencari kerang yang bisa mereka makan.

"Saya tidak pernah menduga akan berakhir dalam situasi yang mengerikan seperti ini," kata Anisa, istri korban.

Pada 2016, seorang turis Rusia dibunuh oleh seekor buaya di kepulauan Raja Ampat, sebuah situs selam yang populer di timur nusantara.

Media asing menduga konflik manusia dengan hewan merajalela di Indonesia, terutama di daerah dimana pembukaan hutan hujan untuk perkebunan kelapa sawit merusak habitat hewan dan memaksanya mendekati manusia sebagai mangsa seperti dikutip AFP yang dilansir MailOnline.
A HUMAN LEG and arm have been found inside the belly of a huge crocodile suspected of mauling a man to death in Borneo, Indonesian police said Friday.

Authorities shot and killed the six-metre (20-foot) long crocodile close to a riverbank where a local palm oil plantation worker had gone missing two days earlier, with only his motorbike and sandals found at the site, they said.

The search ended Thursday when 36-year-old Andi Aso Erang´s lifeless body -- missing two limbs -- was discovered floating in a different part of the river in Kalimantan, the Indonesian part of Borneo.

Police said they spotted a crocodile nearby and killed it.

"Inside the crocodile´s stomach, we found the left arm and a leg that we believe belonged to the victim," local police chief Teddy Ristiawan said.

The victim´s wife said he had left home to hunt for clams they could eat.

"I never expected he would end up in a terrible situation like this," said Anisa, who like many Indonesians goes by one name.

In 2016, a Russian tourist was killed by a crocodile in the Raja Ampat islands, a popular diving site in the east of the archipelago.

Human-animal conflicts are rampant in Indonesia, especially in areas where the clearing of rainforest to make way for palm oil plantations is destroying animals´ habitats and bringing them into closer contact with humans.