Banyuwangi Kembangkan Warung Pintar `Cashless`, LPDB-KUMKM Siap Dukung Pembiayaan
Indonesia`s Banyuwangi Developing Smart Kiosk to Respond the 4.0 Industrial Revolution
Reporter : Gusmiati Waris
Editor : Cahyani Harzi
Translator : Dhelia Gani

PUBLISHED: Minggu, 27 Januari 2019 , 18:59:00 WIB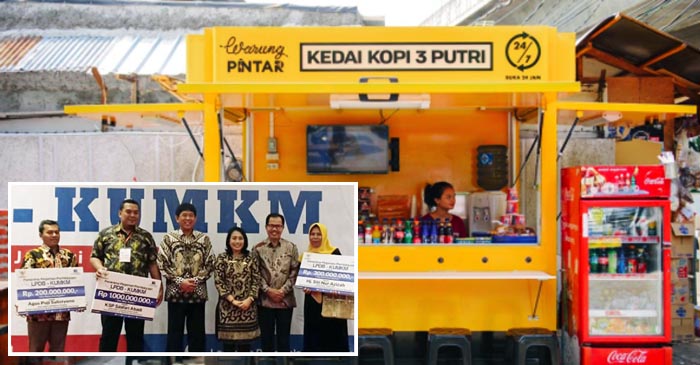 TANPA UANG TUNAI: Warung Pintar dikembangkan untuk pemilik warung eksis maupun home industry, dan Dirut LPDB-KUKM Braman Setyo dengan koperasi dan UKM penerima dana bergulir LPDB (Foto: istimewa & B2B/Mya)
Banyuwangi, Jatim (B2B) - Pemerintah Kabupaten Banyuwangi di Provinsi Jawa Timur mengembangkan ´Warung Pintar sistem pembayaran Cashless´ dan Pesantrenpreneur untuk mendukung ekonomi kerakyatan, mendorong lahirnya juragan bisnis baru dan ´santri wirausahawan´ untuk menyikapi revolusi industri 4.0 dengan melibatkan banyak pihak seperti Lembaga Pengelola Dana Bergulir Koperasi Usaha Mikro, Kecil dan Menengah (LPDB-KUMKM) untuk mendukung pembiayaan koperasi dan UKM serta GoPay, PayTren dan OVO untuk pembayaran tanpa uang tunai atau cashless payment system.
Hal itu dikemukakan oleh Bupati Banyuwangi Abdullah Azwar Anas pada sosialisasi dan bimbingan teknis dana bergulir yang digelar oleh LPDB-KUKM di Banyuwangi selama dua hari, 27 - 28 Januari. Target Banyuwangi didukung Direktur Utama LPBD-KUMKM, Braman Setyo dengan melibatkan lembaga perantara seperti koperasi, modal ventura, dan multi finance untuk mendukung pembiayaan Warung Pintar dan Pesantrenpreneur Banyuwangi menjadi ´juragan baru´ di seluruh kabupaten berjuluk Bumi Blambangan.
"Banyuwangi mengapresiasi kegiatan LPDB-KUMKM di sini karena saat ini pemerintah kabupaten tengah tancap gas dalam program membangun para pelaku usaha kecil dan StartUp di Banyuwangi. Kami sedang gencar membumikan dari Revolusi Industri 4.0 secara nyata di lapangan," kata Bupati Azwar Anas.
Dia mengakui dengan segala keterbatasan yang ada, koperasi dan UMKM Banyuwangi harus kolaborasi dengan banyak pihak untuk melahirkan lebih banyak juragan bisnis, salah satunya dengan LPDB dalam hal pembiayaan bagi UMKM dan bisnis Startup.
"Dalam hal pemasaran, Pemkab kolaborasi dengan GoJek untuk layanan pesan makanan via GoFood melalui pembayaran GoPay atau PayTren dan OVO. Jadi warga yang buka kedai makanan dan minuman tidak perlu repot lagi buka lapak, karena bisa melakukan pemasaran dan penjualan secara online," kata Azwar Anas.
Braman Setyo menambahkan LPDB-KUMKM membuka dua skema pembiayaan bagi UMKM, yakni konvensional dengan kisaran bunga antara 4,5% hingga 7% per tahun, dan syariah dengan sistem bagi hasil 70 berbanding 30.
"Kalau memang UKM (konvensional) sudah punya legalitas atau badan hukum bisa langsung mengajukan, tapi kalau belum punya, bisa mengajukan melalui lembaga perantara," kata Braman S.
Dia mengharapkan para pelaku usaha pemula atau startup dapat membawa banyak manfaat dan informasi yang berguna untuk mengakses dana bergulir LPDB-KUMKM bagi pengembangan bisnisnya.
"Diharapkan dari kegiatan ini nantinya ada wirausaha pemula yang bisa mendapatkan akses permodalan melalui program ini baik secara langsung dari Kementerian Koperasi dan UKM, LPDB-KUMKM maupun program dana bergulir yang disalurkan melalui lembaga perantara mitra LPDB-KUMKM," kata Braman S.
Direktur Bisnis LPDB-KUMKM Krisdianto Sudarmono mengatakan kegiatan sosialisasi juga merupakan upaya mewujudkan tujuan pemerintah dalam rangka pengembangan kewirausahaan untuk menciptakan lapangan kerja baru, dengan memberikan edukasi kepada pelaku usaha UMKM dalam hal akses permodalan.
"Diharapkan dari kegiatan ini nantinya ada wirausaha pemula yang bisa mendapatkan akses permodalan melalui program ini baik secara langsung dari Kementerian Koperasi dan UKM, LPDB-KUMKM maupun program dana bergulir yang disalurkan melalui lembaga perantara mitra LPDB-KUMKM," kata Kristidianto S yang bertindak selaku ketua panitia sosialisasi dan Bimtek di Banyuwangi.
Tampak hadir Kepala Dinas Koperasi dan UKMK Provinsi Jawa Timur, Mas Purnomo Hadi; Kepala Dinas Koperasi dan UMKM Banyuwangi, Alief Rachman Kartiono; Direktur Pembiayaan Syariah LPDB-KUMKM Jaenal Aripin; dan Direktur Pengembangan Usaha LPDB KUMKM, Iman Pribadi.
Banyuwangi of East Java (B2B) - The Banyuwangi district government of East Java province developing the ´smart kiosk with a cashless payment system´ or the Warung Pintar and Pesantrenpreneur or the entrepreneurship development in Islamic boarding schools to support people´s economy, to address the 4.0 industrial revolution supported by many parties such as Indonesia´s venture capital provider companies called the LPDB-KUMKM to support venture finance for cooperatives and SMEs and GoPay, PayTren and OVO for cashless payment systems.
It was stated by the Banyuwangi Regent Abdullah Azwar Anas on the technical guidance of venture capital here for two days, 27 to 28 January was held by the LPDB-KUMKM. The Banyuwangi´s target is supported by President Director of LPBD-KUMKM, Braman Setyo to support the financing of the Warung Pintar become the ´new entrepreneur´ across the district who was nicknamed the Bumi Blambangan.
"The Banyuwangi appreciates the activities of LPDB-KUMKM here because currently the district government is being is developing SME entrepreneurs and startup businesses. We are responding to the Industrial Revolution 4.0 significantly," said Regent Anas.
He acknowledged the limitations, so Banyuwangi cooperatives and UKM had to collaborate with many parties to developing more new entrepreneurs, one of them with LPDB-KUMKM in terms of venture capital for SMEs and Startup businesses.
"District governments collaborate with GoJek for food messaging services via GoFood through GoPay or PayTren and OVO payments. So residents who open food and beverage shops don´t have to bother opening a kiosk, because it can do marketing and sales online," Regent Anas said.
Braman Setyo said the LPDB opens two financing schemes namely conventional with a loan interest of up to 7% per year, and sharia with a profit sharing system of 70 to 30.
"If the SMEs (conventional) have legal entities, they can immediately submit proposals, but if they don´t have them, they can go through an intermediary institution," Setyo said.
Setyo expects startups to provide many benefits and information that is useful for accessing business capital loans from LPDB to develop their businesses.
"It is expected that from this activity, there will be novice entrepreneurs who have access to capital directly from the ministry or LPDB-KUMKM," he said.
Business Director of LPDB-KUMKM Krisdianto Sudarmono said the socialization activities were also an effort to realize the government´s goals developing entrepreneurship and open employment, by educating SME entrepreneurs and cooperatives to access venture capital.
"It is hoped that from this activity a new entrepreneur will be able to access venture capital," Sudarmono said