Indonesia Tolak Limbah Impor dan Kembalikan ke AS disorot Media Asing
Indonesia Returns Five Containers of Waste to the US
Editor : Ismail Gani
Translator : Novita Cahyadi

PUBLISHED: Minggu, 16 Juni 2019 , 19:18:00 WIB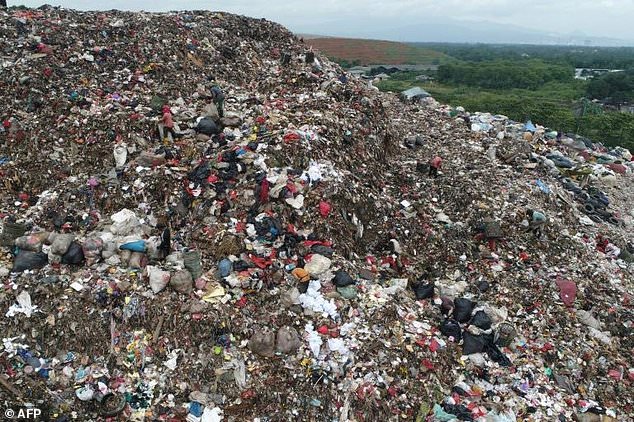 Foto: AFP/MailOnline
INDONESIA telah mengembalikan lima kontainer sampah impor ke Amerika Serikat dan menolak keras upaya AS menjadikan Indonesia sebagai "tempat pembuangan", kata para pejabat pada Sabtu, negara Asia Tenggara yang mengembalikan limbah impor.
Kontainer berisi sampah tersebut seharusnya hanya berisi potongan kertas, menurut dokumen bea cukai. Namun faktanya, berisikan limbah berupa botol, sampah plastik, dan popok, kata Sayid Muhadhar, Sekretaris Direktorat Jenderal Pengelolaan Sampah, Limbah, dan Bahan Beracun dan Berbahaya di Kementerian Lingkungan Hidup dan Kehutanan [KLHK].
"Ini tidak pantas dan kami tidak ingin menjadi tempat pembuangan," kata Sayid Muhadhar kepada AFP.
Lima kontainer - milik perusahaan Kanada - dikirim dari Seattle di Amerika Serikat ke Surabaya, kota terbesar kedua di Indonesia pada akhir Maret, kata Muhadhar.
Tidak segera jelas dari mana sampah itu berasal.
Indonesia saat ini sedang memeriksa beberapa peti kemas lainnya di pelabuhan Jakarta dan kota Batam di Provinsi Riau Kepulauan.
Indonesia adalah negara kedua setelah Malaysia yang mengembalikan sampah impor yang berkomitmen untuk mengirim kembali ratusan ton sampah plastik bulan lalu.
Filipina telah memerintahkan berton-ton sampah yang dibuang di negara itu untuk dikirim kembali ke Kanada, memicu pertikaian diplomatik antara kedua negara.
Selama bertahun-tahun China menerima sebagian besar plastik bekas dari seluruh dunia, tetapi menutup negaranya untuk menerima sampah impor dari luar negaranya dalam upaya membersihkan lingkungannya.
Sejak saat itu, sejumlah besar limbah telah dialihkan ke Asia Tenggara, termasuk Malaysia, Indonesia, dan Filipina.
Sekitar 300 juta ton plastik diproduksi setiap tahun. Sebagian besar dari itu berakhir di TPA atau di lautan, menurut Worldwide Fund for Nature (WWF) seperti dikutip AFP yang dilansir MailOnline.
INDONESIA has returned five containers of rubbish to the United States and will not become a "dumping ground", officials said Saturday, the latest Southeast Asian country to return imported waste.
The containers were supposed to contain only paper scrap, according to the customs documents. Instead they were loaded with other waste including bottles, plastic waste, and diapers, said senior environment ministry official Sayid Muhadhar.
"This is not appropriate and we don´t want to be a dumping ground," Muhadhar told AFP.
The five containers -- owned by a Canadian company -- were shipped from Seattle in the United States to Indonesia´s second biggest city Surabaya in late March, Muhadhar said.
It was not immediately clear where the rubbish originated from.
Indonesia is currently examining several other containers in Jakarta´s port and the city of Batam on the island of Sumatra.
It is the latest country to return imported rubbish after neighbouring Malaysia vowed to ship back hundreds of tonnes of plastic waste last month.
The Philippines has ordered tonnes of garbage dumped in the country to be shipped back to Canada, sparking a diplomatic row between the two countries.
For years China received the bulk of scrap plastic from around the world, but closed its doors to foreign refuse last year in an effort to clean up its environment.
Huge quantities of waste have since been redirected to Southeast Asia, including Malaysia, Indonesia and to a lesser degree the Philippines.
Around 300 million tonnes of plastic are produced every year. Much of that ends up in landfill or in the seas, according to the Worldwide Fund for Nature (WWF).