Ekonomi Dunia 2030, PDB Indonesia Masuk Peringkat 4 Dunia di Atas AS
United States will Drop to become the World`s Third Biggest Economy behind China and India by 2030
Editor : Ismail Gani
Translator : Novita Cahyadi

PUBLISHED: Jum'at, 11 Januari 2019 , 19:22:00 WIB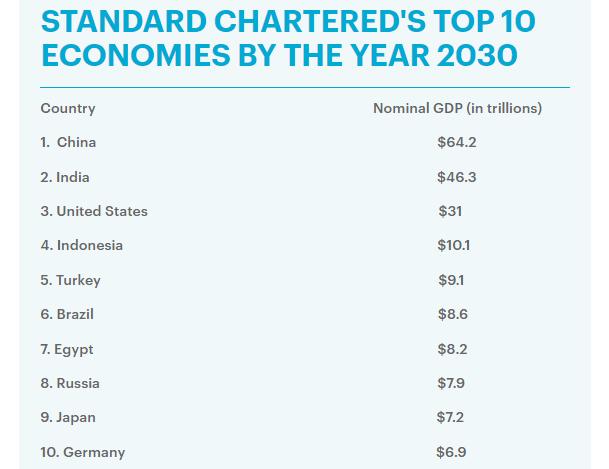 Tabel: MailOnline
INDONESIA diprediksi melejit ke peringkat empat perekonomian terbesar dunia, Amerika Serikat (AS) melorot ke posisi tiga disalip China dan India.
China akan menyalip AS setelah berada di puncak peringkat dalam satu dekade terakhir, sementara India di posisi kedua, menurut Standard Chartered, yang merilis peringkat Top 10 ekonomi terbesar di dunia.
Fox Business memprediksi AS bakal disaingi oleh dua raksasa ekonomi Asia, China dan India pada 2030.
Standard Chartered memprediksi bahwa tatanan baru ekonomi global akan membidik pasar di negara berkembang yang mendominasi tujuh dari 10 peringkat teratas, Top 10.
Sementara Amerika diperkirakan akan berada di belakang China dan India, Indonesia akan naik ke peringkat empat dunia.
'Prakiraan pertumbuhan ekonomi jangka panjang kami didukung oleh satu prinsip utama: bagian negara dari PDB dunia pada akhirnya harus menyatu dengan bagian mereka dari populasi dunia, didorong oleh konvergensi PDB per kapita antara ekonomi maju dan berkembang," menurut ekonom Standard Chartered dalam studi mereka.
Ukuran ekonomi suatu negara ditentukan oleh produk domestik bruto (PDB), yang mengukur nilai pasar dari semua barang dan jasa akhir yang diproduksi dalam periode waktu tertentu.
Standard Chartered memprediksi bahwa Turki akan terdepak dari peringkat 5 Besar (Top 5).
Brasil adalah satu-satunya negara Amerika Latin yang masuk dalam 10 besar. Diprediksi sebagai ekonomi terbesar keenam pada 2030, dengan PDB US$8,6 triliun.
Mesir adalah satu-satunya negara Timur Tengah yang masuk daftar. Diperkirakan memiliki ekonomi terbesar ketujuh dengan PDB US$8,2 triliun.
Rusia dijadwalkan menjadi ekonomi terbesar kedelapan dengan PDB US$ 7,9 triliun.
Jepang dan Jerman jatuh dari peringkat. Raksasa Asia itu berakhir di posisi kesembilan dengan PDB US$7,2 triliun sementara Jerman berada di urutan 10 besar dengan PDB US$6,9 triliun.
Negara-negara yang saat ini berada di 10 besar - dan yang diprediksi akan keluar dari peringkat - adalah Inggris, Italia, Prancis, dan Kanada.
India memperkirakan ekonominya akan tumbuh lebih dari 7 persen pada tahun keuangan saat ini yang berakhir pada Maret, memberikan bantuan kepada Perdana Menteri Narendra Modi yang mencari masa jabatan kedua dalam pemilihan nasional yang akan diadakan pada Mei.
Pertumbuhan ekonomi tahunan jatuh ke 7,1 persen lebih buruk dari yang diperkirakan pada kuartal Juli-September, dari 8,2 persen pada kuartal sebelumnya, terseret oleh belanja konsumen yang lebih lambat dan pertumbuhan pertanian, yang menimbulkan risiko bagi Narendra Modi yang merencanakan sebuah anggaran populis untuk memenangkan kembali pemilih.
Dengan penurunan harga minyak mentah global dan penguatan mata uang India, rupee dalam beberapa pekan terakhir, pemerintah Modi berencana untuk menopang permintaan pedesaan melalui pengeluaran negara yang lebih tinggi dan paket keuangan untuk petani dalam anggaran tahunan yang akan disajikan pada 1 Februari.
Produk domestik bruto diperkirakan tumbuh 7,2 persen pada 2018/19, lebih cepat dari pertumbuhan sementara 6,7 persen pada 2017/18, Kementerian Statistik Inggris melalui pernyataan resminya.
Manufaktur saat ini diperkirakan tumbuh 8,3 persen tahun fiskal ini dibandingkan dengan 5,7 persen pada tahun sebelumnya.
Pertanian memberi kontribusi pertumbuhan 3,8 persen, naik dari 3,4 persen seperti
Output pertanian mungkin tumbuh 3,8 persen, naik dari 3,4 persen seperti dikutip Reuters yang dilansir MailOnline.
AMERICA will fall to number three on the list of the world´s largest economies behind China and India, a British financial services firm is predicting.
China will overtake the United States as the world's largest economy in a decade's time while India will assume second place, according to Standard Chartered, which unveils its annual rankings of the world's ten largest economies.
It predicts that America will fall to third on the list behind the two Asian giants by 2030, according to Fox Business.
The firm predicts that the new global order will see current emerging markets occupy seven of the top 10 spots.
While America is expected to trail behind China and India, Indonesia will vault into the fourth slot.
'Our long-term growth forecasts are underpinned by one key principle: countries' share of world GDP should eventually converge with their share of the world's population, driven by the convergence of per-capita GDP between advanced and emerging economies,' Standard Chartered economists write in their study.
The size of a country's economy is determined by gross domestic product (GDP), which measures the market value of all the final goods and services produced in a period of time.
Standard Chartered predicts that Turkey will round out the top 5.
Brazil is the only Latin American country in the top 10. It is predicted to be the sixth largest economy by 2030, with a GDP of $8.6trillion.
Egypt is the only Middle Eastern country on the list. It is predicted to have the seventh largest economy with a GDP of $8.2trillion.
Russia is slated to be the eighth largest economy with a GDP of $7.9trillion.
Japan and Germany fall down in the rankings. The Asian giant finishes in ninth with a GDP of $7.2trillion while Germany rounds out the top 10 at $6.9trillion.
The countries that are currently in the top 10 - and which are predicted to fall out of the rankings - are the United Kingdom, Italy, France, and Canada.
India forecast its economy will grow more than 7 per cent in the current financial year ending in March, giving some relief to Prime Minister Narendra Modi who seeks a second term in national elections to be held by May.
Annual economic growth had fallen to a worse-than-expected 7.1 per cent in the July-September quarter, from 8.2 per cent in the previous quarter, dragged down by a slower consumer spending and farm growth, posing a risk to Modi who plans a populist budget to win back voters.
With the fall in global crude oil prices and strengthening of the rupee in recent weeks, the Modi administration plans to prop up rural demand through higher state spending and a financial package for farmers in the annual budget to be presented on February 1.
Gross domestic product is estimated to grow 7.2 per cent in 2018/19, faster than a provisional 6.7 per cent growth in 2017/18, Ministry of Statistics said in a statement.
Manufacturing is now forecast to grow 8.3 per cent this fiscal year compared with 5.7 per cent in the previous year.
Farm output may grow 3.8 per cent, up from 3.4 per cent.