Indonesia Negara Ternyaman di Dunia Lampaui Australia dan Islandia
The `Most Chilled Out` Countries in the World Revealed: Indonesia is No1
Editor : Ismail Gani
Translator : Novita Cahyadi

PUBLISHED: Sabtu, 19 Januari 2019 , 19:28:00 WIB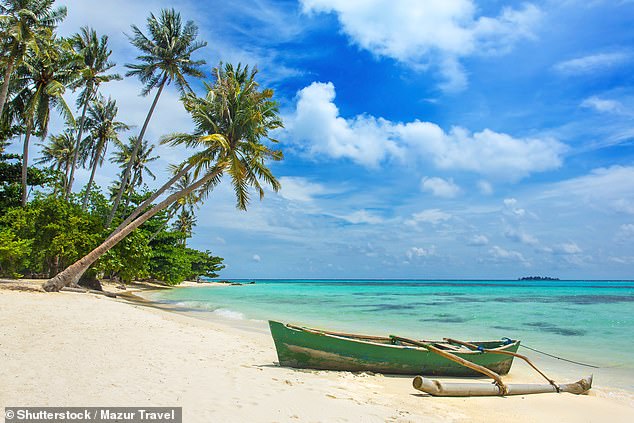 Pantai Indonesia (Foto: MailOnline)
INDONESIA adalah negara yang ´paling menyenangkan´ di dunia diikuti oleh Australia, menurut hasil riset terbaru.
Hasil riset tersebut mengungkap daftar negara-negara yang paling menyenangkan dengan menganalisis sejumlah faktor termasuk hak-hak pribadi warga negara, polusi suara dan cahaya, suhu, jumlah hari libur umum dan jumlah spa.
Peringkat ketiga adalah Islandia, disusul Selandia Baru di tempat keempat dan Srilangka di posisi kelima.
Riset yang dilakukan oleh lastminute.com, menempatkan Indonesia di peringkat teratas yang memiliki garis pantai sepanjang lebih dari 88 juta km - dimaknai sebagai rekreasi pantai selalu menjadi pilihan utama orang Indonesia.
Riset ini juga mengungkap bahwa Indonesia memiliki lebih dari 186 ruang hijau dan suhu rata-rata 25 derajat Celcius menjadikannya tempat yang sempurna untuk rekreasi sepanjang waktu.
Posisi kedua adalah Australia memberi pekerja rata-rata cuti tahunan 30 hari, garis pantainya lebih dari 4,25 juta km dan memiliki 187 ruang hijau.
Meskipun memiliki suhu rata-rata 1,75 derajat, Islandia di tempat ketiga memberi para pekerja rata-rata cuti tahunan 36 hari dan merupakan salah satu tempat terbaik untuk menikmati Northern Lights.
Selandia Baru dipuji karena warganya mendapat cuti tahunan sekitar 31 hari per tahun sehingga mereka dapat menikmati 253 ruang hijau dan garis pantai sepanjang 15.000 mil.
Sementara tempat kelima Sri Lanka memiliki suhu rata-rata hampir 27 derajat, hutan hujan yang rimbun dan warga negara menikmati liburan rata-rata 40 hari.
Di posisi keenam adalah Siprus diikuti oleh Filipina (ketujuh), Yunani (kedelapan), India (kesembilan) dan Mauritius (ke-10).
Posisi 15 besar diraih Kosta Rika (ke-11), Portugal (ke-12), Bulgaria (ke-13), Kroasia (ke-14) dan Spanyol (ke-15) seperti dilansir MailOnline.
Reigo Eljas, direktur negara Inggris dan Irlandia di lastminute.com, mengatakan: "Ketika kami menyambut 2019 dengan tangan terbuka, banyak dari kita yang ingin mulai merasa segar dan siap untuk menghadapi tahun depan."
´Dengan melihat ke budaya lain, kita dapat mengetahui tradisi yang telah dicoba dan diuji - dari mata air panas hingga meditasi - untuk membantu kita merasa zen.´
´Analisis kami terhadap negara-negara yang paling dingin di dunia mengungkapkan bahwa Indonesia menempati peringkat sebagai negara yang paling menyenangkan dari semua negara lain dalam penelitian kami.´
"Jika para pelancong [Inggris] yang pemberani mencari relaksasi di dekat rumah, kami juga menemukan bahwa Eropa adalah rumah bagi tujuh dari 15 negara paling santai."
INDONESIA is the most chilled out country in the world followed by Australia, a new study has revealed.
Researchers came up with a list of the most relaxing nations by analysing a number of factors including the personal rights of citizens, noise and light pollution, temperatures, the number of public holidays and the number of spa retreats.
Claiming third place in the ranking is Iceland, followed by New Zealand in fourth and Sri Lanka in fifth.
The research, which was carried out by lastminute.com, found top ranking Indonesia has over 54,700 miles of coastline - meaning a beach is never too far away.
The study also revealed that the country has over 186 green spaces and an average temperature of 25 degrees centigrade making it the perfect place to watch waves.
Second-place Australia gives workers an average of 30 days annual leave, has over 25,000 miles of coastline and has 187 green spaces.
Despite having an average temperature of 1.75 degrees, third-place Iceland gives workers an average of 36 days of annual leave and is one the best places to enjoy the Northern Lights.
New Zealand was praised for its citizens getting around 31 days of annual leave per year so that they can enjoy the country´s 253 green spaces and 15,000 miles of coastline.
While fifth-place Sri Lanka has average temperatures of nearly 27 degrees, lush rainforests and citizens enjoying an average of 40 days holiday.
In sixth placed is Cyprus followed by the Philippines (seventh), Greece (eighth), India (ninth) and Mauritius (10th).
The top 15 is rounded off by Costa Rica (11th), Portugal (12th), Bulgaria (13th), Croatia (14th) and Spain (15th).
Reigo Eljas, country director of UK and Ireland at lastminute.com, said: ´As we welcome 2019 with open arms, many of us are looking to start off feeling refreshed and ready to take on the year ahead.
´By looking to other cultures, we can borrow tried-and-tested traditions - from hot springs to meditation - to help us feel zen.
´Our analysis of the world´s most chilled out countries reveals that Indonesia ranks as the most relaxed nation out of all others in our study.
´If intrepid [British] travelers are seeking out relaxation close to home, we also discovered that Europe is home to seven of the top 15 most relaxed countries.´