Presiden Jokowi Nyatakan Air Citarum Dapat Diminum 7 Tahun Lagi
Indonesia President Says Toxic River should be Clean Enough to Drink within 7 Years
Editor : Ismail Gani
Translator : Novita Cahyadi

PUBLISHED: Jum'at, 23 Februari 2018 , 20:27:00 WIB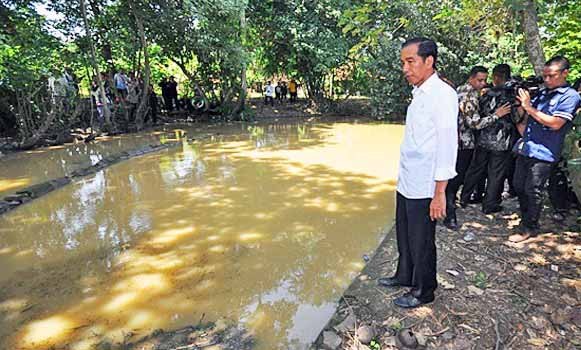 Presiden RI Joko Widodo meninjau Sungai Citarum (Foto: istimewa)
PRESIDEN RI mengatakan bahwa air dari Sungai Citarum di Provinsi Jawa Barat harus dapat diminum dalam waktu tujuh tahun di bawah proyek revitalisasi sungai yang termasuk sungai paling tercemar di dunia.

Sungai sepanjang 300 km dari mata air di Jawa Barat ke laut dekat ibu kota Jakarta, Citarum memasok tiga pembangkit listrik tenaga air dan dimanfaatkan untuk mengairi 400.000 hektar sawah.

Cekungan Citarum mendukung kebutuhan 28 juta orang, meskipun sungai tersebut tercemar limbah rumah tangga dan tercemar dengan kadar zat warna dan logam berat yang berbahaya dari pabrik ke anak-anak sungainya.

"Sungai Citarum, yang dulunya jernih sekarang paling tercemar," kata Presiden Joko Widodo setelah mengunjungi muara sungai di Jawa Barat, Kamis.

"Kami berusaha membersihkannya secepat mungkin dan mudah-mudahan dalam tujuh tahun ini bisa menjadi sumber air minum," katanya.

Pemerintah juga berencana untuk mereplikasi proyek Citarum di cekungan lain yang perlu dibersihkan, kata Jokowi.

Asian Development Bank (ADB) menyetujui pinjaman sebesar US$500 juta untuk Indonesia pada 2009 dan memulai rencana 15 tahun untuk proyek revitalisasi tersebut.

Eric Quincieu, spesialis air di ADB, mengatakan bahwa bank tersebut telah membiayai US$41,9 juta dari jumlah tersebut sejauh ini, yang digunakan untuk mengembangkan "peta jalan pengelolaan sumber daya air terpadu" untuk Citarum, di antara barang-barang lainnya.

"Ada tantangan dalam memobilisasi dukungan dari pemerintah daerah untuk menerapkan (peta jalan)," kata Quincieu dalam sebuah email, menambahkan bahwa rencana tersebut memerlukan koordinasi antara pemerintah pusat dan daerah, kelompok sipil dan sektor swasta.

Tubagus Haeru, seorang pejabat di Kementerian Koordinator Kemaritiman, yang mengawasi proyek revitalisasi tersebut, mengatakan bahwa usaha untuk membersihkan sungai sebelumnya sangat mahal dan gagal dilaksanakan.

"Kementerian selama ini bekerja sendiri, pemerintah daerah bekerja sendiri dan masyarakat bekerja sendiri pula," kata Tubagus Haeru kepada Reuters.

Penelitian yang dilakukan oleh Blacksmith Institute pada 2013 menemukan tingkat timbal di Citarum lebih dari 1.000 kali standar AS untuk air minum, sementara aluminium, mangan dan besi secara signifikan lebih tinggi dari tingkat yang disarankan.

"Faktanya adalah Citarum masih seperti itu, dan beberapa media telah mengatakan bahwa ini adalah sungai paling kotor di dunia," kata Haeru.

Usaha pembersihan terakhir dimulai awal bulan ini dan melibatkan polisi, militer, departemen pemerintah, organisasi dan masyarakat di 25 kabupaten yang dilewati sungai yang dilansir MailOnline.
INDONESIA´S PRESIDENT on Thursday said water from the Citarum River should be made drinkable within seven years under a new cleanup project for the Java island river often ranked among the world´s most polluted.

Running 300 km (190 miles) from a spring in West Java to the sea near capital city Jakarta, the Citarum feeds three hydro power stations and is used for 400,000 hectares of rice paddies.

The Citarum Basin supports 28 million people, although the river is choked with household waste and polluted with dangerous levels of dyes and heavy metals pumped by factories into its tributaries.

"The Citarum River, which was once clear is now the most polluted," President Joko Widodo tweeted after visiting the source of the river in West Java on Thursday.

"We are trying to clean it as quickly as possible and hopefully in seven years´ time it can be a source of drinking water," he said.

The government also plans to replicate the Citarum project in other basins that need cleaning, said Widodo.

The Asian Development Bank (ADB) approved a $500 million loan to Indonesia in 2009 and initiated a 15-year plan for the cleanup.

Eric Quincieu, a water specialist at ADB, said the bank had financed $41.9 million of that amount so far, spent on developing an "integrated water resources management roadmap" for the Citarum, among other items.

"There have been challenges in mobilising support from local governments to implement (the roadmap)," Quincieu said in an email, adding the plan needed coordination between national and local governments, civil groups and the private sector.

Tubagus Haeru, an official at the Coordinating Maritime Affairs Ministry, which is overseeing the cleanup project, said previous attempts to clean the river had been expensive and had not worked.

"Ministries have been working by themselves, local governments working by themselves and the community has been working by itself," Haeru told Reuters.

Research carried out by the Blacksmith Institute in 2013 found levels of lead in the Citarum at more than 1,000 times U.S. standards for drinking water, while aluminium, manganese and iron were significantly higher than recommended levels.

"The fact is the Citarum is still like that, and several media have been saying it´s the dirtiest river in the world," Haeru said.

The latest cleanup effort began earlier this month and involves police, military, government departments, organisations and the public in the 25 districts the river passes through.