Deputi Pengawasan, Kemenkop UKM Periksa 288 dari 516 Koperasi Skala Nasional
Indonesian Govt Monitors the Institutional Problems of Cooperatives
Reporter : Gusmiati Waris
Editor : Cahyani Harzi
Translator : Dhelia Gani

PUBLISHED: Kamis, 07 Februari 2019 , 20:29:00 WIB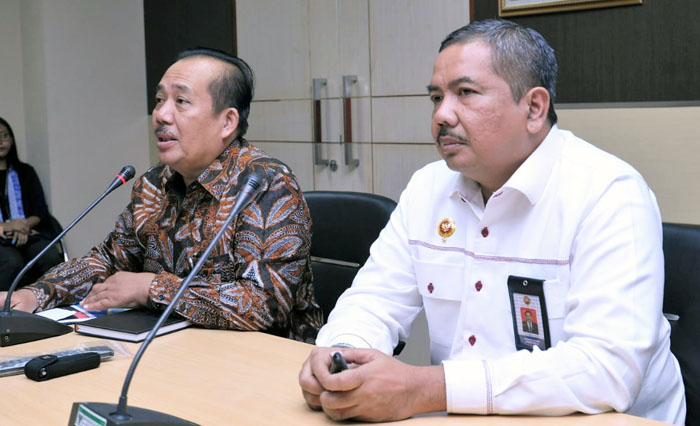 PENGAWASAN INTENSIF: Deputi Pengawasan Kemenkop UKM, Suparno (kiri) dan Direktur Analisa dan Forensik Siber Badan Intelijen Negara (BIN) Linardi Utama menjawab pers (Foto: Humas Kemenkop UKM)
Jakarta (B2B) - Pemerintah RI telah memeriksa 288 koperasi dari 516 koperasi berskala nasional, yang menjadi tugas Kementerian Koperasi dan UKM didapati permasalahan kelembagaan koperasi dan ditemukan koperasi yang dipailitkan oleh anggota atau pihak ketiga, di antaranya tujuh koperasi di Jakarta dan Sulawesi Selatan yang tengah proses pailit di pengadilan negeri.
Deputi Pengawasan Kemenkop UKM, Suparno mengatakan dari pemeriksaan terhadap 288 koperasi didapati masalah izin usaha simpan pinjam, izin pembukaan kantor cabang, perubahan anggaran dasar, koperasi tidak melaksanakan rapat anggota tahunan (RAT), belum memiliki peraturan khusus, standar operasional manajemen (SOM), dan standar operasional prosedur atau SOP.
"Permasalahan kedua, ditemukan koperasi yag dipailitkan oleh anggota atau pihak ketiga. Sudah ada tujuh koperasi yang masuk pengadilan negeri. Ketiga, ditemukan masih terbatasnya jumlah dewan pengawas syariah untuk KSP berbasis syariah," kata Suparno.
Dia menekankan penting dan perlunya pengawasan kinerja dan operasional koperasi di seluruh Indonesia, meski di kepengurusan koperasi sudah ada fungsi pengawasan berupa badan pengawasan yang dipilih anggota, dan Kemenkop UKM terus mematangkan pelaksanaan pengawasan koperasi untuk terwujudnya koperasi yang sesuai peraturan perundang-undangan.
Suparno menambahkan, pengawasan koperasi terkait dengan kepatuhan terhadap legal, keuangan, transaksi, perijinan, badan hukum, organisasi, dan sebagainya. "Untuk KSP atau koperasi yang memiliki unit simpan pinjam, di antaranya terkait penghimpunan dana anggota, hingga mengontrol penyaluran dana koperasi."
Sebagaimana diketahui, dari total 142.142 unit koperasi di seluruh Indonesia, 99,64% di antaranya adalah kewenangan pemerintah daerah untuk melakukan pengawasan, pemeriksaan dan penilaian kesehatan sesuai UU Pemerintahan Daerah No 23/2004.
Jakarta (B2B) - Indonesian government has examined 288 cooperatives of 516 national scale cooperatives, which is the authority of Cooperatives and SMEs Ministry found institutional problems, and found cooperatives that are bankrupt by members or third parties, of which seven cooperatives in Jakarta and South Sulawesi were in bankruptcy in the district court.
Deputy for Supervision of the ministry, Suparno said said that from the examination of 288 cooperatives, there were problems with savings and loan business licenses, branch office permits, amendments to the articles of association, not carrying out annual member meetings, do not have special regulations, management operational standards, and operational standard procedures.
"The second problem is that cooperatives are bankrupt by members or third parties. There are seven cooperatives litigating in court. Third, there is still a limited number of sharia supervisory boards for sharia-based savings and loans cooperatives," Suparno said.
He stressed the importance of cooperative performance and operational supervision, although there is a supervisory function through commissions chosen by members, and the ministry increases supervision for the realization of cooperatives according to legality.
Suparno said the supervision of cooperatives is related to compliance with legal, financial, transaction, licensing, legal entities, organizations, and so on. "For cooperatives that have a savings and loan unit, including the collection of member funds, to the control of cooperative funds."
As is known, of 142,142 cooperative units across the country, 99.64% is the authority of the regional government to carry out supervision, inspection and appropriate health assessment Local Government Law Number 23/2004.