Pengurus Baru ICSB Indonesia Berperan Strategis Dukung Pengembangan UMKM
ICSB Central Committee of Indonesia 2018 - 2020 was Inaugurated in Jakarta
Reporter : Gusmiati Waris
Editor : Cahyani Harzi
Translator : Dhelia Gani

PUBLISHED: Sabtu, 01 Desember 2018 , 20:38:00 WIB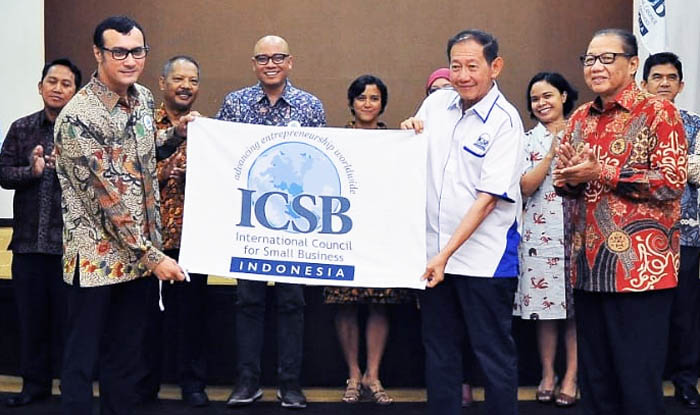 ORGANISASI NIRLABA: Menkop UKM AAGN Puspayoga (kanan) menghadiri pelantikan pengurus ICSB Indonesia 2018-2020 yang dipimpin Jacky Mussry (kiri) menggantikan Hermawan Kartajaya (ke-2 kanan) Foto: Humas Kemenkop UKM
Jakarta (B2B) - International Council for Small Business (ICSB) Indonesia diingatkan tentang peran dan tugas pokoknya sebagai organisasi nirlaba non pemerintah mendukung pengembangan kewirausahaan di Indonesia bersama empat pilar pendukungnya yakni akademisi, peneliti, pemerintah dan pelaku bisnis.
"Ini bukan organisasi pemerintah akan tetapi ICSB akan bekerja sama dengan policy maker lain yang konsen membina UKM. Saya bangga sekali karena pak menteri akan kawal kita terus," kata Founder ICSB Indonesia, Hermawan Kartajaya di Jakarta, Jumat (30/11) dalam sambutannya pelantikan pengurus ICSB Indonesia periode 2018 - 2020 yang dihadiri oleh Menteri Koperasi dan UKM, AAGN Puspayoga.
Menurutnya, ICSB sebagai organisasi internasional nirlaba yang berpusat di Washington, AS, didirikan untuk membantu pengembangan UKM di seluruh dunia termasuk Indonesia.
Presiden ICSB Indonesia, Jacky Mussry mengajak para pemangku kepentingan bersama-sama membina UKM agar bisa lebih kompetitif, mengingat potensi dan jumlah UKM di seluruh Indonesia begitu besar, namun belum diimbangi tingkat daya saing di pasar lokal dan internasional.
"ICSB akan berupaya memberikan kontribusi strategis kepada UMKM agar mereka lebih kompetitif," kata Jacky M.
Jakarta (B2B) -International Council for Small Business (ICSB) Indonesia is reminded of its main roles and duties as non-governmental non-profit organizations support development of entrepreneurship in Indonesia with academics, researchers, government and entrepreneurs.
"ICSB is not a government organization but will work with other policy makers who support the development of SMEs. I am very proud because the minister of cooperatives and SMEs will oversee ICSB," said ICSB Indonesia founder, Hermawan Kartajaya here on Friday (November 30) at the ICSB inauguration period 2018 - 2020 which was attended by Minister AAGN Puspayoga.
According to him, ICSB is a non-profit international organization based in Washington, USA, was established to help the development of SMEs throughout the world including Indonesia.
The President of ICSB Indonesia, Jacky Mussry invited stakeholders to jointly foster SMEs to be more competitive, considering potential and number of SMEs across the country, but it has not been balanced with competitiveness in local and international markets.
"ICSB will strive to make a strategic contribution to Indonesian SMEs to be more competitive" Mr Mussry said.